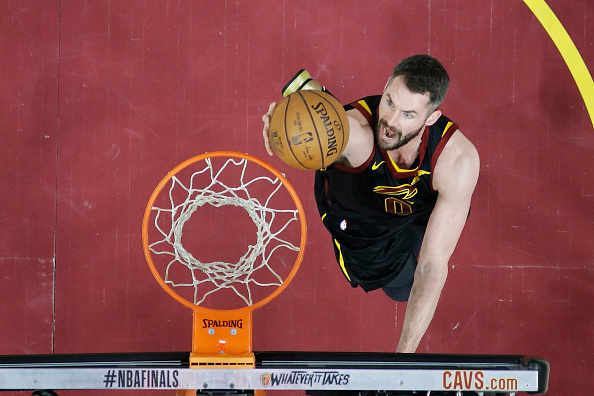 The moment LeBron James left the Cavaliers for the Lakers, the prevailing thought was a fire sale of the current veterans and a full rebuild. However this week that looks to be exactly the opposite of what owner Dan Gilbert and GM Koby Altman want to do. They moved quickly to lock up Kevin Love to a $120 million dollar extension, likely keeping him in Cleveland for 5 more seasons. In a relatively weak Eastern Conference a Kevin Love squad should compete with the chance of securing a playoff chance. So with that said, I think in order to make the playoffs certain things should happen. So here is how I feel the Cavaliers should do in order to make the playoffs.
It is no secret the Cavs love 8th overall pick Sexton. He is a flashy point guard with an array of skills to get to the bucket and score. Not a true point guard in the sense he gets everyone involved, but none the less a very talented rookie who should see the floor. His jump shot needs work and I think if he can figure that part out he can be really dynamic. The other scenario is having George Hill as is backup and in a mentor role. With 2 years and $36 million still on the books, keeping him this season as a locker room and veteran presence is a huge plus. Next season he is not fully guaranteed, so dealing him becomes a more attractive option. I hope they consider starting Sexton instead of Hill as he is the future point guard of this team.
Not everyone can play with Lebron James. And Clarkson figures into that scenario. In todays NBA he has a decent contract and is not dead money at this point in his career. Clarkson is effective with the ball in his hands attacking the rim and scoring inside. His jumper is inconsistent, but at times he can light it up. He is perfect coming off the bench with the scoring mentality to get buckets and that is his game. Off the bench with the green light is perfect for him to score on opposing second units and get his confidence back.
The Cavs are looking to unload Korver and his modest $7.5 million deal. I can see a contender like Philadelphia, Utah or even Golden State making a run at him. Keeping Korver is not going to really harm the financial side too much but getting a pick for him or young player would be worth it.
Hood is a restricted free agent. That means any offer sheet he signs Cleveland can match. They have been patient with him and are probably likely to bring him back for a reasonable deal. I also think they will not have to break the bank with him and could probably get him for 3 years, $24 million which is a steal. Unless someone offers him an offer sheet for more, I think Cleveland can get him in that ball park. Hood can play both the two or three, but with current roster I would slate him into the starting three spot. That could change if they include JR Smith in any deals forcing Hood to the 2-guard spot. I think this is the perfect situation for Hood to re-establish his worth as possibly the second scorer on this team.
Feature Kevin Love
Before Love became third fiddle to LeBron and Kyrie, he was the man in Minnesota. His last year with Wolves he averaged 26 points and 11 rebounds a game. I think the Cavs need to feature him going forward and use him in pick and rolls, pick and pops and especially from the elbow or in the post. Yes he can still hit the occasional corner three, but getting him closer to the basket should be the main objective. The just gave him a boatload of cash to be the man, that he better have the rock in his hands every time down the court. He is also an under rated passer and that did not show up with Kyrie and LeBron dominating the ball. This is an ideal situation for Love to shine and possibly lead this team to the playoffs.
Outlook
As of right now I have them hanging on the outside looking in at ninth in the East. The more I think about it though, I can see Cleveland making a strong run to a playoff spot. I think locking up Larry Nance and trying to unload Tristan Thompson are also on the agenda, however moving Thompson could be very difficult. Probably flirting around .500.
Main Photo: