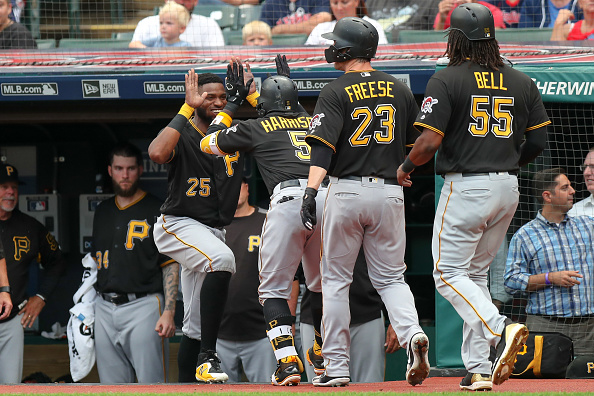 The Pirates have been one of the hottest teams in baseball as of late. A week before the All Star Break, they were eight games under the .500 mark. Today, they are 53-49 and just three games out of an NL Wild Card spot. So how has this happened?
Historically High Scoring Offense
The Pirates defeated the Indians 9-4 last night. The nine runs scored marked the seventh straight game in which the Pirates have scored 6+ runs. This is the first time the team has accomplished such a feat since the 1964 Ralph Kiner led Pirates did so. They also have a run differential of 64-20 during the streak.
Who's Getting it Done at the Plate?
This high scoring Pirates offense is led by OF Starling Marte. During this winning steak, Marte is riding a 17 game hitting streak. He is also hitting .349 seven home runs and 16 RBI's. Corey Dickerson is also carrying his load, hitting .361 with five home runs. As a team, Pittsburgh has a .311 batting average.
Starting Pitching Has Turned it Around
Pirates starting pitching is obviously 8-0, but most impressive they have posted a 2.25 ERA. Trevor Williams is 2-0 and is yet to give up a run. Jameson Tailon has a 1.59 ERA and Ivan Nova has pitched to a 2.38 mark.
Lock Down Bullpen
The bullpen has secured the other two wins for Pittsburgh. Richard Rodriguez, Felipe Vazquez, and Kyle Crick have pitched a combined 12 shutout innings. As a unit, the bullpen has a 1.29 ERA.
Last Word
The Pirates are enjoying some tremendous success right now. Obviously they won't be able to keep this up the entire second half. However, if they pick up some pieces at the deadline they could, and should be viewed as a legit Wild Card contender.
Main Photo: