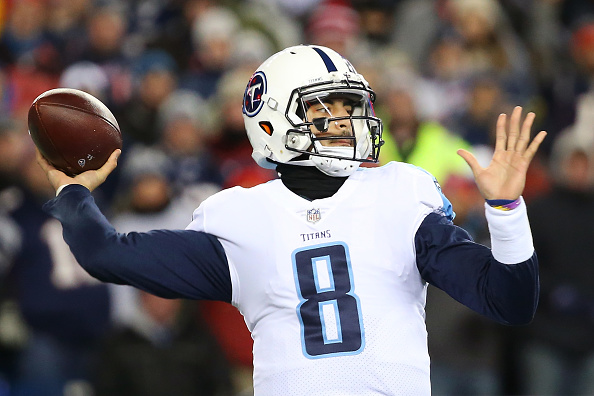 In this series of articles here on the Last Word On Sports, we will be breaking down each NFL division starting every Monday, preparing for the upcoming 2018 NFL Season. We will highlight the strengths and weaknesses of each team and make our best analysis and predictions for this upcoming season. Let's continue with the AFC South; the Tennessee Titans breakdown.
2018 NFL Breakdown: Tennessee Titans (9-7)
Strengths
New offensive coordinator Matt LaFleur has the ability to make this offense shine and it all starts with the run game. The Titans brought in former Patriots running back Dion Lewis to join Derrick Henry in a backfield and they have a chance to be the best one-two punch in the league. It also does not hurt to run behind a stout offensive line that is home to names like Taylor Lewan, Ben Jones, and Jack Conklin.
The Titans invested a lot in their defense this off-season and it looks like it will pay off. Nose tackle Bennie Logan looks to be an upgrade and first-round draft pick Rashaan Evans has the talent to start immediately next to Wesley Woodyard at inside linebacker. But the prize of the off-season was signing cornerback Malcolm Butler, who was famously benched during Super Bowl LII. He will reunite with his former teammate Logan Ryan and will complement safety Kevin Byard well, so you can expect a solid season from Butler, especially with that chip on his shoulder.
Weaknesses
The offense can be a major strength, but on the flipside, it could turn out to be a major problem. Quarterback Marcus Mariota is a bigger question mark than most people might think. Last year he clearly regressed, but that was more the byproduct of former head coach Mike Mularkey than the talent he possesses. Now that Mularkey is gone, new head coach Mike Vrabel hopes to get the best out of players like Mariota and sophomore receiver Corey Davis. There is certainly some talent on this offense but it all depends on if Mariota can play as good as he did his sophomore year.
Besides that, there are really no weaknesses on this team. There is a lot of solid talent, we just have to see if the Titans can put it together this upcoming season.
Team MVP: Running Back Dion Lewis
The Titans run game always seem to be solid every year, but Dion Lewis is the piece they were missing last year. Bill Belichick transformed him into a bell cow back, and a consistent one at that. Tennessee's offensive line will give Lewis the opportunity to lead this offense and punish defenders. Lewis even has the potential to lead the league in rushing next season.
Breakout Rookie: EDGE Rusher Harold Landry
It was criminal how far Harold Landry fell in the 2018 draft. To many that considered him a top 10 pick, he fell all the way to the second round and right into Tennessee's lap. His speed and athleticism will make him a solid pass rusher to pair with Brian Orakpo. Don't be surprised if he leads all rookies in sacks next season.
Reason for Prediction
9-7 may seem like a stretch for the Titans, especially with how competitive the AFC South looks to be. But based on strength of schedule, the Titans have the second easiest (31st), just behind the Houston Texans for easiest schedule in the league. They will surely struggle against teams like the Patriots, Eagles, Chargers, and Jaguars, but other than that this schedule should not pose as a problem for this talented roster. Expect the Titans to return to the playoffs for a consecutive season.
Main Photo:
Embed from Getty Images