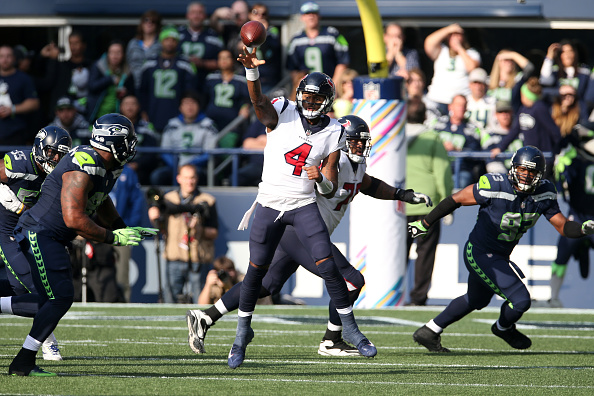 In this series of articles here on the Last Word On Sports, we will be breaking down each NFL division starting every Monday in preparation for the upcoming 2018 NFL season. We will highlight the strengths and weaknesses of each team and make our best analysis and predictions for this upcoming season. Let's continue with the AFC South; the Houston Texans Breakdown.
2018 NFL Breakdown: Houston Texans (8-8)
Strengths
The offensive skill positions on the Texans rival the best in the league. Sophomore quarterback Deshaun Watson looks like the next star, and if he can stay healthy he might just be. Star receiver DeAndre Hopkins is looking to remain one of the most consistent receivers in the league while Will Fuller will provide as a solid deep threat.
When talking about the strengths of the Texans, the front seven can't go unchecked. Injuries cut short the season of defensive end J.J. Watt and linebacker Whitney Mercilus, but they will hope to line back up alongside edge rusher Jadeveon Clowney and interior defender D.J. Reader to make this pass rush downright frightening. The only concern is if they can all stay healthy, which is a concern not limited to just that front seven.
Weaknesses
As many questions as this team has, there are two big issues that still need to be fixed. First, their secondary last year was terrible. Last year the Texans were ninth in passing yards allowed, fourth in passer rating allowed, and first in points allowed (per NFL.com). If newly signed players such as safety Tyrann Mathieu and slot cornerback Aaron Colvin help out, then this defense could go back to being the best in the league. But for now, it is still a massive issue.
However, the obvious issue is that mess of an offensive line. Free agent guard Zach Fulton may have improved the interior, but the tackle position is still a complete mess. Right now the starters look to be Julie'n Davenport at left tackle and newly signed Seantrel Henderson at right tackle but keep an eye out for third-round rookie Martinas Rankin to fight for some playing time.
It's hard to pick a player that would be devastating to lose when a team is loaded with talent. But in this case, DeAndre Hopkins is criminally underrated in the league and means so much to the Texans. Last season he was fourth in receiving, second in receiving yards per game, and led the league in touchdowns. Without him, Deshaun Watson would have a total of zero reliable targets. He is in contention for leading the league in receiving yards every year, and 2018 will be no different.
Breakout Rookie: Justin Reid
The Texans did not have a first-round pick in 2018 and still ended up with a first-round talent in the third round. The younger brother of Eric Reid, Justin Reid is an athletic, versatile safety that can play both in the box and in coverage. He could be the missing piece that makes this defense a top-five squad once again.
Reason for Prediction:
On paper, there is so much to like about the Houston Texans for 2018. Deshaun Watson looks like a freak of nature in the making, DeAndre Hopkins is in the conversation for the top wide receiver in the league, and Jadeveon Clowney has turned into the freak of nature everyone hoped the former first-rounder would be. But their season was cut short last year after being struck with the injury bug all season long, losing J.J. Watt, Whitney Mercilus, and Deshaun Watson among others. But I don't think the Texans can stay relatively healthy the whole season, and if that is the case don't be surprised if they miss the playoffs again. It surely helps that the Texans have the easiest schedule based on their opponents' combined 2017 win percentage (.453). But if we're being realistic, the best I could see them is breaking even next season.
Main Photo:
Embed from Getty Images