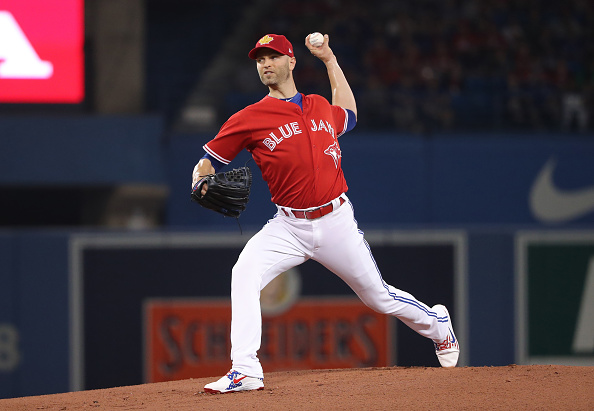 JA Happ has resurrected his career, and has turned himself into a nice little veteran starter. The Blue Jays are looking to dump their veteran pieces this deadline. Happ will be on the move in his walk year this year. Happ comes cheap, and figures to be one of the most popular pieces on the move this deadline.
New York Yankees
The Yankees are almost a complete team, they are just a starting pitcher away. JA Happ is the perfect fit middle of the rotation fit for the New York Yankees. He certainly isn't an ace, but he is an upgrade from Sonny Gray and CC Sabathia. Through 17 starts, Happ is 10-4 with a 4.03 ERA and 110 strikeouts.
Toronto has shown the willingness to trade within their own division. Utility man Steve Pearce was already traded in division to the Red Sox earlier this week. The Jays should make the Yankees overpay for Happ. They should seek at least a pair of mid-level pitching prospects.
Milwaukee Brewers
After gutting their system in the Christian Yelich trade, Milwaukee doesn't nearly have the prospects to acquire an ace like Jacob DeGrom. A deal would likely require multiple top prospects from a barren system. JA Happ is a guy that would cost a lot less, and bring back almost as much value.
The Blue Jays have been scouting the Brewers minor league system extensively. Milwaukee has the offense and the bullpen to be a contender, their only issue is their starting rotation. JA Happ is not going to come in and be an ace, but he is going to go out and get the job done when you give him the ball.
Seattle Mariners
The Mariners rotation is a bit shaky this year. James Paxton is in the midst of a breakout year, and Wade LeBlanc as well as Mike Leake have consistently pitched very well. However, if they hope to make a playoff run for the first time in 17 years, they NEED more pitching. They offense will get the job done, but they must pick up another starter. JA Happ is the guy that this team needs.
Happ is 35 years old, has playoff experience, and is in the walk year of his deal. The lefty would be just a rental for the Mariners, thus costing much less. It certainly looks like a low cost, high reward move for a team in need of pitching. The Mariners should give up whatever it takes to acquire Happ.
Main Photo: