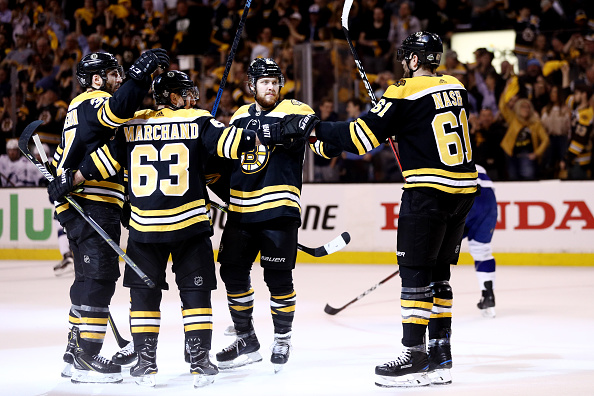 The Boston Bruins are coming off of a season of which they went from being pretenders to contenders. They blended in a group of rookies into the solid mix of veterans and young skilled players that they already had. Because of this, the rookies provided a spark for the Bruins when they needed it. It was seldom that the Bruins did not get a key goal from their players. Including the rookies who shined. The Bruins were fortunate to have a solid mix to work with to guide the younger players along. Because Boston has such great leadership the rookies had a seamless transition; rookies such as Jake DeBrusk, Danton Heinen, Sean Kuraly, and Ryan Donato all benefitted as a result.
The Bruins are in a situation that is kind of weird in the NHL, they have plenty of young talent to go along with their star veterans. The Boston offense was lead by a trio of talented players. Those players were Brad Marchand, Patrice Bergeron, and David Pastrnak and they all lead the Bruins to the next level. That trio lead elevated the Bruins stock from pretenders to contenders and the rookies I mentioned at the start of this article added secondary scoring all season long. In fact, between DeBrusk (5) and Heinen (4), they had 9 game-winning goals for the Bruins.
And there are players whom of which I have not even mentioned yet. Names such as Torey Krug, Zdeno Chara and Charlie McAvoy on the back end; and David Krejci up front. The Bruins had contributions from all over, and it shows when you look at how well their season went.
Boston's Moves So Far This Off-Season
The Bruins, however, do not seem to be content, they have been in on a few names already, including two of the better free agents on the market. They were in on Ilya Kovalchuk at last weekends draft before he went and signed with the Los Angeles Kings.
Now the Bruins are tied to John Tavares in rumors, they are currently one of six teams vying for his services. The others being the Sharks, Maple Leafs, Islanders, Stars, and Lightning. At the time of this writing, he had not narrowed it down any like he was supposed to on Friday. We will see if he can narrow it down before it turns into Sunday. I think he doesn't want to tip his hand by narrowing it down.
Landing Tavares would be interesting for the Bruins because they are not in dire straights for a center, they have Bergeron and Krejci as their current 1-2 and Krejci is a good player when he is healthy. Which is the keyword, when he's healthy.
So for Boston to be going after Tavares seems a bit far-fetched and even farther far-fetched that he lands in Boston.
So what should the Bruins do if they miss out on Tavares? Let's take a look.
Possible Targets (Old Team)
Micheal Grabner (NJD)
Grabner's game fits perfectly into the new Bruins scheme that promotes offense and speed. Grabner is a talented player who may be a good fit with Krejci and DeBrusk.
Perron is a player whom of which is tough to gauge, on one front he is a decent offensive player (not great) and he can bang the body. But I don't know how good of a fit he would be for the Bruins. His 66 points last season might put him into elite player money which would be a mistake for the Bruins to commit to because I don't think he is that kind of player, nor do I think he would repeat that kind of performance this season.
This one is tough because he is considering retirement. Nash is also considering reuniting with the Blue Jackets which is the team he broke into the NHL with in the early 2000's.
Calvin De Haan (NYI)
The Bruins might take a look at De Haan looking for more depth at defense. The biggest question here is where exactly he fits into the lineup and how much money he will command to sign. The Bruins have other needs outside of defense.
This would be a move that would solidify the number two goaltending spot behind starter Tuukka Rask. Plus I think he may come cheap which would be welcome news for the Bruins. Boston could also go with Zane McIntyre who has spent time in Providence in the AHL.
The edgy center would bring sandpaper and great work ethic to a city that absolutely loves that kind of game. The only question would be, what kind of money would he cost? He is coming off of a 33 point season.
The Bruins' Needs
The Bruins are strong up front on the top two lines, but with roster turnaround expected with Riley Nash, Rick Nash and Anton Khudobin as the notable players leaving potentially. That is a big chunk of their roster that could find jobs elsewhere.
Which means that the Bruins need a backup goalie, a couple bottom 6 forwards (Sean Kuraly could slide up to the third line in place of Riley Nash). I would still like to see them add a player like Grabner to complement DeBrusk's speed on the other side.
Forward Thinking Statement
The Bruins will be fine for the foreseeable future. They have the youth to implement into the lineup when players come due to retire. For example, Zdeno Chara most likely will be done in the next couple of seasons. The Bruins have Brandon Carlo who looks like he could develop into a pretty good defenseman and possibly earn a top line spot next to Charlie McAvoy. That or the Bruins may have to acquire another defenseman, ideally a left shot.
The Bruins pipeline may not be highly regarded nationally but if you look at the depth of their system they have several players coming such as Ryan Fitzgerald, Trent Frederic, and Jakob Forsbacka Karlsson to name a few. All of these guys could be contributing sooner rather than later.
In net, the Bruins have one of the best goalies in the NHL. Whether or not the Bruins fans like Tuukka Rask is going to be their number one goalie for the foreseeable future. The Bruins do not have the next starter in the waiting right now. At one point it was believed that one of Zane McIntyre or Malcolm Subban would be in a position to take over the role but neither of them has developed into starting goalies (Subban was an injury replacement for Marc-Andre Fleury for the Vegas Golden Knights last season).
I can see Boston making many long runs over the next five to ten seasons, they have the depth and talent to make it happen. And if they can add Tavares into the mix, it would have to put them in the running for the Stanley Cup come next June. I would be shocked otherwise.
Main Image:Embed from Getty Images