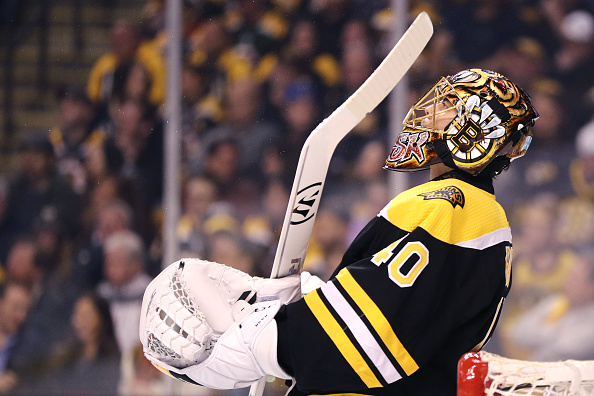 Well, it's springtime in Beantown which means that the Boston Bruins are anticipated to advance into round two of the NHL playoffs. So far the Bruins have been getting stellar performances from Tuukka Rask. In this post, we'll review three areas the Bruins need to capitalize on so they can progress on to round two.
Bruins Surviving Round One with Solid Goaltending
A Solid Goaltender
In game four Rask put on a clinic against the Toronto Maple Leafs. For example, in the first period, Rask stopped 11 shots on 12 attempts and nearly made life very difficult for Toronto.  On the whole, Rask finished the night with 31 saves on 32 shots. Over five games Rask has a .911 save percentage and is having one of his better series since the 2011 Stanley Cup team. If Boston expects to progress to round two then Rask will have to carry the club on his back to keep the morale on Boston's side.
A Healthy Bergeron
A lower quad injury held star forward Patrice Bergeron out of game four. Bergeron who skated with the club on Friday's practice is expected to play in game five.  Bergeron's return will be a huge confidence booster for the Bruins.
A Balanced Attack
If the Bruins have any hope of surpassing Toronto, they'll have to do it with production from all four lines. For the Bruins Riley Nash is back after missing two games which should aid the fourth line. If the Bruins can put pressure on Frederick Andresen, then the result should be in the Bruins favor.
Scoring has not been an issue for the Bruins. In game two David Pastrnak enjoyed a hat trick not to point out six points overall. On the power play, the Bruins are one of the best in the league.
Playoff hockey promotes pressure and that's one area the Bruins know quite well. Last year, for example, Boston fell to Ottawa Senators in four games. That were a youthful and inexperienced group which has molded into an elite NHL team under second year coach Bruce Cassidy. Beating Toronto would earn Tuukka Rask his first post season series victory in his ten year career.