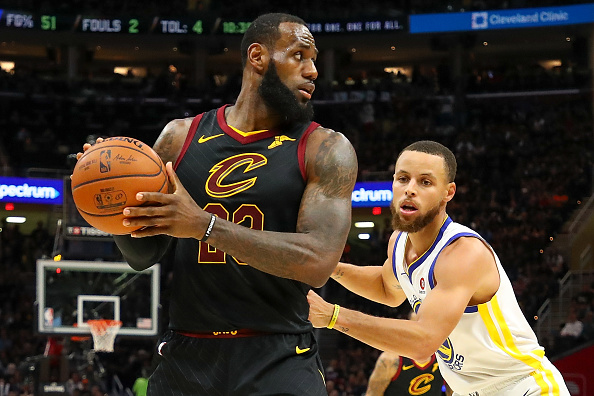 LeBron James is by far the most intriguing free agent this offseason in the NBA. many teams will go all out in trying to sign the best basketball player on earth. While some teams such as the Rockets and 76ers are rumored to have an actual chance at the King, all 30 teams would benefit from his services. He probably will not consider most teams, but each team has at least something to offer. In breaking down each team, a realistic probability will be given they sign LeBron this offseason.
Continued from previous post…
Why LeBron James should play for your team Part 2
Miami Heat- 8%
Dwayne Wade did not work out in Cleveland, and he is close friends with LeBron. Hassan Whiteside is a star in the making. Goran Dragic is a solid player but is getting old. Dion Waiters looks promising but isn't the star LeBron wants at Point Guard. He succeeded in Miami the first time, but it's unlikely he would come back.
Milwaukee Bucks- 6%
Giannis Antetokoumpo is a bonafide superstar. Malcolm Brogdon was the 2017 Rookie of the Year. Eric Bledsoe and Jabari Parker both are key contributors. Milwaukee has pieces to contend in the Eastern Conference, and could challenge Boston if LeBron and Giannis ran the frontcourt. Milwaukee is not the best market for off the court ventures. Being one of the smaller markets in the midwest decreases what LeBron can do away from basketball. This would be a entertaining team to watch, however LeBron likely wants a larger market for his business ventures.
Minnesota Timberwolves- 9%
Karl-Anthony Towns is one of the best big men in the NBA. Jimmy Butler is a perennial all star who would take pressure and attention off of LeBron. Taj Gibson still contributes at a high level. Derrick Rose has reincarnated into a quality player off the bench. Tom Thibodeau is one of the most respected head coaches and provides stability and dependability. Adding LeBron to an already improving team could be deadly and cause the Warriors and Rockets to watch out in the west.
New Orleans Pelicans- 9%
Assuming Demarcus Cousins stays and is healthy, the Pelicans have the best center in basketball. Anthony Davis is a top five talent who can do almost anything on the floor. Having two talented teammates in the frontcourt for rebounds would help him immensely against Golden State. The physicality New Orleans would have might be unstoppable. New Orleans is a great market for business ventures and LeBron would only make the parties more wild if he wore the navy and gold.
New York Knicks- 6%
Broadway has bright lights for stars like LeBron, and Kristaps Porzingis provides the versatility required of a modern big. The Knicks have succeeded in attracting stars in the past. Amare Stoudemire became a great asset with Carmelo and LeBron could have similar success with the unicorn. Enes Kanter decided to return and provides a veteran big man to take some contact away from James. If you can make it here, you can make it anywhere but LeBron probably would make it regardless.
Oklahoma City Thunder- 11%
Russell Westbrook is a top five player in basketball, and Steven Adams is a dominant force near the rim. Paul George looks bound for Los Angeles, but they still have a contending roster. Carmelo Anthony is still a solid contributor. The roster is young and most are in their primes, adding LeBron alongside Westbrook could be enough to beat the Warriors.
Orlando Magic- 4%
His kids are still young, and with Disney World and Universal Studios nearby would have opportunities for family bonding. On the court the Magic are stacked in the frontcourt, Mohamed Bamba looks to contribute immediately and become the next Shaq or Dwight Howard. Nikola Vucevic and Bismack Biyombo are good for double digit rebounds a game. Maybe Mickey can use some Magic and bring LeBron to Orlando.
Philadelphia 76ers-13%
Joel Embiid has completed the process, the Sixers look to be contenders for the next decade. Ben Simmons finally got to play and showed flashes of being the next LeBron. Markelle Fultz when healthy could become the next star in the city of brotherly love. Dario Saric and JJ Redick are solid contributors and provide the core necessary to contend. Robert Covington provides versatility that LeBron needs averaging 12 points and one block a game. LeBron alongside Embiid and Simmons could be lethal and become the next dynasty.
Phoenix Suns- 4%
Devin Booker is a rising superstar, and Josh Jackson looks promising. Deandre Ayton and Booker have claimed to be the next Shaq and Kobe. Adding LeBron would set them up to contend much sooner than expected. LeBron likely won't chose the Suns yet, but if they show promise don't be surprised if they recruit some key free agents soon.
Portland Trail Blazers- 8%
Damian Lillard and CJ McCollum are one of the top guard duos in the NBA. Adding LeBron immediately makes up for their below average frontcourt. This big three would give Houston and Golden State trouble and could bring Rip City a championship.
Sacramento Kings- 4%
The Kings have drafted well in the past few seasons. Willie Cauley-Stein and Marvin Bagley III both look promising. De'Aaron Fox could develop into a top guard in a few seasons. LeBron would get this team to the playoffs, maybe even make a run at the champs.
San Antonio Spurs- 8%
Lamarcus Aldridge is the star of the team. Tony Parker and Manu Ginobili are still contributing but are past their prime. Dejounte Murray developed last season into a promising player. Kawhi looks to be traded soon, and LeBron could easily replace him. Two basketball minds like LeBron and Greg Popovich together could be unstoppable.
Toronto Raptors- 7%
Kyle Lowry and Demar Derozan are both consistent all stars. Jonas Valanciunas is a quality big man and Serge Ibaka are solid in the frontcourt. LeBron has beaten the Raptors multiple times, maybe Toronto would want to sign him and finally not lose to him.
Utah Jazz- 8%
Donovan Mitchell would have won Rookie of the Year if Ben Simmons did not play. Rudy Gobert is a top defender in the NBA. Jae Crowder showed a lot of promise with Utah and has played with LeBron before. Joe Ingles is a underrated contributor for the Jazz and provides the shooting that is required to beat Golden State. LeBron joining Utah and the physical brand of basketball could be how Golden State is dethroned in the NBA.
Washington Wizards- 9%
John Wall is a top seven guard in the NBA, Bradley Beal is coming off an all star appearance. Kelly Oubre and Otto Porter are young and in their prime. Washington is the most powerful city in America, and the market fits the needs for LeBron's off the court business ventures. LeBron is active in political issues and would be able to have more interaction with politicians to fight for civil rights.
Main Image: Embed from Getty Images