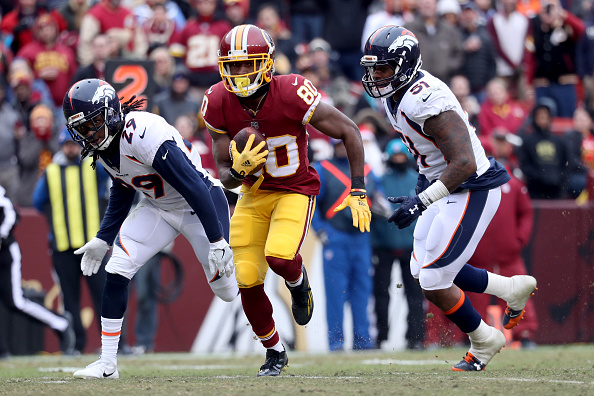 With minicamp over and training camp six weeks away week one of the NFL season will be here before we know it. A group of writers with the Last Word on Sports team will be previewing all 32 teams in the NFL by division. We will be highlighting some of the strengths and weaknesses of the team, as well as a final record prediction for the upcoming season. Now it is time for the NFC East, usually one of the most competitive divisions in football.
2018 NFL Breakdown Washington Redskins 6-10
Strengths
The Washington Redskins began the offseason with a bang acquiring quarterback Alex Smith from the Kansas City Chiefs. The whole NFL world was surprised by the deal and even more surprised when the Redskins signed Smith to a long-term extension. Management decided to acquire Smith after realizing they would most likely not retain Kirk Cousins in free agency. Smith has no shortage of weapons at his disposal including: Jordan Reed, Jamison Crowder, and Chris Thompson. In addition, the Redskins also drafted running back Derrius Guice from LSU who makes a living running over opposing defenders. Thompson and Guice give Washington a nice one-two punch out the backfield someone who can run it down your throat, and someone else who can create matchup issues out of the backfield.
Defensively the Redskins have a very young and talented defensive front seven. Ryan Kerrigan has been outstanding for them, particularly against other NFC East competition. Alongside Kerrigan are two very talented young Alabama defensive lineman Jonathan Allen and Da'Ron Payne. Payne and Allen will assist in stopping the run up the middle as well as providing some pressure up the middle. In a division with Saquon Barkley, Ezekiel Elliott, and Jay Ajayi stopping the run is extremely important. Middle linebacker Zach Brown is a solid defensive anchor and also one of the leading tacklers in the NFL.
Weaknesses
One of the biggest question marks surrounding the Redskins is their receiving core. The biggest question is who can be an outside receiving threat complementing Crowder who plays mostly in the slot. Despite being drafted in the first round, Josh Doctson has struggled with injuries and a lack of production. He has shown glimpses of potential, but has not been on the field enough to sustain it. Management signed Paul Richardson from Seattle, hoping he could bring some production on the outside. However, Richardson did not play a huge role in Seattle up until last season and will be thrust into a big role in Washington. Richardson's high number of receptions came last season with 44 and his career high in receiving yards is 703 also last season. This is not convincing that he can be relied on as a top receiving option.
Another area of concern associated with these talented weapons is their injury risk, Reed and Doctson both have missed significant time due to injury making it tougher to rely on them. In a league that many people stands for not for long, availability is the best ability. When healthy Reed is one of the best tight ends in the league, creating matchup nightmares for opposing linebackers and safeties. Crowder often gets more attention when Reed is injured, limiting his production and forcing other players to step up. If previous seasons are any indication, there are not many players who step up when Crowder is being challenged. Richardson and a healthy Doctson hope to step in and be complementary weapons for Smith.
Team Most Valuable Player OLB Ryan Kerrigan
When the Redskins signed Josh Norman in free agency they expected him to be another standout player on the defense, however Norman has not been able to duplicate the great production he had in Carolina. Kerrigan is a constant presence on Greg Manusky's defense generating pressure on the quarterback and often stripping the ball from them. Coming off a 13 sack season and three forced fumbles he will look to build off the great success of last season. Although Kerrigan is already an outstanding defensive player, he will need to elevate his game even further to compete in the NFC East. All three other offenses in the division have the capability and weapons to put up a lot of points and in a hurry. It is not a one man effort by any means, but Kerrigan will certainly need to lead the charge for the Redskins defense.
Team Sleeper: RB Derrius Guice
Fortunately for the Redskins, a lot of teams passed up on Guice because of some character issues he has off the field before the NFL draft. When looking at film his on field talent, Guice was undoubtedly a first round pick and arguably the second best running back behind Barkley. Similar to fellow LSU running back Leonard Fournette who had a very successful rookie season, he also makes a living with his physicality trucking opposing defenders. While Guice's receiving ability needs some improvement, Thompson can step in on third down and fill this role. Last season he was one of the best receiving backs in the league before a Torn ACL ended his season. With Thompson and Guice as the two starting running backs, offensive coordinator Matt Cavanaugh will have the best of both worlds. While Guice may not have the production that Fournette did in his first season, expect him to be a large part of the Redskins running attack.
Reason for Prediction
The Redskins offense will have a completely different look this season, without Cousins at the helm. Smith had great success in Kansas City, however the caliber of weapons in Washington is not as talented. Washington does have some very exciting young pieces on their defense, but some of the teams they face this season will prove too much of a challenge. Besides having to face the defending Super Bowl Champion Eagles twice, they will have to face some of the most talented quarterbacks in the league. Throughout the season they will face: Carson Wentz, Matt Ryan, Aaron Rodgers, Drew Brees, Cam Newton, all extremely tough to stop. With a tough schedule and some question marks surrounding the receiving corps, Washington has a tough year finishing last in the division.
Main Image: Embed from Getty Images