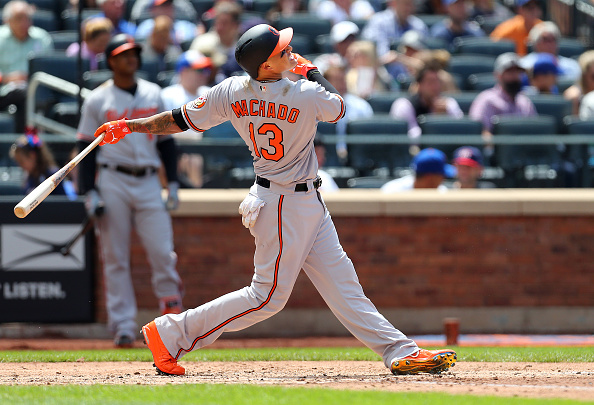 The Orioles currently have a very lackluster farm system. With the playoffs out of the question, they could look to pull off a blockbuster. Perhaps the most intriguing piece they have to offer is 3B/SS Manny Machado. Machado is a star, currently hitting .312 with 18 home runs and 50 RBI's. There are certainly teams out there that could use that young, and exciting bat.
Here are Five Potential Landing Spots for Manny Machado
Chicago Cubs
The Cubs would be enticing with Baez, Rizzo…or……Bryant (that won't happen). I would certainly welcome Darvish and, given the fact that Bryant is being benched from time to time due to power outage for home runs, maybe he can be lured away in a package deal? I would even take a chance on Schwarber, with 11 home runs and 28 RBI at present. Quintana and Hendricks might look good in the rotation as well. Personally I believe The Cubs will make a big push to land Manny, and, the Orioles should reap some good returns if handled correctly.
Arizona Diamondbacks
Diamondbacks seem to have plenty of hitting to spare. Diamondbacks targets for me would be Patrick Corbin, Zack Godley, Jake Lamb, David Peralta, Robbie Ray, A.J. Pollock..maybe Jerrod Dyson. Contracts aside Zack Greinke would be a gem to land, Paul Goldschmidt (although he seems to have received from a woeful start) and perhaps Archie Bradley (if Zach Britton is dealt). The DBacks are heating up a bit and Goldy's shoulders have once again become a resting place. Perhaps is the right time to package a deal with Manny, maybe Jonathan Schoop and Adam Jones, to see what can happen? The DBacks run to the playoffs could surely use Manny in the heart of the lineup.
Miami Marlins
Marlins seem to have some type of farm system (other than what they put on the MLB roster at present). Current roster targets could be Kyle Barraclough, J.T. Realmuto, Starlin Castro, Martin Prado, Cameron Maybin and J.B. Shuck. Given the exodus of Giancarlo Stanton, Marcell Ozuna and Christian Yelich, the Marlins (under the leadership of Jeter and Company) could make a much needed South Beach splash with the addition of Machado. Exposure of marketing wise, this is a great landing spot for Machado. Given his popularity and community involvement, he would surely come in strong with the fans in Miami. They need a boost after being robbed of their marquee talent over the winter.
New York Mets
Mets obviously (minus injuries) has pitching. Robert Gsellman is looking real good out of bullpen, Noah Syndergaard, Jacob DeGrom, Yoenis Cespedes (although neither his body nor his brain seems to last a full season), Michael Conforto….maybe a couple others. This is a team (like the Orioles) that is quite difficult to watch. Manny in New York seems to be the perfect branding option (although many would opt for The Yankees) for a star that has really yet to reach his full potential. With the exception of ace pitching and perhaps Cespedes, I am not sure The Mets have the trade value The Orioles need?
Los Angeles Dodgers
Dodgers would be Rich Hill, Kenley Jansen (not likely), Kenta Maeda, Alex Wood, Yasmani Grandal, Cody Bellinger, Max Muncy, Justin Turner, Corey Seager, Chris Taylor and maybe Matt Kemp. The Dodgers have a few players (Seager, Bellinger, Turner) that either overachieved last season or, in some cases, were slowed by injuries. At this time, I could envision Machado/Jones/Schoop for Bellinger/Turner/Seager. Get younger, faster and maybe even more home runs in the Orioles lineup. This likely will not evolve but it's fun to think about.
Last Word
What say you? As a lifelong Oriole fan, I feel NOW is the time to trade Manny. MVP like stats in early June and a boatload of need for this team makes it the real time. We shall see what happens, but this free fall of a franchise needs a huge spark—now!
Main Photo: