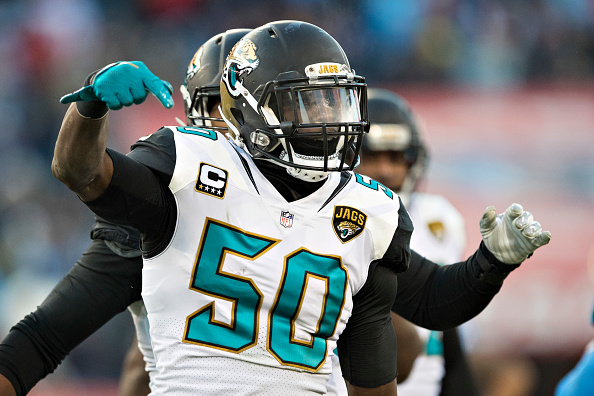 In this series of articles here on the Last Word On Sports, we will be breaking down each NFL division starting every Monday, preparing for the upcoming 2018 NFL Season. We will highlight strengths and weaknesses of each team and make our best analysis and predictions for this upcoming season. Let's finish up the AFC South Breakdown.
2018 NFL Breakdown: Jacksonville Jaguars (10-6)
Strengths:
The Jaguars will once again have the best defense in the NFL. The only starter they lost last season was inside linebacker Paul Posluszny, other than that it is the same starting squad you saw last season. Their defensive line consists of DPOY candidate Calais Campbell, budding star Yannick Ngakoue, elite run defender Marcell Dareus, and consistent starter Malik Jackson. Telvin Smith and Myles Jack are both top players are their respective positions, and the Jalen Ramsey–A.J. Bouye duo is the best in football. Of course, you can't forget first round interior defender Taven Bryan and late round safety Ronnie Harrison, who will expect to see playing time throughout the season.
Looking at the opposite side of the field, the Jaguars offense looks to be fueled by the run game. During the off-season, they added guard Andrew Norwell, one of the best interior offensive lineman in football. Pairing him alongside center Brandon Linder and Cam Robinson will surely open up holes for sophomore running back Leonard Fournette. All Fournette needs to prove is that he was worth a top five pick, and running behind that offensive line sets him up to be worth the pick.
Weaknesses:
The Jaguars season will ride on Blake Bortles not being a total disaster. Over the past two seasons, Bortles is 26th in yards per attempt and 30th in adjusted net yards per attempt (mimimum 500 attempts). If he has an above average season as a passer once again, then there will nothing to worry about. But he needs to prove that he can be that guy for Jacksonville if he intends on keeping his starting position.
There are times when a free agent signing can hinder a team's production, and the signing of wide receiver Donte Moncrief may have done just that. His cap hit is $9.6 million next season, which is around the same amount that Keenan Allen and Golden Tate will get payed. His contract alone will warrant him a starting spot opposite to Marqise Lee, which means a few of the receivers that made big plays last year will not see the field as much. My guess is that Dede Westbrook will start as the third option, but Keelan Cole and D.J. Chark will be right behind him all of next season.
Team MVP: Jalen Ramsey
Jalen Ramsey is entering his third season as the best cornerback in football. Last year he shut down players like A.J. Green, DeAndre Hopkins, and Sammy Watkins. It helps that he starts opposite to pro bowl corner A.J. Bouye, but the best part of his game is his trash talking. He got into A.J. Green's head, someone that is overall a very quiet and humble receiver. Ramsey can ball better than any other corner, and he will continue to prove that next season.
Breakout Rookie: Taven Bryan
Looking at his type, Taven Bryan is a pure pass rusher. He's not really good at much else, but that is why he will succeed in this defensive scheme. With so much talent on this defensive line, double blocking will be an expected by opposing offensive lines. Bryan will be able to just rack up meaningless sacks while on the field because the offensive line will have other problems to worry about.
Reason for Prediction:
Not much has changed from last year's team. Because of this, they are still the favorites to win the division. As long as Jacksonville remains consistent on offense, they should easily make the playoffs. They could even carve out a Super Bowl run, especially with how weak the AFC is this season.
Main Photo
Embed from Getty Images