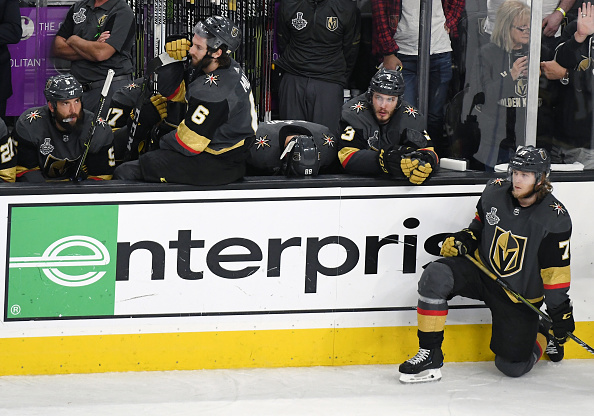 As Alexander Ovechkin continues to parade around the United States with the NHL's biggest (and heaviest) trophy, it is easy to forget what almost was. In their first year after expanding into the NHL, the Vegas Golden Knights came within three games of winning the Stanley Cup. The roster that General Manager George McPhee and Head Coach Gerard Gallant forged together over just around of year, overachieved to the point that it became almost impossible to believe that Vegas was destined for anything but a cup victory. But the Knights finally hit their ceiling in the Stanley Cup Finals after the Washington Capitals outworked, outskated, and outplayed them.
Though 2017-18 was an incredible season for the expansion franchise, Vegas management will not be marvelling at what they have accomplished for long. Coming up short at the very end of a rigorous journey only makes a team hungrier and Vegas has the resources to keep their success rolling longer than just 2018. As big as their season was last year, their offseason could be just as big. Here is a list of the Golden Knights potential top priorities and next-steps for finishing the job sooner rather than later.
What's Next for the Vegas Golden Knights?
The Draft
After leading the Pacific Division for the majority of the season, Vegas decided to move their first-round draft pick midseason. The pick was shipped to Detroit a few weeks prior to the trade deadline for winger Tomas Tatar. Nothing stellar but a quality player none the less. Tatar didn't end up being the player to put Vegas over the top but he does have three years remaining on his contract. This means that the Golden Knights have confidence in their current roster and are putting the pressure on McPhee to find diamonds in the rough in the draft that will develop over time rather than top-end talent.
The Golden Knights will make their first selection with the 62nd overall pick — the last pick of the second round. They also have multiple picks in rounds four, five and six but no picks in the first, third, or seventh. Luckily for Vegas, 2018's draft class features a variety of players that could go anywhere in the late first round to the end of the second round. Vegas' wealth of draft picks in the later rounds allows them to shop their picks to move up and get a player who slips farther than they expect.
It might not be as spectacular as 2017 in which Vegas made five selections in the first two rounds and 12 total picks, but this year's draft will be essential to the depth of the team moving forward. Vegas made a living in 2018 by utilizing it's depth scoring and will likely need the trend to continue if they want to remain competitive into the future.
If Vegas is going in the keep up their success without having the draft picks to select franchise players, they are going to have to find a member from their current group to fill that void. Jonathan Marchessault was already handed a six-year(s)/$30 million contract extension in January with the next contract to be given out expected to be that of Karlsson. Karlsson broke out in 2018 scoring 43 goals after two fairly average seasons in Columbus where he registered only 45 points in 162 games played.
His timing could not have been better. Karlsson is set to become a restricted free agent this offseason and will command a lot of money after leading the Golden Knights in points. This should not be a problem for Vegas either. Going into the 2018 offseason, the Golden Knights have a just over $26 million in cap space of which to divide between Karlsson, Shea Theodore, and any other players they decide to retain.
Considering that Karlsson essentially became Vegas' face of the franchise this season, it would seem unlikely that McPhee attempts to offer him a bridge deal with the chance of him leaving in a couple years. The contract will most likely be similar to Marchessault's but should be larger as Karlsson is two years younger. A seven-year contract would keep Karlsson in Vegas through his prime and without having to endure his decline. Expect the contract to be worth around $6.5 million a year.
Own Free Agency
One thing that drafting an expansion team does to a franchise is somewhat handcuff them into having to deal with a ton of contracts despite acquiring the player(s) just a season ago. Besides to RFA Karlsson, the Golden Knights also have key contributors James Neal and David Perron heading for unrestricted free agency looking to cash in on the open market after great years. Whether to let them walk or to bring them back at inflated prices is a huge decision for the Vegas front office to make, but if they do walk, there are some big fish on the market who Vegas may be looking to reel in with their saved money.
Three of these big names include elite centre John Tavares, first-line winger James van Riemsdyk, and Washington's number-one defender John Carlson. All names that Vegas could offer as much money as they desire as well as offer them a spot on a team that reached the Stanley Cup Final last season. There are very few teams that can compete with those intangibles.
This doesn't mean that Vegas need to lock down one of these three or a big-ticket free agent, but they do have the bargaining chips and why not use them? Vegas will almost certainly take a step back in 2018-19 if they keep the roster similar to the one they had last season and might not see a free agent class with a top-end like this one in a long time. Talent like that of these free agents doesn't come along often and Vegas might not have this much money to freely spend if their current roster continues to produce and overachieve.
Image Credit:
Embed from Getty Images