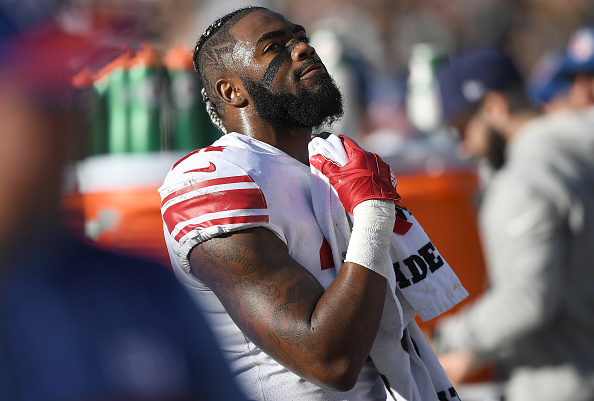 Last night Landon Collins hosted his second annual celebrity softball game at Palisades Credit Union Park in Pomona, New York. The charity event raised a total of $35,000 for Tom Coughlin's jayfund charity. The jayfund charity helps children and their families that are suffering from cancer. The charity is extremely important to the Giants organization, as well as the local community.
What is the Event?
Collins organized the game with Giants superfan Joe Ruback A.K.A LicensePlateGuy. They built off an incredibly successful event last season, and had even more success this year. The event featured a dodgeball match, homerun derby, and softball game. The two teams competing were Collins team of current Giants and Brandon Jacobs team filled with past Super Bowl 42 and 46 champions. Ruback had an additional focus on this year's game. He brought in 20 Giants running backs of the past. He did this with the intention of them providing some helpful and important advice for stud rookie Saquon Barkley.
A 'Giant' Reunion
In addition to the great cause, the event had another huge benefit for both the players and the fans. It brought together the best of the past and present. Collins' team featured some talented players and new faces on the current roster. It included some guys such as: Alec Ogletree, Barkley, Olivier Vernon and Janoris Jenkins. Brandon Jacobs' team featured some great former Giants including: Victor Cruz, David Diehl, Justin Tuck and Ahmad Bradshaw. It is not too often that fans can say that they watched 80-100 players from their favorite team both past and present compete against one another.
The event overall had a very lighthearted and positive tone. Although these guys are athletes, you could just feel and see the competitiveness. Throughout the week prior to the event, members of both teams took to social media to advocate for their respective squads. Many players encouraged fans to come out and watch their team put on a show.
A Great Opportunity for All
Fans anxiously watched all three events, lining the outfield lines and dugouts waiting for autographs from some of their favorite players. For a lot of fans it was their first opportunity to interact with some of the newer faces. It was also the first time in a while for fans to interact with the faces of the past. Many players were very gracious with their time coming over to sign autographs for eager fans including: Barkley, Jenkins, Tuck, Collins and so many more.
While there was a friendly competitiveness clearly exhibited throughout the event, there was also a great opportunity for the younger players to speak with former Super Bowl champions. Barkley is not the only player who could benefit from their advice. All of the current Giant players could benefit from listening to some helpful advice and perspective on what allowed those teams to have such great success and win the highly coveted Lombardi Trophy. However for Barkley, Davis Webb, and Evan Engram the impact the advice could have cannot be overstated. All three are an integral part of the Giants future.
Last Word
Raising a large amount of money to support a great cause. Bringing together talented Giants of both the present and the past. Allowing players to interact with loyal fans. What could be better than that? It is fair to say the event was a GIANT success and had everyone leaving the ballpark with a smile and a feeling of optimism heading into the 2018-2019 season.
Main Photo: