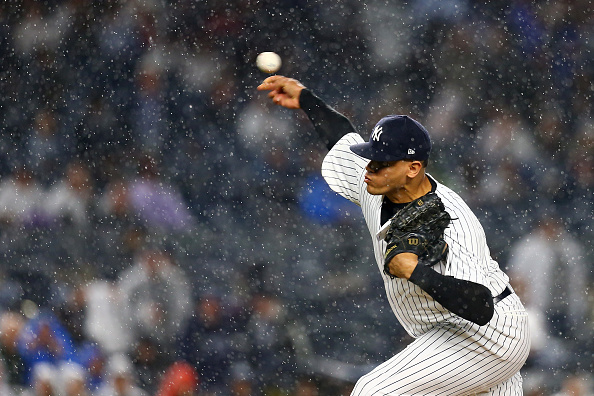 For the second half of the 2017 MLB season, New York Yankees relief pitcher Dellin Betances struggled. Former Yankees manager Joe Girardi was hesitant to use him in tight games. Despite being in a slump, Betances finished the 2017 season with a 2.97 ERA. Betances started out struggling for the 2018 season, but he has recently found his old mojo lately.
The New York City native Betances has been selected to MLB All Star Game to represent the American League for  four consecutive seasons (2014- 2017). Arguably he has been a vital part of the Yankees bullpen since his rookie year in 2014. In the 2014 season Betances posted a 1.40 ERA and 135 strikeouts. These are still his career bests up to date. Also in 2014, Betances was third place for the 2014 American League Rookie of the Year Award, behind Angels pitcher Matt Shoemaker and White Sox first baseman Jose Abreu.
Despite the talent and accolades, Betances has given up to many walks and has numerous struggles with his command. Betances himself has quoted saying that his mechanics and command has been a problem.
For the first two months of the 2018 MLB season in March and April, Betances posted a whomping 4.91 ERA. Since than he improved his ERA tremendously ending the month of May with a 3.96 ERA, which is lower than fellow reliever David Robertson, who has a 4.39 ERA. Over his last 15 games Betances has a has a 2.76 ERA. "His 15.48 K/9 rate is third best in all of baseball behind Josh Hader of the Milwaukee Brewers and his teammate Aroldis Chapman" (https://pinstripedprospects.com/the-current-state-of-dellin-betances-32681/).
Despite the struggles, Betances has rebounded and reminded everyone why he's been nominated to four All Star games and one of the best relief pitchers in the MLB. His numbers prove that. Lately Betances's fastball has returned and it's been clocked at 99 mph. No pitcher or player is perfect, although its frustrating for fans to watch him get run on. A true fan should support their player through the struggle. Its about time we give Betances credit for his hard work in getting back to form from last season and last month.
Main Image Credit:Embed from Getty Images