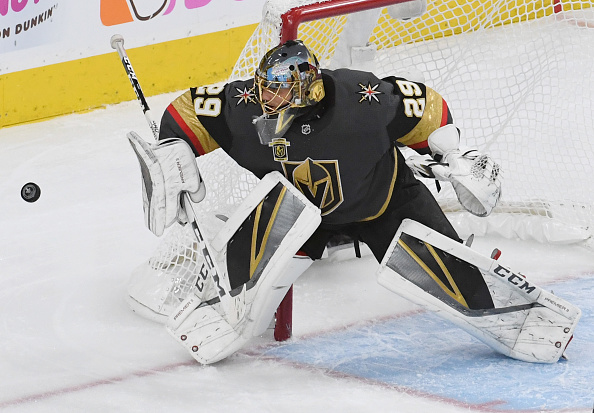 At the start of the year, it seemed like every hockey fan was rooting for Vegas. While fans wanted them to do well, apparently not this well. The Vegas Golden Knights are going to the Stanley Cup Final and they did not even have a roster one year ago. How did the Vegas Golden Knights become the bad guys? Where did all of these Vegas Golden Knights critics come from?
Vegas Golden Knights Critics Out of The Woodwork
Most analysts picked Vegas Golden Knights to finish near the bottom of the league, and rightfully so. Outside of players like Marc-Andre Fleury and Jon Marchessault, the team looked to be pretty bad as a unit. Most insiders, analysts, bookies, and fans projected the Knights to be first in line for the draft lottery. Even the most optimistic projections seemed to place them on the playoff bubble. Few saw them winning their division, or going deep in the playoffs. However, when the Knights became buyers at the NHL Trade Deadline, the hockey world had to accept that they were for real. Now they are in the Stanley Cup Final and some are jumping off the bandwagon. Why the sudden change?
"They Didn't Earn It" Myth
Some are saying the expansion draft was too easy for them and it's not fair to older teams. Well it is true that Vegas had better expansion rules than past teams, that doesn't mean they were handed a Stanley Cup on a platter. In September, most thought they would be a poor team. Now that those predictions are wrong, it seems people have forgotten their thoughts in the fall. Much like the general managers of 30 other NHL teams, fans underestimated most of these players. This juggernaut of a roster was expertly crafted with good scouting, and great leverage work by general manager George McPhee (you could argue he is responsible for both teams left in the playoffs).
There has also been great coaching and some career years from the players. Every player on the Vegas Golden Knights is playing well above their projected worth. This is not something you could have expected when putting this team together.
"They Need to Suffer Before They Win" Argument
Why? That is the worst logic around. It is sports, not rich parents spoiling their kid. Why does a team have to suffer before making to the Stanley Cup Final? The expansion draft was great to the Golden Knights, but they weren't handed any star players. Vegas got washed up players, salary dumps or McPhee twisted the arm of other general managers and won trades to some of his better players. Just look at deals he made with Pittsburgh, Minnesota, Columbus, and Florida). While the Expansion Draft may have been unfair to the expansion teams of the past at some point, it needed to be fixed.
It's not good for business to have a new team struggle for a decade before they are fun to watch. This goes for league and the fans. When building a new market, the league should provide an entertaining product for the new fans.
This is not to say that the expansion rules were all that favorable to Vegas. One has to also examine the mistakes of 30 other general managers in making their protected lists, and in allowing Vegas to build such a team through picks and trades. It is unlikely that the new Seattle team, when they enter the league, will have as much early success as Vegas has had. The Expansion Draft for Seattle may have the rules as were in place for Vegas, but the general managers around the league will have learned their lesson. Seattle will be more competitive than the Atlanta Thrashers and that is a good thing, but they are unlikely to be a top team in the league.
"Fans Don't Understand How Special This Is and Will Be Spoiled"
This may actually be a valid argument. A New York Rangers fan would probably shed a tear if they won. Whereas for Vegas it would be cool, but does not have the same emotional effect. But that isn't what sports are about. They aren't about paying your dues being a guarantee of future success. Sports is about the best players, the best teams, and the competition. The emotions of hockey are the most beautiful byproduct of the game even when those emotions hurt. As a Vancouver Canucks fan that followed 2011 team, I know that as well as anybody. This run is doing amazing this for the city of Las Vegas and the sporting world there. The city has rallied behind this team in a way that would never have happened if they were only half this good.
Vegas also looks like the bad guy because of their opponent. They face the best pure goal scorer of this generation, Alex Ovechkin. Ovi and the Capitals have never won a Stanley Cup. Now in his 13th season in the NHL, it is the first time Ovechkin has played past the second round. To have his first opportunity at a Cup taken away from him by an expansion team would make Vegas a hated team for years to come. However, that is why we love sports, the amazing highs and lows. Being a sports fan is all about the stories like this. The scrappy new players against the grizzled veteran that may never get this chance again going head to head for the title. You could not ask for a better storyline in this final.
Sure, maybe the fans will come to expect this in years coming, but true fans will remember the high of their team hoisting the cup, and they will follow that team their whole life chasing it if they need too, even if they never see it again. This is making Vegas fans for life.
Main Photo:
Embed from Getty Images