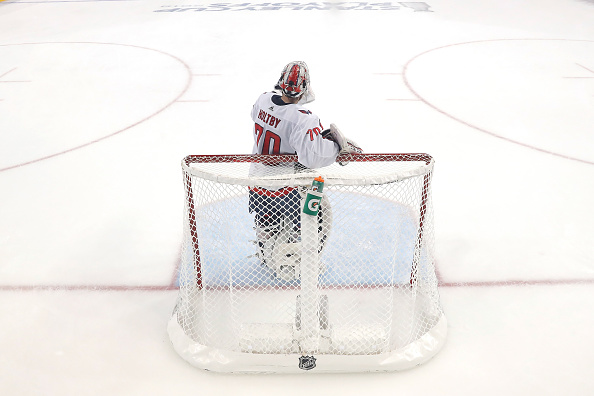 Both teams overcame a lot to make it this far. The Washington Capitals beat the Pittsburgh Penguins for the first time in years for the chance at the finals and they beat the lighting to make it to the finals. The Vegas Knights overcame a first-year typical struggle to bring hope to an area devastated by loss. Both teams have earned the right to play for their cites in the NHL Stanley Cup Playoffs.
This is a crucial matchup. Both teams are playing for their first cup and it will be a heartbreaking loss to the team that goes home empty-handed. The Penguins, Blackhawks, and Kings have won eight of the last nine championships. Watching teams set up mini-dynasties can be a nice time, but it's going to be cool to watch new teams and faces this year. The Capitals have only been this far once, and they got swept by the Red Wings in 1998. There's a certain novelty to the Capitals playing in this round, only surpassed by Vegas playing in it.
Washington Capitals
Alex Ovechkin is finally playing for a cup. He is called one of the greats but he has never received his name on the cup. He has more goals scored then Sidney Crosby but Crosby has a few rings to his name. The fact that he is finally able to prove himself sets a lot of fans DVRs.
Vegas Golden Knights
The Vegas Knights are being led by Marc-Andre Fleury. He is on fire. Fleury has one of the highest save percentages and keeps adding to it. He has a 12-3 record with a .947 save percentage and 1.68 goals-against average. In the history of NHL playoffs, only two goalies have played as many games as Fleury has these playoffs and finished with a save percentage and average that good. Fleury is 33 and a three-time Cup champion with the Penguins. He beat the Capitals in the playoffs to two of those Cup wins, and now he's standing in their way again. If he wins it all he has solidified his name as a hockey great.
Vegas has been able to overcome many obstacles this season. they are a first-year team and rarely do they make it far enough to celebrate. But there is something in the water for this team and many players have said that they want to win for the city. Vegas was the scene of a mass shooting prior to the start of the season and the team is bringing hope back to the area.
Last Word
This series is shaping up to be a great one, either the era's best goal-scorer gets his franchise over a nearly half-century-long hump and wins the Cup, or an aging goalie who was supposed to be on the downside of his career leads an expansion team to an unprecedented win in its first year as a team. The only issue with that is that one of them also has to lose.
Main Photo: