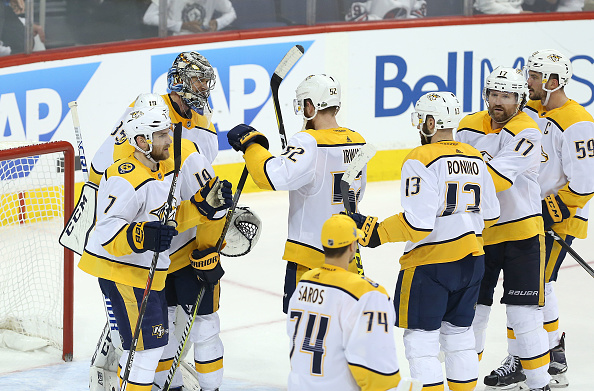 Everyone wants to know why teams with such lofty expectations fall short of the high bar that is set before them. When a team wins a Presidents Trophy during the hockey season, it is no given that they will advance to play in the Stanley Cup series. The Nashville Predators were one of the hottest teams entering the playoff spectrum at the beginning of the playoff race. Now, they are among the teams watching from home, after suffering a devastating game seven loss to the Winnipeg Jets, 5-1, in Nashville's first ever hosting of a game seven.
Why the Nashville Predators fell short of lofty goals
Nashville won 53 games during the regular season, and failed to win double digits in the postseason, ending their season with a 7-6 record in the playoffs. After annihilating the Colorado Avalanche 4-2 in the first series, they then dropped the series to Winnipeg 4-3.
After watching every playoff game, and having attended game seven, I can now explain why Nashville failed to advance to a conference finals appearance.
Nashville is a fast break team
The Predators aren't built like most teams are. They are a fast break team, relying on turnovers to capitalize on breaking down the ice in numbers. They have great scorers in that position, Filip Forsburg and Ryan Johansen especially. Johansen and Forsburg have a rare ability to scoot the puck through tight places and set up their own shots. However, when they are faced with an opportunity to score, like a power play that allows the opposition to set up a defense, Nashville struggles.
The Predators realize this, so they take a lot of shots. It's rare to see Nashville held to less then 35 shots in a game. More often then not, they are over 40. Sometimes, the shots go in. However, Nashville struggles to put quality shots on goal, and that is a major weakness in the NHL.
Nashville relies on their goalie
Nashville has been blessed the past few seasons with the play of Pekka Rinne, the Finnish goalie who has been in top form the past couple of seasons. It was the play of Rinne last season that effectively put Nashville in the Stanley Cup series. With a Conn Smythe trophy candidate in the net, Nashville's offense plays more aggressively and leans upon his outstanding play to get the team through the game.
Rinne struggled all through the playoffs. He was pulled from three different games during the Winnipeg series, including being pulled within the first 10 minutes of game seven against Winnipeg after allowing two soft goals and putting the Preds down early 2-0. Because of Rinne's struggles, Nashville was forced to take an approach they aren't comfortable taking and play more conservatively.
The offense is out of sync
The Predators offense looked terribly out of synch throughout pretty much the entire playoff run. Passes were inaccurate, they turned the puck over. Even with all of the potential star power on the roster, it seems like this group of guys just can't click.
It's not that Nashville cannot play offense, as we have seen stretches this season where they played very well together. There just appears to have been something that happened where the team couldn't function in the playoffs.
What will Nashville do to fix the team?
The front office knows that the team needs to be fixed and start heading in a better direction. They need guys who can play consistent offense and keep possession of the puck, waiting for shots to open up. General manager David Poile has made it clear that left wing Scott Hartnell will not be returning next season.
Nashville is going to go after a couple of guys in free agency, maybe someone like Evander Kane or Rick Nash. One or two guys who can bring stability is all that they really need.
As for Rinne, rumors are starting to circulate that there is a good chance that Poile trades him away. This would be a good move for Nashville and would open up some opportunities to add star talent from around the league.
Nashville has had a fantastic run the last four years with this team and this exciting offense. After falling short this year, it is time that they head in a new direction and capitalize off of a blossoming roster in an excited young hockey city.
Main Image Credit:Embed from Getty Images