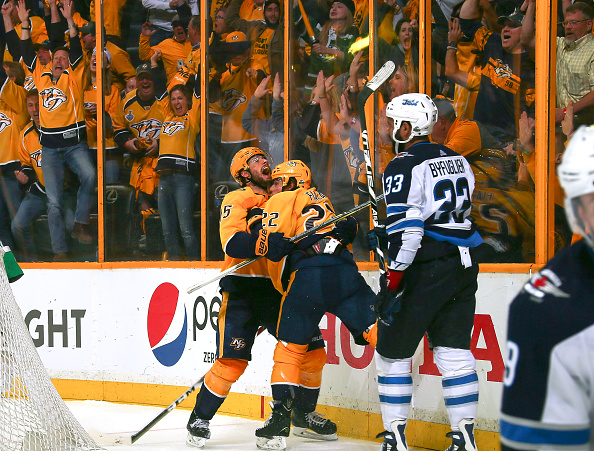 I would not be the first or last to say that the first round of the Stanley Cup Playoffs kind of sucked. We are only 3 games in and the second round of the Stanley Cup Playoffs is what we all wanted. We have what is probably the best matchups we will see this postseason.
The Second Round is What Hockey Fans Want
Why was the First Round Disappointing?
On paper, the first round looked like it could have some great series going the distance. The Pittsburgh Penguins and The Philadelphia Flyers sounded great, but it ended in 6 and at no point did Philly look like they were going to take it. There were some exciting matchups and some chances for some upsets. We got none of that. The Colorado Avalanche made a valiant push and brought the Nashville Predators to 6 games, but with goalie injuries, they couldn't quite do it. Out of 8 first round series, only one went the distance of 7 games, The Toronto Maple Leafs and The Boston Bruins.
There were two series sweeps, The Vegas Golden Knights over The LA Kings and The San Jose Sharks over The Anaheim Ducks. Everyone likes a good sweep, especially when its an upset like last year when The Nashville Predators took out The Chicago Blackhawks in 4. But when the sweep happens in 2 of the matches that were expected to be of the closest, its kind of disappointing we saw less hockey than more. At the start of the playoffs, it was assumed if there was to be a sweep it would be The Tampa Bay Lighting over The New Jersy Devils, or Nashville over The Avalanche. Unfortunately, we were wrong, and we did not get to see up to 6 games between Pacific Division rivals.
Why is the Second Round so Good?
You can complain all you want about the current format of the Stanley Cup Playoffs, but you have to admit, it made for a killer second round. This is all probably best case scenario match ups. Every series was tied 1-1 going into game 3 and every matchup could go either way. Its the hockey you dream of watching if your team is not still in the playoffs. This is around that it is very plausible that every matchup could go 7 games.
Pittsburgh Penguins Vs. Washington Capitals
The matchup as old as time itself, will this be the Caps year? Every year that these two teams face each other, it is amazing. Year after year Washington and their fans say "This is our year" and every year they fall short. Alex Ovechkin, arguably the best goal scorer of our time, just can't seem to get past the decorated Sidney Crosby. In a year that the Caps have retooled the team and expectation from the team is at its lowest, could this be the year that they shake the monkey off their back? Washington leads the series 2-1 but doesn't be so quick to write off a team that has Crosby, Malkin, Kessel and Letang on their power play. Don't forget the Penguins have won back to back Stanley Cups and they are looking to threepeat.
Pittsburgh fans didn't appear to appreciate Ovechkin's celebration pic.twitter.com/QL4X1tMI82

— Pete Blackburn (@PeteBlackburn) May 2, 2018
Boston Bruins Vs. Tampa Bay Lightning
Brad Marchand, Patrice Bergeron, Zedeno Chara, Nikita Kucherov, Steven Stamkos, Andrei Vaseleski, and Viktor Headman. These are all names of players appearing in this star-studded matchup. Goaltending has been a question in both these teams. Tuukka Rask has been inconsistent and rather unlucky. He had a skate blade fall out and got scored on when he couldn't move on the ice. Vaseleski said he was tired, in the regular season. The talent on these teams is undeniable. From veterans to newbies, these teams have a ton of talent. This series is led by Tampa 2-1 after game 3. This is a high-paced match up and not one to sleep on this round.
Tuukka Rask loses his skate blade and gets scored on. He's not happy about it. pic.twitter.com/xV69eJTwu5

— Brady Trettenero (@BradyTrett) April 28, 2018
Nashville Predators Vs. Winnipeg Jets
Every night before bed, we got down on our shin pads, put our gloves together and prayed. We prayed to the hockey gods we would get this matchup. Do you know how the hockey gods thanked us? They gave us this matchup. From Smashville to The Whiteout, these are some of the most electric buildings in the game. Winnipeg hasn't won a playoff series in 31 years and the current Winnipeg Jets/Thrashers franchise has never won a series. Winnipeg is loving this. Nashville is as wild as ever with The Tennessee Titans' offensive line using a catfish to chug beers. Its a party, and the hockey is just as good. Hard hitting, fast hockey. Some of the best goal scorers in the league going against the best defensive lines in the league, its what we all wanted. Winnipeg is up 2-1 going into game 4.
The Titans O Line is BACK pic.twitter.com/EqNJFVAw8g

— Spittin' Chiclets (@spittinchiclets) April 29, 2018
The San Jose Sharks Vs. The Vegas Golden Knights
Two teams colliding with each other having not lost a single playoff game, and that stat had to come to an end. The grizzled vets go head to head with the chippy new guys. In what looked like more of the same from the crummy first round, Vegas blew out the Sharks in a 7-0 win. The next 2 games would go to at least one OT period of play in a much more balanced and even series. After losing Kane due to a suspension for a cross-check to   Pierre-Edouard Bellemare's face, the Sharks took their first and only win to date. Vegas has continued to show the naysayers that they are the real deal. This is a series that could entirely go any direction with Vegas being such a wild card and San Jose being an undisputed contender. This series is knotted at 2 apiece.
What a shot. 🎯 #SJSharks pic.twitter.com/cma7ubnRhe

— San Jose Sharks (@SanJoseSharks) May 1, 2018
How Will it End?
Every single one of these series could go the full 7 and that's not a stretch by any means. The winner of the Winnipeg Nashville series will likely go on to battle for the Stanley Cup. Although, I wouldn't be so quick to write off Vegas if they move on to the Third round. In the East, I suspect it will be either Pittsburgh or Boston that will represent the right side of the continent in the Final. The series, however, are so close that no one has any idea how this will all end.
Main Photo:
Embed from Getty Imageswindow.gie=window.gie||function(c){(gie.q=gie.q||[]).push(c)};gie(function(){gie.widgets.load({id:'d9V42t3QSNB0-Fn0wS3yeA',sig:'hxKXfVtfIMgP9ynkMP-J2t7FalkPbwqshKpi7yafU4A=',w:'594px',h:'451px',items:'952882392′,caption: true ,tld:'com',is360: false })});