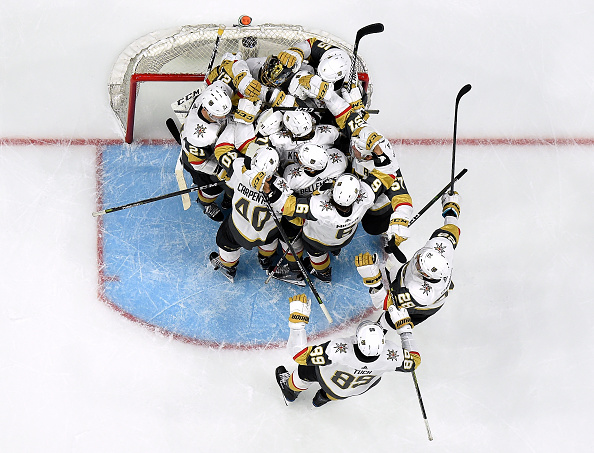 The Vegas Golden Knights have been making headlines all year, from setting expansion team records to clinching their division title. Even though the season isn't over, they just won't stay off our Twitter feeds. The latest headline? Vegas Golden Knights Sweep LA Kings.
Vegas Golden Knights Steamroll LA Kings
Once again analysts, insiders and fans the league over underestimated the Golden Knights. After their amazing inaugural year racking up 109 points and finishing 1st in the Pacific, many didn't see them getting past the first round. With the likes of Anze Kopitar, Drew Doughty, and Jonathan Quick all standing between them and the 2nd round, many thought Vegas didn't have what it would take.
Onto the next one#VegasBorn pic.twitter.com/bsGmLAvntt

— Vegas Golden Knights (@GoldenKnights) April 18, 2018
Battle Between the Pipes
When you have 2 of the most winning goalies in the post-lockout era going head to head, it is safe to say you shouldn't expect a whole lot of goals. Between both teams, only 10 goals were scored in their entire series. If I told you 1 year ago that Jonathan Quick had a .947 SV% and a GGA of 1.55 and he and the Kings still got swept by the new guys would you believe me? No, absolutely not. Despite those very admirable numbers, it wasn't enough to carry his team to round 2. Quick without a doubt was the best player in the 4 games played for the Kings. Quick only let in 7 goals in the entire 4 game series, and gave his team a chance every night, never being down more than 1 by the end of the night.
Fleury was also playing some of the best hockey of his career putting up an amazing .977 SV% and an eye-popping 0.65 GGA. It's worth noting, just because his team was winning, didn't make this any easier on him, Fleury faced just 1 less shot that Quick did in the entire series. Fleury let in only 3 goals in 4 games. Fleury also posted 2 shutouts, one to open and one to close the series. Marc-André Flurry and Jonathan Quick have a combined five Stanley Cup wins.
Vegas Found Another Gear
A worry surrounding the team is that Vegas might not have "that next level" that you need in playoff hockey. Vegas has been playing their heart out all year, leaving it all on the ice. What happens when all the other teams are firing on all cylinders too? Any hockey fan can tell you when the playoffs start, teams change. Teams hit harder, skate faster, shoot better and it creates a faster, better version of the sport. We thought Vegas was running at 110% already, they laughed in our face and showed us what Vegas' 110% really is.
Between high hits earning a suspension and butt-ends to the jaw, there was no shortage of big hits and raw emotion. The Golden Knights turned up the heat, used depth to their advantage. Vegas scored 7 goals in the entire series, not one player scored more than a single goal. Vegas has the depth that any team should be envious of and they used to their advantage.
Moving Forward
What will happen next? Well, anything is possible really. At the start of the year, the Westgate Sportsbook had the odds of Vegas winning the cup at 200-1, that has just changed to 4-1. Vegas and the Nashville Predators are tied for best odds of winning it all. Vegas is rolling into round two of the playoffs having never lost a playoff game. VGK will play the winner of the San Jose Sharks and Anaheim Ducks match up. The Sharks could also sweep their match up Wednesday night as they lead their series 3-0. Vegas has a goaltender coming off back to back Stanley Cups and they want to prove the whole world wrong, they are out there playing the best hockey of their life and having a blast doing it. I have a feeling Vegas isn't done making history just yet.
Main Photo: