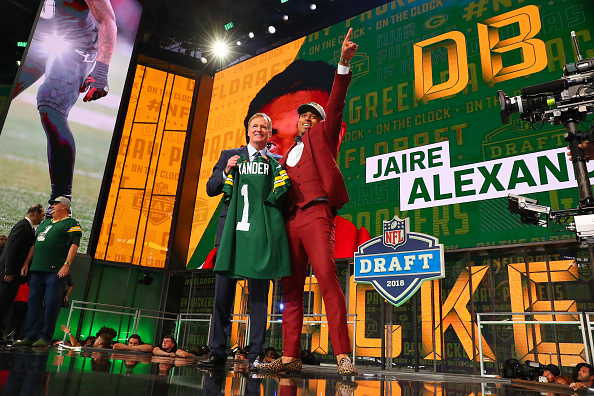 With the 18th pick in the 2018 NFL Draft, the Green Bay Packers selected Jaire Alexander from Louisville.
Green Bay initially had the 14th pick in the 1st round. Minkah Fitzpatrick and Darwin James were both surprisingly on the board at pick 11. I feel the decision to trade back was made after the Miami Dolphins shockingly took Minkah Fitzpatrick. The Packers then traded with the New Orleans Saints and received the 27th pick and a 1st rounder in 2019. They then traded back up to 18th to choose Jaire Alexander out of Louisville.
The Packers Draft CB Jaire Alexander
Pros
Jaire Alexander was Mike Mayock's 2nd ranked CB behind Denzel Ward. He is a playmaker. At 5'10" almost 200 pounds and a sub 4.4 40 yard dash he makes the Packers' secondary better. He is known to have great ball skills. He adds competition to the punt returner position with Randall Cobb and Trevor Davis as well.
Cons
He only played 7 games this past season dealing with hand and leg injuries. As Packer fans, we know that injuries have decimated our defense these past two seasons. That cannot become a recurring theme.
Analysis
With Alexander and Kevin King, this Packers' secondary could be set for the next 8 to 10 years. I see Alexander as a slot corner to start out. The Packers have Tramon Williams, Quentin Rollins, and Davon House, all who started games last year, to compete for the other boundary corner. Us fans should be excited about this pick. Look for us to be just as aggressive in the second round to find a pass rusher/OLB.
Main Image Credit: Embed from Getty Images