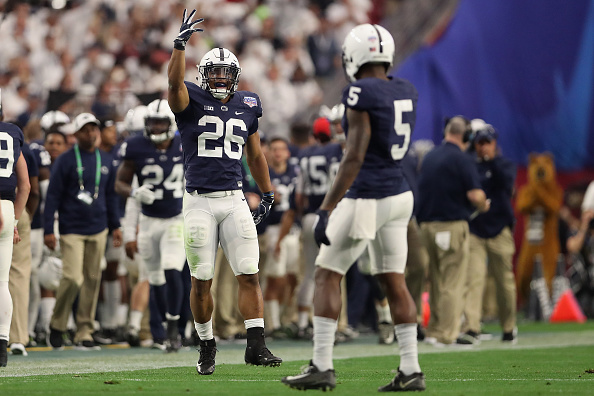 The 2018 NFL Draft is less than a week away and teams are gearing up to add the next wave of young talent to their rosters. Teams often look to the draft as the key to taking their franchise to the next level. With a deep class of talent this year, picks are more valuable than ever and teams will be filing roster holes left, right, and centre. Here is how the draft may shape out on April 26.
Derek Borycki's NFL Mock Draft 1.0
Derek Borycki's NFL Mock Draft 2.0
1. Cleveland Browns: QB Sam Darnold, USC
The Browns finally stay put and get their quarterback. After multiple attempts at finding their guy, they go all in on Darnold. He will most likely sit and learn behind Tyrod Taylor and Drew Stanton for a season. When Darnold finally does debut for Cleveland, it will be a breath of fresh air for their fans.
2. New York Giants: RB Saquon Barkley, Penn State
Barkley has the potential to be an every-down back. He has the same skill set as Leonard Fournette but moves better behind the line of scrimmage. Barkley will bring something to the Giants that they haven't had in a long time. An elite runner. The offence will open up and the Giants will be tough for opposing defences to anticipate come 2018.
3. New York Jets: QB Baker Mayfield, Oklahoma
The Jets traded up from six to three to get a quarterback. That is what they do here. They signed Teddy Bridgewater and Josh McCown in the off-season. These moves were to help focus on the development of their new rookie quarterback. That rookie is Mayfield. Mayfield will come in and compete to help lead the Jets back to the playoffs.
4. Cleveland Browns: DE Bradley Chubb, NC State
Cleveland gets a partner in crime for Myles Garrett. The two will spearhead a new-look Browns team that is looking to get out of the basement of the league. Together Garrett and Chubb will become one of the best edge-rush duos in the NFL and terrorize backfields for years to come.
5. Buffalo Bills (via Denver): QB Josh Rosen, UCLA
The Bills finally find their trade partner and get their next quarterback. Rosen is a brash quarterback from Cali who will come to Buffalo and try to make an immediate impact. Rosen's attitude is a cause for concern, but confidence would be welcomed from Buffalo when discussing the quarterback position.
6. Indianapolis Colts: OG Quenton Nelson, Notre Dame
The Colts have had two glaring issues the past few seasons; both stemming from the same position group. They have had terrible pass protection and a poor run game. Andrew Luck has been nursing an injured shoulder for multiple seasons due to the punishment he has been taking. Nelson can make an immediate impact and lead an offensive line that could use some major help.
7. San Francisco 49ers (via Buccaneers): LB Roquan Smith, Georgia
The 49ers jump the Bears to guarantee they get their favourite linebacker in this draft. Smith has shown elite levels of talent at stopping the run. He also has the best coverage skills of any linebacker in this class.
8. Chicago Bears: LB Tremaine Edmunds, Virginia Tech
The Bears get Edmunds whether he was their top LB or not. Regardless, Edmunds has exceptional talent and is only nineteen years old. Edmunds will come to Chicago and fill the hole left by Jerrel Freeman. Edmunds has a big frame that helps him fill gaps and grab running backs with ease. His size and athleticism combine for an elite combo. He can also cover tight ends in coverage.
9. Tampa Bay Buccaneers (via 49ers): S Derwin James, FSU
The Buccaneers take a pure safety who can provide help over top or stop the run. James is a physical talent like no other. He has the strength, speed, and size to dominate in the secondary. James makes it a point to try and force a turnover on any given play and that will help the Buccaneers in 2018.
10. Oakland Raiders: CB Denzel Ward, Ohio State University
Ward is the best corner in this draft by a large margin. Falling to ten is a blessing for an Oakland team that could use help in the secondary. After getting rid of David Amerson and Sean Smith Oakland is left with very weak depth at the position. Oakland drafted CB in round one last year and this year they do it again.
11. Miami Dolphins: DT Vita Vea, Washington
Vea can come in and replace Ndamukong Suh while costing a thousand times less. Vea has superstar potential and reminds me of Star Lotulelei. He has great size and run stopping ability and could use some work with pass rushing. His pass rushing is better than Lotulelei and he simply needs to work on his footwork to overcome that part of his game.
12. Denver Broncos: QB Josh Allen, Wyoming
The Broncos traded down with Buffalo to acquire more draft capital, but their target position doesn't change. Denver takes a quarterback that they can groom behind Case Keenum in Allen. Allen has been rough on tape, but his Senior Bowl and combine performances have shown the potential he has.
The Redskins get a steal here with Fitzpatrick. Fitzpatrick has top-five upside with his athleticism being his only weak point. Football IQ is where Fitzpatrick excels. His coverage skills are excellent and he can play the run extremely well. He can play safety or corner, but the Redskins will draft him to play wherever he helps them win.
Davenport is the best pass rusher in this draft not named Chubb. Davenport is an elite talent when it comes to rushing the quarterback and can potentially lead all rookies in sacks this season. Davenport will help a defense that has struggled to get to the quarterback in recent years.
15. Arizona Cardinals: WR Calvin Ridley, Alabama
The Cardinals needed a receiver so they got the best one in this draft. Ridley joins a receiving corp that consists of the thirty-four-year-old Larry Fitzgerald and multiple speedsters. Ridley will be the future of the Cardinals passing game and he will come in and try to help the Cardinals win immediately.
16. Baltimore Ravens: OT Connor Williams, Texas
The Ravens pass on a receiver here to add an anchor to their offensive line. Williams has outstanding footwork and can be a leader for the entire line right away. Williams is a little undersized, but he is powerful. He can power back edge rushers and keep a pocket clean with ease.
17. San Diego Chargers: OT Mike McGlinchey, Notre Dame
San Diego has been reconstructing their O-line the last few offseasons and they complete the process here. McGlinchey is the anchoring tackle they have needed. He differs from the other tackles in the draft as far as traits go. He lacks the strength the other tackles have but he has the best intangible skill set. His hand and feet work is as good as it gets, and this gives him an edge on the others.
18. Seattle Seahawks: DT Daron Payne, Alabama
The Seahawks get a solid defensive tackle here with Payne. Coming out of Alabama, Payne comes with the Alabama work ethic and winning experience. Payne's pass rushing ability allows Seattle to fill the whole that Michael Bennett leaves behind.
The Cowboys recently decided to move on from Dez Bryant. Despite signing Allen Hurns and Deonte Thompson this off-season, wide receiver is still a serious need. They lack a dominant number one receiver. Sutton brings in a big frame which he uses to his advantage on the field.
20. Detroit Lions: DE/OLB Harold Landry, Boston College
The Lions take the guy they reportedly fell in love with at the combine. Landry is an explosive pass rusher that can play in multiple systems. New head coach Matt Patricia will have fun moving Landry around and finding him lanes to attack the quarterback. Landry will join Ezekiel Ansah and Kerry Hyder Jr. as Detroit's top edge rushers. Landry might fit best with the lions as an outside linebacker.
21. Cincinnati Bengals: OG Will Hernandez, UTEP
Hernandez has the raw talent to be the best interior lineman in this draft. He has explosive power, excels at run blocking, and is flexible enough to manoeuvre through the pocket well. The Bengals get some serious help at the interior offensive line.
22. Denver Broncos (via Bills): CB Mike Hughes, UCF
Mike Hughes is a physical press corner who makes up for his lack of size with aggressive coverage skills. Hughes helps the Broncos fill the void created by the Aqib Talib trade. Hughes is also a prominent defender in man coverage.
23. New England Patriots: QB Lamar Jackson, Louisville
The Patriots moved on from their top wideout to move to twenty-three. They sense the future and strike a quarterback that could realistically go top fifteen. Jackson was a standout at Louisville, winning the Heisman his sophomore season. He is the youngest player to win the Heisman. He followed up with another Heisman caliber season and left for the draft. Jackson can learn a lot from Brady. His athleticism is already as good as a Tyrod Taylor's and can even matchup against Cam Newton. Jackson lacks size and could use some more weight in his frame.
24. Carolina Panthers: WR Christian Kirk, Texas A&M
The Panthers traded Kelvin Benjamin to Buffalo last season and now lack a true number one receiver. They need to get a number one and they do that in the draft with Kirk.
25. Tennessee Titans: DT Taven Bryan, Florida
Bryan is a welcomed sight for the Titans at twenty-five. He brings a new level to the Titans pass rush. Bryan excels at hitting the gaps and it is due to his ability to get off the ball. His agility and reaction time was among the best in college football. The signing of Malcolm Butler put the finishing touches on their secondary and Bryan can do the same to the front seven.
26. Atlanta Falcons: DT Maurice Hurst, Michigan
The Falcons watched the Dolphins, Cowboys, and Titans take defensive tackles, but that won't stop them from joining the club. They take Maurice Hurst here at a steal. If Hurst gets to the Falcons it will be a slide due to his recently discovered health condition. Discovered at the combine, this condition forced Hurst to sit out. Nick Fairley also has the condition and it sidelined him for almost an entire season. Hurst has already been cleared to play and the Falcons are willing to take the chance on him. Especially after letting Dontari Poe walk in free agency. Hurst brings explosive power and ability to the Falcons front seven.
27. New Orleans Saints: TE Dallas Goedert, South Dakota State
The Saints tried to reunite themselves with Jimmy Graham, but cap space got in their way. Instead, they draft a talented tight end out of South Dakota State. Goedert will fit right into the Saints balanced offense and will see plenty of targets from Brees. Goedert can open up the field for Michael Thomas and Ted Ginn while also giving Drew Brees another weapon to dissect defences with.
28. Pittsburgh Steelers: LB Rashaan Evans, Alabama
The Steelers grab a linebacker to replace the recovering Ryan Shazier. Evans has a great ability to stop the run and can even cover some tight ends in man coverage. Evans is yet another talent coming from the Alabama defence making him the third in the first round alone.
29. Jacksonville Jaguars: LB Leighton Vander Esch, Boise State
Jacksonville finds their replacement for recently retired Paul Posluszny. Esch excels in coverage which is hard to find these days from linebackers his size. He is also a dominant tackler. He has very good speed and as a result, cover the field quickly. Esch is an all-around talent at linebacker and has the potential to be the best linebacker from this class.
30. Minnesota Vikings: OT Isaiah Wynn, Georgia
Wynn is a smaller guy who will be forced to play inside even though he can play anywhere on the line. He has strong and powerful hands that keep lineman at bay and has elite athleticism. Wynn will help protect Kirk Cousins and will help make space for sophomore running back Dalvin Cook.
31. New England Patriots: OT Orlando Brown, Oklahoma
After losing Nate Solder to the Giants this off-season, the Patriots take a tackle who has the potential to be a star the calibre of Soldier. Brown lowered his stock at the combine by under-performing against the classes other top tackles. However, Brown shows that he has the talent to be a dominant tackle in the league in his tape. Brown is best in pass protection which is music to Tom Brady's ears. This is a great pick at the end of the round because of his top-ten upside.
32. Philadelphia Eagles: C James Daniels, Iowa
The Eagles end the round taking who they believe is the best available player. Daniels will be a valuable depth piece for the Eagles offensive line and will be a starter for a long time. Daniels is the first center taken in this draft and the seventh offensive lineman taken in round one.
Image Credit:
Embed from Getty Images