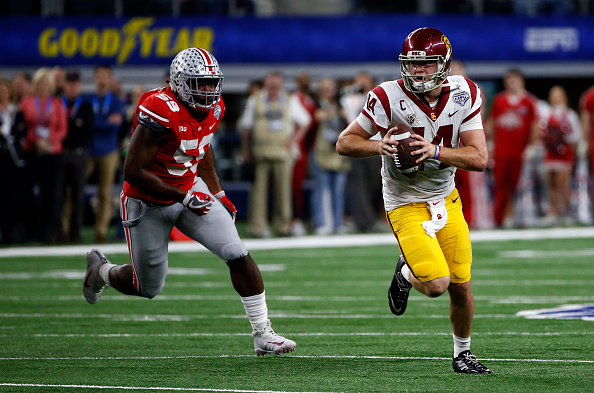 The 2018 NFL Draft is coming up and teams are gearing up to add the next wave of young talent to their rosters. Teams often look to the draft as the key to taking their franchise to the next level. With a deep class of talent this year, picks are more valuable than ever and teams will be filing roster holes left and right. Here is how the draft may shape out on April 26.
No Trades 2018 NFL Mock Draft 1.0
1. Cleveland Browns: QB Sam Darnold, USC
Cleveland selects the quarterback they think will be the best fit for them. Darnold will most likely sit behind Tyrod Taylor and Drew Stanton for a season or two. He will prepare himself for the starting job for when Cleveland's rebuild is finished.
2. New York Giants: RB Saquon Barkley, Penn State
Barkley has the potential to be an every-down back. He has the same skill set as Leonard Fournette but moves better behind the line of scrimmage. Barkley will bring something to the Giants that they haven't had in a long time. An elite runner. The offense will open and the Giants will be tough for opposing defenses to cover in 2018.
3. New York Jets: QB Josh Rosen, UCLA
The Jets traded up from six to three to get a quarterback. That is what they do here. They signed Teddy Bridgewater and Josh McCown in the off-season. These moves were to help focus on the development of their new rookie quarterback. That rookie is Josh Rosen. Rosen will come in and prepare to take over the offense for years to come.
4. Cleveland Browns: DE Bradley Chubb, NC State
Cleveland gets a partner in crime for Myles Garrett. Together Garrett and Chubb will terrorize backfields that face Cleveland. They will spearhead a new-look Browns team that is looking to get out of the basement of the league.
5. Denver Broncos: OG Quenton Nelson, Notre Dame
The Broncos go Offensive Line for the second consecutive draft and this time they focus on the interior. They get a guy who is considered to be the safest pick in the draft from an All-Pro standpoint. Nelson has the skill set of Zack Martin and that is straight out of the draft. Nelson will develop into one of the best guards in the NFL if not the best.
6. Indianapolis Colts: CB Denzel Ward, Ohio State
The Colts missed out on Chubb so they take the next best thing on defense at CB. They draft the speedy corner from OSU in Ward. Ward will immediately help a secondary that lost Vontae Davis and Rashaan Melvin to free agency. This is the second year in a row the Colts would draft a secondary player.
7. Tampa Bay Buccaneers: S Derwin James, FSU
The Buccaneers take a pure safety who can provide help over top or stop the run. James is a physical talent like no other. He has the strength, speed, and size to dominate in the secondary. Derwin makes it a point to try and force a turnover on any given play and that will help the Buccaneers in 2018.
8. Chicago Bears: LB Tremaine Edmunds, Virginia Tech
Edmunds will come to Chicago and fill the hole left by Jerrell Freeman. Tre has a big frame that helps him fill the gaps and grab the running back. His size and athleticism combine for an elite combo on the inside and Chicago's front seven will be greatly improved. Can also be called upon to cover tight ends in coverage if need be.
9. San Francisco 49ers: WR Calvin Ridley, Alabama
Ridley will put the finishing touches on the new look 49ers offense. Ridley can be a true number one receiver for Jimmy Garoppolo and open the field for speedster Marquise Goodwin. He can also stretch out the field to open holes for Jerick McKinnon. Ridley has excellent stamina that allows him to dominate in longer drives.
Davenport is the best pass rusher in this draft not named Chubb. Davenport is an elite talent when it comes to rushing the quarterback and can potentially lead all rookies in sacks this season. Pairing him on Oakland with Kahlil Mack would make for a deadly combination. This would come in handy with Oakland being in a division that consists of some solid offensive lines. Not to mention there is an inexperienced rookie QB leading the Chiefs this season.
11. Miami Dolphins: DT Vita Vea, Washington
Vea can come in and replace Ndamukong Suh while costing a thousand times less. Vea has superstar potential and reminds me of Star Lotulelei. He has great size and run stopping ability and could use some work with pass rushing. His pass rushing is better than Lotulelei and he simply needs to work on his footwork to overcome that part of his game.
12. Buffalo Bills: QB Baker Mayfield, Oklahoma
The Bills keep their history intact by not drafting a quarterback in the top ten. However, they get a solid QB with the potential to be great. Undersized like Drew Brees, Mayfield doesn't care about that and looks to be like Brees and prove his doubters wrong. Mayfield comes into Buffalo and will easily resonate with the fans and feed of their energy. He has Kelvin Benjamin, Zay Jones, and Charles Clay at his disposal which are reminiscent of his targets at Oklahoma. Mayfield will go as far as he allows himself to go.
13. Washington Redskins: LB RoQuan Smith, Georgia
RoQuan Smith is a breath of fresh air for the Redskins. He will bring an elite presence on run defense for a team that finished last in run defense in 2017. Smith can cover tight ends and running backs better than most linebackers. This is due to his outstanding athleticism comparable to some receivers.
Fitzpatrick falling to the Packers could be seen as the biggest steal of the draft. Minkah has first overall pick levels of talent He can be put anywhere on the field and he will excel. He lacks elite athleticism, but that can be fixed in an NFL system. He makes up for this with his outstanding football IQ. Fitzpatrick could be more useful to the Packers as a corner, but would succeed most in the NFL as a safety.
15. Arizona Cardinals: QB Josh Allen, Wyoming
The Cardinals can only rely on Sam Bradford for so long. They need to secure the future, so they take a project quarterback with the raw skills to be a franchise quarterback. Allen comes from the University of Wyoming and hasn't had the best players around him. With NFL receivers at his disposal, Allen can be even greater than he was in college. In the senior bowl with better talent around him, he took over and threw for two touchdowns.  Allen impressed at the combine with his am proving his status as a first round quarterback.
16. Baltimore Ravens: WR Christian Kirk, Texas A&M
The Ravens finally started to address the wide receiver position this off-season with the signing of Michael Crabtree. While this is a good step, Crabtree is getting older and has proven to work better as a number two receiver. They need to get a number one and they do that in the draft with Kirk. Kirk had a successful career at Texas A&M. He excels at 50/50 balls due to his outstanding strength and ability. Kirk gives Joe Flacco another target to throw it up to. He gives Flacco a chance to have a serious comeback season.
17. San Diego Chargers: OT Connor Williams, Texas
The Chargers find the anchor for their offensive line. They have steadily been improving their line with additions like Lamp and Feeney. They need to put the finishing touches on by getting a dominant tackle. Williams is that tackle who has amazing footwork and can be a leader for the entire line right away. Williams is a little undersized, but he is powerful. He can power back edge rushers and keep a pocket clean with ease.
18. Dallas Cowboys: DT Da' Ron Payne, Alabama
The Cowboys get a solid defensive tackle here with Payne. Coming out of Alabama, Payne comes with the Alabama work ethic and winning experience. Dallas found a solid pass rusher in Demarcus Lawrence. Payne can help Lawrence harass quarterbacks for the foreseeable future.
19. Seattle Seahawks: OG Will Hernandez, UTEP
The Seahawks fill their biggest need by far. Seattle has been criticized for their poor offensive line in recent seasons. Now they get one of the best interior lineman in this draft. They started to makeover their offensive line with a trade for Duane Brown at OT. Now they can lineup Hernandez next to him. Will has explosive power and excels at run blocking. He will be a pleasure to have when Seattle inevitably addresses their run game later in the draft.
20. Detroit Lions: DE/OLB Harold Landry, Boston College
The Lions take the guy they reportedly fell in love with at the combine. Landry is an explosive pass rusher that can play in multiple systems. New head coach Matt Patricia will have fun moving Landry around and finding him lanes to attack the quarterback. Landry will join Ansah and Hyder Jr as Detroit's top edge rushers. Landry might fit best with the lions as an outside linebacker.
21. Cincinnati Bengals: OT Mike McGlinchey, Notre Dame
The Bengals have been in search of a dominant tackle for a while and McGlinchey falls right into their lap at twenty-one. McGlinchey played alongside Quenton Nelson. McGlinchey differs from the other tackles in the draft as far as traits go. He lacks the strength the other tackles have but he has the best intangible skill set. His hand and feet work are as good as it gets, and this gives him an edge on the others.
22. Buffalo Bills: LB Rashaan Evans, Alabama
The Bills have a knack for finding linebackers who can stop the run. That will be no different with Evans. Evans can come in and replace the hole left by Preston Brown. He has a great ability to stop the run and can even cover some tight ends in man coverage. Rashaad is yet another talent coming from the Alabama defense making him the third in just this round.
23. New England Patriots: QB Lamar Jackson, Louisville
The Patriots moved on from their top wideout to move to twenty-three. They sense the future and strike a quarterback that could realistically go top fifteen. Jackson was a standout at Louisville, winning the Heisman his sophomore season. He is the youngest player to win the Heisman. He followed up with another Heisman caliber season and left for the draft. Jackson can learn a lot from Brady. His athleticism is alray as good as a Tyrod Taylor and can even match up against Cam Newton. Jackson lacks size and could use some more weight in his frame.
24. Carolina Panthers: CB Mike Hughes, UCF
Hughes is a prominent defender in man coverage and can be lockdown in press. He has the ability to stop a route at the line with his ability to jam a receiver. Lack of experience limits what we know about his overall coverage skills. However, we do know he can be a sure-fire talent at nickel corner. Whether he can be a number one corner or not is yet to be seen, but the talent is certainly there. Solid need filling pick for Carolina.
25. Tennessee Titans: DT Taven Bryan, Florida
Bryan is a welcomed sight for the Titans at twenty-five. He brings a new level to the Titans pass rush. Bryan excels at hitting the gaps and it is due to his ability to get off the ball. His agility and reaction time is among the best. Tennessee looks to bolster their defense here while their offense looks to continue their success with an even bigger contribution from Corey Davis. The signing of Malcolm Butler put the finishing touches on their secondary and Bryan can do the same to the front seven.
26. Atlanta Falcons: DT Maurice Hurst, Michigan
The Falcons watched the Dolphins, Cowboys, and Titans take defensive tackles, but that won't stop them from joining the club. They take Maurice Hurst here at a steal. If Hurst gets to the Falcons it will be a slide due to his recently discovered health condition. Discovered at the draft, this condition forced Hurst to sit out the combine. Nick Fairley also has the condition and it sidelined him for almost an entire season. Hurst has already been cleared to play and the Falcons are willing to take the chance on him. Especially after letting Dontari Poe walk in free agency. Hurst brings explosive power and ability to the Falcons front seven.
27. New Orleans Saints: TE Mark Andrews, Oklahoma
The Saints tried to reunite themselves with Jimmy Graham but cap space got in their way. Instead, they draft a talented tight end out of Oklahoma in Mark Andrews. Andrews spent his days catching passes from Baker Mayfield, someone who reminds me of Drew Brees. Andrews will fit right into the Saints balanced offense and will see plenty of targets from Brees himself. he can open up the field for Michael Thomas and Ted Ginn while also giving Brees another weapon to dissect defenses with.
28. Pittsburgh Steelers: LB Leighton Vander Esch, Boise State
The Steelers grab a linebacker to replace the recovering Ryan Shazier. Esch excels in coverage which is hard to find these days from linebackers his size. He is also a dominant tackler. He has very good speed and as a result, cover the field quickly. Esch is an all-around talent at linebacker and has the potential to be the best linebacker from this class.
29. Jacksonville Jaguars: TE Hayden Hurst, South Carolina
The Jaguars watched the Saints take a Tight End, but not the one they were after. Hurst makes it to twenty-nine and the Jaguars gladly pick him up. Hurst is a dominant pass catcher who can come in and open the field for Blake Bortles. The Jaguars thought they had a solid tight end with Julius Thomas, but injuries held back his potential. Hurst will need to improve as a blocker if he wants to stay on the field for run plays, but his pass-catching ability is too good for Jacksonville to pass up.
30. Minnesota Vikings: CB Josh Jackson, Iowa
As a coverage playmaker Jackson is the best corner in the whole draft. He had twenty-seven pass defenses including eight interceptions in one season. Jackson also had three interceptions against Ohio State and two pick-sixes against Wisconsin. He showed lockdown ability by not allowing a touchdown after week four. Jackson needs work in the press and when tackling. His big frame and ball-hawking ability makes him an amazing pick at number thirty.
31. New England Patriots: OT Orlando Brown, Oklahoma
After losing Nate Soldier to the Giants this off-season, the Patriots take a tackle who has the potential to be a star the caliber of Soldier. Brown lowered his stock at the combine by under-performing against the classes other top tackles. However, Brown shows that he has the talent to be a dominant tackle in the league in his tape. Brown is best in pass protection which is music to Brady's ears. This is a great pick at the end of the round with top 10 upside.
32. Philadelphia Eagles: OG Isaiah Wynn, Georgia
The Eagles end the round by taking the sixth offensive lineman of the round. This time it's Isaiah Wynn from Georgia. He is a smaller guy who will be forced to play inside even though he can play anywhere on the line. He has strong and powerful hands that keep lineman at bay and has elite athleticism. Wynn will help add to the already super bowl winning roster of the Eagles. A roster that is also getting back their starting quarterback who is recovering from a torn ACL. Wynn will be useful for helping Wentz stay off the ground and get back to his MVP level play.
Main Photo: