For the most part, the NFL free agency has come and gone. With that period behind us, the NFL Draft is just around the corner. During this time, many fans contemplate how their favorite team will deal their picks to grab the most valuable players at positions of need. With this first round mock draft, I will pick the prospects I believe teams will pick when they are on the clock. For this NFL mock draft, there will be no trades.
1. Cleveland Browns: Sam Darnold, QB, USC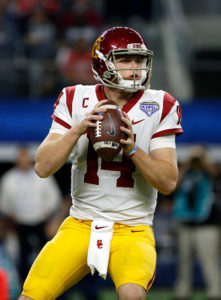 Sam Darnold's sophomore season at USC is one to forget. Even so, many scouts have him slated as the most talented quarterback in this class. If he can keep the turnovers to a minimum, then he will be well worth the pick for a team that has wanted to find its franchise quarterback for years.
2. New York Giants: Bradley Chubb, DE, N.C. State
The Giants are in a win now mentality. Pat Shurmur has come out saying he likes Eli Manning as his quarterback, so that doesn't seem like the option here. After trading defensive end Jason Pierre-Paul, Bradley Chubb seems like the fit at number 2. He will make the Giants' pass rush scary for years to come.
3. New York Jets: Josh Rosen, QB, UCLA
Quarterback has been a longtime need for this team, and Josh Rosen is the best quarterback on the board. He is a natural pocket passer, and can make any throw that he has to. However, he does have a past with concussions. But if he pans out, he will be well worth trading up for.
4. Cleveland Browns: Saquon Barkley, RB, Penn State
The Browns did sign Carlos Hyde during the offseason, but he is injury prone and not a long term answer. What the Browns need is a pro bowler in the backfield, someone who can take the pressure off of their new quarterback, and Saquon Barkley is that guy.
5. Denver Broncos: Baker Mayfield, QB, Oklahoma
The Broncos have been searching for answers at quarterback since Peyton Manning retired, but signing Case Keenum is certainly not the long term answer. Baker Mayfield is a talented quarterback with a high ceiling. Add in the leadership he can bring to this Broncos' offense, and they may have found their answer at quarterback.
6. Indianapolis Colts: Denzel Ward, CB, Ohio State
The Colts have holes all throughout their roster, but perhaps the biggest hole is a lockdown corner. Denzel Ward is a sticky man to man corner that and will immediately be able to compete against the league's best receiving threats.
7. Tampa Bay Buccaneers: Minkah Fitzpatrick, DB, Alabama
Minkah Fitzpatrick has proved he can be the swiss army knife of the defensive backfield. He excels as a safety but can play nickel and outside corner, and his skill set will prove valuable to the Buccaneers defense in the near future.
8. Chicago Bears: Quenton Nelson, OG, Notre Dame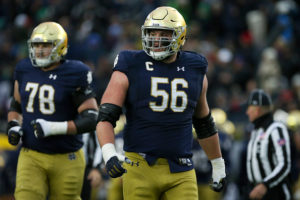 After releasing Josh Sitton, the interior offensive line has become a need. Thankfully, one of the best players in this draft fell to their pick. Quenton Nelson is a beast that will sure up that offensive line.
9. San Francisco 49ers: Roquan Smith, LB, Georgia
With Rueben Foster's future being a mystery, the 49ers linebacking corps looks to be the weakest position. Roquan Smith is a tremendous player that would be able to start immediately.
10. Oakland Raiders: Tremaine Edmunds, LB, Virginia Tech
In the modern day of football athleticism is looked at above many factors. Tremaine Edmunds is a freak of nature in that regard, and he'll be a perfect fit in the Raiders scheme, as he can play both inside and outside linebacker.
11. Miami Dolphins: Derwin James, S, Florida State
The Dolphins are in a position to  grab the best player available, and Derwin James is that guy. As a scheme fit, he is a box safety that can cover tight ends, a position that Miami has struggled to cocerme for some time.
12. Buffalo Bills: Josh Allen, QB, Wyoming
The quarterback situation for the Bills is the worst in the league, and they get more of a project player in Josh Allen. We all know he has a killer arm and can sling it downfield with ease, but he may need some time to transition into the NFL.
13. Washington Redskins: Derrius Guice, RB, LSU
The future of the Redskins backfield begins now, as Derrius Guice can come in and bring star talent to what looks like an underwhelming offense on paper. He may not be as much of a pass catcher, but that is why the Redskins have Chris Thompson.
14. Green Bay Packers: Harold Landry, DE/OLB, Boston College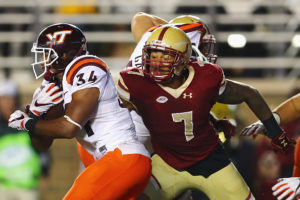 Harold Landry torched the NFL Combine, and is undeniably talented on the field. He has shown inconsistencies on his tape, but he patches up the need of a young edge rusher for a Packers defense that missed that a lot last year.
15. Arizona Cardinals: Lamar Jackson, QB, Louisville
Sam Bradford is the starting quarterback, but extremely injury prone. It makes sense for the Cards to grab their potential quarterback of the future in Lamar Jackson. However, he will need time to develop his mechanics and transition to the NFL.
16. Baltimore Ravens: Calvin Ridley, WR, Alabama
The Ozzie Newsome-Alabama connection continues in this mock draft with Calvin Ridley. Ridley is your prototypical slot receiver that can get open and make plays. He would be a huge upgrade and can start immediately on a Ravens team with not too many playmakers on offense.
17. Los Angeles Chargers: Vita Vea, DT, Washington
The Chargers are so close to postseason glory, but finding talent on the interior defensive line is a must. If they can grab a guy like Vita Vea and he is as productive as he was in college, the Chargers are my favorite to take the AFC West.
18, Seattle Seahawks: Isaiah Wynn, OG, Georgia
Any defensive player is certainly in play with this pick, but Seattle excels at picking late round defensive beasts. Instead,  they start the 2018 Draft with the beast known as Isaiah Wynn. He would come into Seattle and immediately be the best blocker, which will in turn make the Seahawks offense excel.
19. Dallas Cowboys: Joshua Jackson, CB, Iowa
The Cowboys has a solid team that needs to develop. Their biggest weakness right now is the defensive backs, and after releasing Orlando Scandrick it seems clear that grabbing a stud corner in Josh Jackson would be ideal.
20. Detroit Lions: Marcus Davenport, DE, UTSA
Marcus Davenport has risen up draft boards fairly quickly, mostly because of his athleticism. Matt Patricia will want a solid defensive line, and getting a player to start outside Ziggy Ansah is a phenomenal way to start.
21. Cincinnati Bengals: Billy Price, OC, Ohio State
The worst offensive line in the league resides in Cincinnati. Even with his pectoral injury, Billy Price's draft stock will fall as far to pick 21. He can come in and be the immediate starting center.
22. Buffalo Bills: Rashaan Evans, LB, Alabama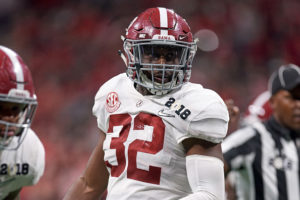 The Bills did a swell job of replacing players that left through free agency, but left a hole at inside linebacker. Rashaan Evans is a speedy linebacker that can get into the backfield and make plays. He's a great fit for the Bills.
23. Los Angeles Rams: Leighton Vander Esch, LB, Boise State
This Rams defense is already stacked, and by grabbing Leighton Vander Esch, that defense couldn't get any scarier. He is already a solid tackler and has a lot of room to improve.
24. Carolina Panthers: D.J. Moore, WR, Maryland
D.J. Moore is Steve Smith Sr. 2.0. He's a quick and tough wide receiver that runs crisp routes, which is someone Carolina has not had since, ironically, Steve Smith Sr.
25. Tennessee Titans: Maurice Hurst, DT, Michigan

The Titans are fairly underrated heading into the 2018 season, as it's tough to find a glaring need. The pass rush is rather average, but adding a beast who can start opposite Jurrell Casey would make this defense scary. Maurice Hurst is a talented player that many are high on, and after recently being  cleared to play after being diagnosed with a rare heart condition.
26. Atlanta Falcons: Da'Ron Payne, DT, Alabama
After letting Dontari Poe, Adrian Clayborn, and Derrick Shelby walk, the defensive interior has become a glaring need. Da'Ron Payne is a stud that could easily be selected in the top 15, but instead the Falcons get a steal.
27. New Orleans Saints: Mason Rudolph, QB, Oklahoma State
The Saints are in a position where they don't need any position filled. Their offense has elite playmakers and a young, solid defense. They look to the future with this pick in Mason Rudolph, who will learn under the great Drew Brees.
28. Pittsburgh Steelers: Justin Reid, S, Stanford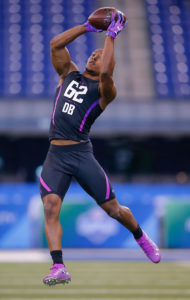 Justin Reid is another safety that can be used in a variety of ways, but his skill set in coverage is what makes him valuable to the Steelers. If all goes as planned this defensive backfield could be a major strength for a team that has struggled in that category in recent years.
29. Jacksonville Jaguars: Mike McGlinchey, OT, Notre Dame
This is another team where the needs are not obvious, especially any that pick 29 could fix. Right tackle, however, is a position up in the air. Jeremy Parnell is not terrible, but Mike McGlinchey is a stud and could at worst provide great depth.
30. Minnesota Vikings: Isaiah Oliver, CB, Colorado
Terence Newman is ancient and Trae Waynes is getting close to bust range. Not only is Isaiah Oliver a solid ballhawk, he can support the run as well. This also adds security at the corner position, as a lot of talented players on the Vikings could leave in the future with this new Kirk Cousins deal in play.
31. New England Patriots: Sam Hubbard, DE, Ohio State
Sam Hubbard is a talented player that fits the Patriots mold. He can drop into coverage  and rush the passer, and an edge rusher is a serious need for this team that was exposed at times on defense. However, Hubbard's skill set could be limited due to how slow he is for an edge rusher.
32. Philadelphia Eagles: Dallas Goedert, TE, South Dakota State
The Super Bowl 52 champions have had a busy offseason, but have failed to secure a backup tight end. Dallas Goedert is a natural blocker and could fit that Brent Celek in this Eagles' offense
Main Image Credit: Embed from Getty Images
Article Image Credit: Embed from Getty Images