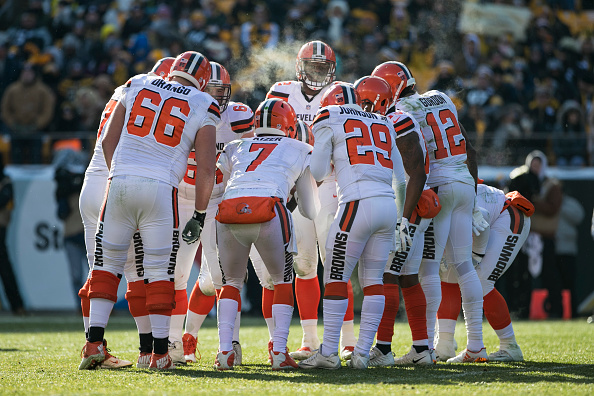 The NFC north has always been a tough, gritty division. The Cleveland Browns have tried to be competitive, but over the last decade they have become more and more of the sick dog that is hard to pick on anymore. You just feel sorry for them in a strange way. It's gotten to the point that the other three teams in their division sometimes get themselves in trouble by playing down to a team they feel they should be able to sleepwalk over. But if you are a Browns fan, you need this to stop. You need to be able to celebrate wins rather than the parade for a winless season. Thus far this off season, it looks like the right moves may be happening. Let's look at some of the best pickups so far.
EXPERIENCE OVER DRAFT PICKS
Even though the Browns have had some of the best position in the drafts for several years, it hasn't really panned out for them. Player inexperience combined with changing head coaches almost every year has given them no foundation to build on. This year, it seems they kept their eyes wide open and made offers and plays for some of the better free agents as the deadline to sign them approached. Sure they can still have the first choice of talent coming up in the draft, but they certainly are not going to depend on only rookies this year.
TOUGHEN THE DEFENSE
Without a good defense you can't have a good offense. Without a strong offense your defense is fighting a losing battle. So smartly they have worked to fill holes in both. So far they have signed defensive lineman Chris Smith, defensive back Terrance Mitchell, offensive lineman Donald Stephenson, tight end Darren Fells, defensive back Damarious Randall, tackle Chris Hubbard and corner TJ Carrie. The strength and experience these men can bring to the locker room could finally focus the team enough for the final push to win games.
OFFENSE IS KEY
Of course no matter how strong your defense is, you need to put points on the board. Even though the Cleveland Browns were winless last season, a good number of their losses were within close enough scores that they could have been won. To this endeavor, they added two pro-bowl players. Quarter back Tyrod Taylor add receiver Jarvis Landry have been acquired via trade. Landry who was very productive on the Miami Dolphins can bring a bright beacon to whichever quarterback gets the starting nod at the beginning of the season.
COACHING, COACHING STYLES AND EGOS
As mentioned before, the Cleveland Browns have changed coaches more than most teams in the entire league. They have indicated thus far that Hue Jackson will remain in the head coach spot. His challenge this year will to bring some semblance of order to new and the old. It will be a huge test of his leadership abilities. Not only because all of these players come from different coaching styles. But there will be the inevitable ego clashes in the locker room as they all posture for position on their new team. A strong coach will be able to focus all of their energies into the right places.
BOTTOM LINE
So what can they realistically do this year? Some fans are talking playoffs already. While it is great to have confidence in your team. A playoff spot is still a long shot this year. However, all they need is one win to be ahead of last year. So their first win should have the bonus effect of boosting their confidence and pushing them even further. As with any team, we will have to wait and see, but so far they seem to be making a lot of the right moves.
Main Photo: