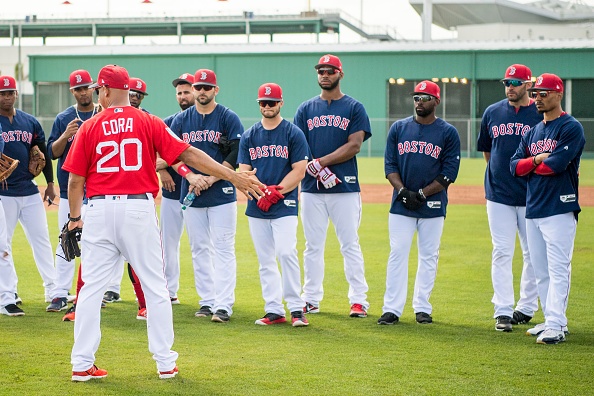 This season, Alex Cora is replacing the heavily criticized John Farrell in Boston. Despite winning the AL East twice, and a World Series title Farrell was not a fan favorite. By hiring Cora, the Red Sox hope to bring back some common sense, and a more youthful approach to managing.
Three Areas Alex Cora Needs To Change In Order To Gain Players Respect
Establish A Team Captain
Not since Jason Varitek back in 2007 have the Red Sox had an official team captain. Varitek captained the 2007 World Champions. Since then, the team has not had a player take over the team both in the locker room or on the field. This could have been beneficial to the team last year as they were often criticized for lack of leadership. Several instances occurred under Farrell last year that gave Red Sox fans a sour taste in their mouth. One example was when David Price humiliated Dennis Eckersley.
An Aggressive Hitting Approach
After fifteen spring training games under his belt Cora would like to see the team be more aggressive at the plate. The Sox have a history of being one of the most patient teams in baseball. Cora observed this right away, stating the hitters need to be more creative at the plate. This is one of the reasons the fell Sox to Houston in the ALDS last year.
Manage The Pitching Staff
The final area Cora needs to work on is the pitching staff. When healthy, the Sox have one of the best staffs in baseball. Second year ace Chris Sale was nowhere near effective as his starts early in the season. If Rick Porcello and David Price can stay healthy then the Sox should compete with the Yankees.
With the game changing by cutting down the starters innings, this should help the Sox staff. Baseball has become a game decided by the bullpens, as we saw relief pitchers dominate the free agent market this offseason.
Being a former Red Sox player should definitely help Cora during his first year. With the addition of slugger JD  Martinez Boston should be in the hunt right from opening day. Even though the Yankees have a new manager in Aaron Boone and even more more in Giancarlo Stanton, the Sox are more talented.
Main Photo: