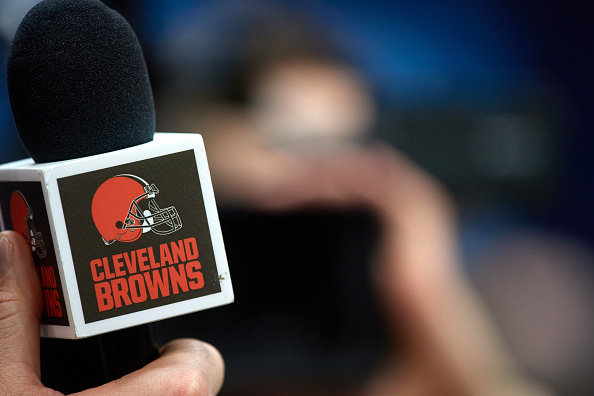 Friday felt like the Cleveland Cavaliers hijacked the Browns facilities and took over the team. Did they think there was a trade deadline today? Maybe they got the month mixed up, or rather thought they were playing Madden 18. Or did they think they ARE the Cleveland Cavaliers? Whatever it was, the Browns were trigger happy on a gorgeous Friday afternoon and made three huge trades that have shaped the team into a new vision and have given us, the analysts, more to look over and assess with the entire team situation.
The Browns have addressed three key weaknesses with their moves today. Let's look at those three things and talk about how it will effect the team.
Browns Trade Frenzy Day
Quarterback
The Browns traded a 3rd round pick to Buffalo in this seasons draft to acquire veteran starting quarterback Tyrod Taylor. Almost an hour later, they traded last season's second round pick, quarterback DeShone Kizer, to the Green Bay Packers for Cornerback Damarius Randall.
I didn't think the Browns would do it, but they are setting the stage to take Baker Mayfield number one overall. Finally, for once, the Browns will not be passing on their savior. Getting a guy like Baker would allow Cleveland to make huge strides with their football team. He's a leader who can take over a young locker room from the moment he steps foot in it. He's a grinder. Baker will be the first in to practice and the last to go.
However, just in case Baker doesn't work out the way the Browns are planning, they have a player with a similar skillset to mentor him and take over if need be. Taylor is a good football player who wasn't treated well or appreciated for his work in Buffalo. This is a great move for Cleveland to make. It makes sense… Are we talking about the Cleveland Browns?
Wide Receiver
By sending this years fourth round and next years seventh round picks to Miami, the Browns were able to acquire Jarvis Landry. This was the first move of Cleveland's busy afternoon. Landry is coming off of a 112 catch season and is lethal out of the slot. He also happens to be this season's Pro Bowl Skills Competition MVP. If Browns wide receiver Josh Gordon can stay off of the weed, the Browns just built themselves one of the best receiver tandems in the NFL.
By putting Gordon at the number one, sliding Landry into the slot and putting youngster speedster Corey Coleman at the three, the Browns look like a lethal offense. The tools will be there for whomever ends up playing quarterback. Again, it's a smart move and it makes sense.
Cornerback
The trade that sent Kizer to the Packers for Randall was a much needed move to bolster a weak secondary. This move makes me think that the Browns wants to take Alabama Cornerback Minkah Fitzpatrick with the fourth overall pick, and wanted to get him a partner on the other side.
Randall is a true number two cornerback who has been playing in Green Bay as a number one, and he has gotten picked on a little bit. By getting solid cornerbacks in to play the ends, the promising young secondary will get better and not so much rely on the safeties to pull all of the weight. Again, the Browns are looking up and starting to make sense.
Where will the Browns be drafting?
The Browns, despite moving a whole lot of picks, will not be moving any of their first or second round picks. Here is the complete list of draft picks:
1st round, 1st overall & 4th overall (from Houston).
2nd round, 33rd overall, 35th overall (from Houston) & 64th overall (from Philadelphia).
4th round, 114th overall (from Green Bay).
5th round, 150th overall (from Green Bay) & 159th overall (from Kansas City).
6th round, 174th overall.
7th round, 219th overall.
What's next for the Browns?
By turning over their front office to a new, more experienced crew, the Browns are seriously looking up. I almost feel like I am writing about the Seattle Seahawks or the Denver Broncos with the smart moves they keep making. They surprised up on Friday, and there is no reason to believe they won't continue that trend. It's a new era in Cleveland, one built for winning and long term success.
Watch out Pittsburgh. Here come the Browns.
Image Credit: Embed from Getty Images