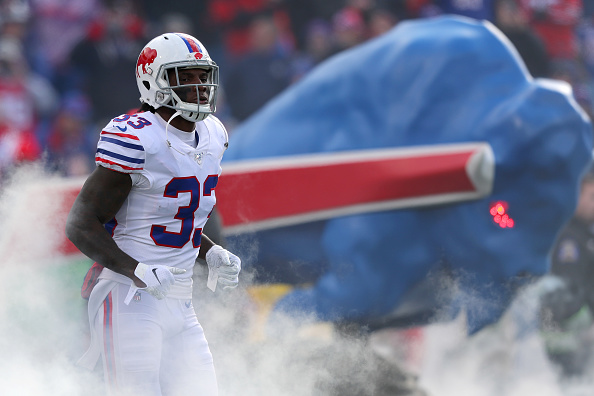 The Buffalo Bills travel to Cleveland this week to face the 2-6 Cleveland Browns. Buffalo is off to its best start since 1993 with a record fo 6-2. The Bills will look to continue their impressive season when they face the Browns' high-powered offense and their elite pass rusher in Myles Garrett. Cleveland will look to stop Buffalo's momentum and get their season back on track in their home stadium. Here are four things to watch for during Buffalo vs Cleveland in week 10.
Cleveland Browns vs Buffalo Bills: Four Things To Watch
Both Josh Allen and Baker Mayfield have had inconsistent seasons to start their sophomore year. Mayfield has yet to throw for more than one touchdown in a game this season and Allen has yet to throw for 300 yards in a game in his entire career. Both young quarterbacks had high expectations for this season after their performances in their rookie years. Mayfield has struggled to live up to the expectations put on him over the off-season, but Allen has led his team to a significantly improved start to the year. The two quarterbacks facing off should make for a fun and exciting game on Sunday.
Bills' Run Defense vs Nick Chubb
The Buffalo Bills' defense has been one of the top defensive units in the NFL this season. Recently, however, their run defense has been less than great. They have allowed the Miami Dolphins, Philidelphia Eagles, and Washington Redskins to run over them in recent weeks. Luckily for Buffalo, this has still resulted in a 2-1 record in those three games. They now face Nick Chubb, who has been a top running back in the NFL this season. Buffalo also has the return of Kareem Hunt to worry about on Sunday. If Buffalo cannot contain Cleveland's young runners and force Mayfield to throw, Buffalo might not leave Cleveland with a victory.
Odell Beckham Jr has had a less than stellar season so far. This may be a result of Mayfield's poor performance this season or it could be on the polarizing wide receiver. Either way, Beckham is hungry to have a big game and he will need to work for it this week. Beckham will be paired with Bills' top cornerback Tre'Davious White for most of the game on Sunday. White has had an impressive year for Buffalo and is a major part of their defense being regarded as highly as it is. If White can lockdown OBJ this Sunday, the Bills will have a significantly better chance of winning and White will get even more respect from teams than he already does.
Bills' Offensive Line vs Myles Garrett:
The Bills' offense has been inconsistent this season. They have some great performances and sometimes they don't. The inconsistency stems from the offensive-line. Between injuries and poor performances, the Bills' o-line has changed throughout the year and has failed to build proper chemistry. Their left tackle Dion Dawkins has been the bright spot of the line this season. The Bills' weakest piece to their offensive-line is their right tackle position. Unfortunately for Buffalo, Myles Garrett will line up against their right tackle. Rookie Cody Ford and veteran Ty Nsekhe have rotated at the position and neither has proven themselves as a solid starter on the line of scrimmage. If Garrett is constantly getting to Josh Allen, the Bills could be in for a long day.
Conclusions
The Bills and Browns are both teams that entered the 2019-20 NFL season with expectations and both teams have failed to meet some of those expectations. The Bills have started off better than Cleveland, but the season still has many weeks remaining and a lot can change by the end of the year. This week is a significant week for both teams as they are trying to figure out if this season is for real or if it will all change. Cleveland needs to get things rolling now if they expect to compete for a playoff spot in December and Buffalo needs to win to solidify in their minds that they are true contenders in the AFC. Cleveland vs Buffalo could be a turning point for both teams.
Main Photo:
Embed from Getty ImagesR