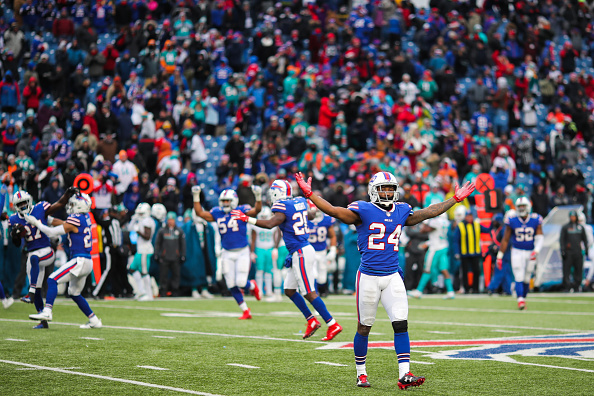 In the 2017-18 season, the Buffalo Bills ended the NFL's longest playoff drought. Now, the upcoming offseason is extremely important for the Bills. Buffalo is hoping to continue their rise by obtaining the players they need to take the next step. A successful off-season is crucial for Buffalo to return to the playoffs next year. Here are six keys to a successful Buffalo Bills off-season.
Keys to a Successful Buffalo Bills Off-Season
Secure Future Draft Picks
One thing that every good franchise does is make sure they have draft picks. The Bills in recent years have made risky deals sacrificing picks for players. Brandon Beane has turned that around. General manager Beane has gotten the Bills two picks in the first, second, and third rounds of this year's draft. It is important that Buffalo makes sure they still have draft picks for next year's draft. This could be difficult if a trade up is to happen for a quarterback, but Buffalo has the picks to keep the future safe.
Cordy Glenn has been a love-hate player for the Bills. He is a very good offensive tackle when healthy. However, health is his issue. Glenn has spent a lot of time on the inactive list. Also, Glenn's cap hit no longer represents his true value at this point in his career. Glenn's talent is still enough to garner interest from other teams. Glenn could be traded so Buffalo can get something out of him. They would also clear cap space. Next season, Glenn would account for $14.2 million in cap space.
Improve the Linebacker Position/Re-Sign Preston Brown
One of the most important position groups in football are the linebackers. The Bills have had many great linebackers on their rosters in recent years. Most have left the team, for better or for worse. Kiko Alonso had a breakout season for the Bills. He was traded to the Philadelphia Eagles for LeSean McCoy. Zach Brown came to Buffalo from the Tennessee Titans and had an outstanding season recording 149 tackles in 2016. This was second in the league behind only Bobby Wagner. He left in free agency for the Washington Redskins.
This season Preston Brown led the league in tackles the season with 144. He is up for an extension. However, Brown has pass coverage issues and was ranked as the 42nd best linebacker in the NFL by Pro Football Focus. Brown is only 25 years old and there could be room to improve on that ranking. He is already an elite run-stopper.
If Buffalo does let go of Brown, they could look to the draft and potentially take Leighton Vander Esch out of Boise State. He is a solid run stopper who excels at blitzing. He ran a 4.65 40 yard dash and bench pressed 20 reps at 225lbs. Esch would be a welcomed face to the Bills front seven.
This is one of the most important parts of the whole off-season from a leadership aspect. Kyle Williams has been a Pro Bowl calibre player throughout his career in Buffalo. He has also been one of the greatest locker room leaders in the NFL. Losing Williams' leadership would potentially be the biggest loss of the off-season. Many players have spoken out about the spirit Williams brings to the locker room. Bringing back Williams would improve the team on and off the field making him a top priority this off-season. Williams presence will be crucial if Buffalo drafts a young interior defensive lineman such as Alabama's Da' Ron Payne.
Make the Roster Younger
While bringing back a veteran like Kyle Williams is important, so is bringing in youth. The Bills have the second oldest roster in the NFL trailing only the Arizona Cardinals. Drafting young players is the easiest way to lower the average age of your roster. Signing young players coming off their rookie contracts is another way. This is a more expensive and risk-driven way of doing it. Drafting is the clear-cut best option for many reasons. Rookies get four-to-five seasons of play for a relatively cheap contract. The draft is always important, but for Buffalo, it will be key to their current and future success.
Find the Quarterback of the Future
One thing that has been synonymous with the Bills since the beginning of the playoff drought has been "franchise quarterback". Many have tried and all have failed. From J.P. Losman to Ryan Fitzpatrick to E.J. Manuel, Buffalo has been trying to get it right but continue to fail. The latest quarterback to run his course is Tyrod Taylor. Taylor was a special case right away as he was brought in via free agency rather than the draft. Taylor was signed with no guarantee of becoming the starter but earned the job during camp. Taylor's career in Buffalo has been filled with criticism. He has been traded to the Cleveland Browns, and it is now time to find the Bills next quarterback.
Buffalo has a chance this season to settle the score once and for all. They have a plethora of draft selections and players to package together to trade up in this year's draft. Combine that with a draft that features six quarterbacks with first-round potential and you have a chance for Buffalo to finally find their franchise quarterback. For the sake of the fans and the franchise's future success, they need to find a way to get the man who will lead the franchise for a decade or more.