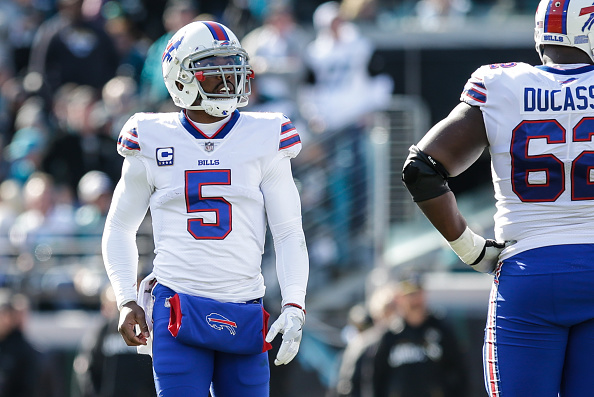 The Buffalo Bills have traded quarterback Tyrod Taylor. They will send him to the Cleveland Browns for their third-round pick (65th overall) in the 2018 NFL Draft. This all but guarantees Buffalo has their sights set on a quarterback. With Nathan Peterman being the only active quarterback on the roster it is safe to say Buffalo will have a new quarterback on the depth chart next season. Here is a breakdown of Buffalo's options this off-season.
Buffalo Bills Trade Tyrod Taylor: What's Next
Buffalo has reportedly offered a second round pick for Nick Foles. The Taylor trade means that those trade negotiations could heat up. Buffalo is clearly interested in Foles and the additional third-round pick could be added to sweeten the offer to Philadelphia. Foles is coming off the biggest game of his career and is going to be up or an extension after next season. The Bills would have one season with Foles to see if he is worth extending or not. Whether they will have the tools to give Foles the best chance to succeed will have to be seen.
Sign a Free Agent
Another person the Bills have reportedly been keeping an eye on is Teddy Bridgewater. Bridgewater is looking for a short-term "prove it" deal and that could be right up Buffalo's alley. Giving Bridgewater a chance to prove whether or not he can be the guy while they put the finishing touches on their roster could prove smart. There are other options for Buffalo outside of Bridgewater on the market as well.
Sam Bradford is another potential signing for the Bills. Signing Bradford could be combined with drafting a quarterback for veteran purposes. If Buffalo wants to sit a quarterback for a season, signing Bradford to mentor that player could be very beneficial. Buffalo would still be able to compete as well as Bradford is a very reliable quarterback as long as he stays healthy. Even the third Vikings free agent quarterback Case Keenum is an option. He led Minnesota to the playoffs this season and showed flashes of serious talent. He could probably be signed for a very cap friendly contract as well.
Draft a Quarterback
The Bills have been stacking up on draft picks for something and it is clear what it is. They want to trade up and get their franchise quarterback. While we can't know until the draft whether Buffalo will trade up it is safe to say they definitely want to. If they do the New York Giants look to be the best option. While the word is quiet on who Buffalo has their eyes on, the most talked about candidates have been UCLA's Josh Rosen and Oklahoma's Baker Mayfield. The second pick would be a little high for Mayfield, so if Buffalo does make the leap Rosen could very well be the next Bills quarterback.
Main Photo:
Embed from Getty Images