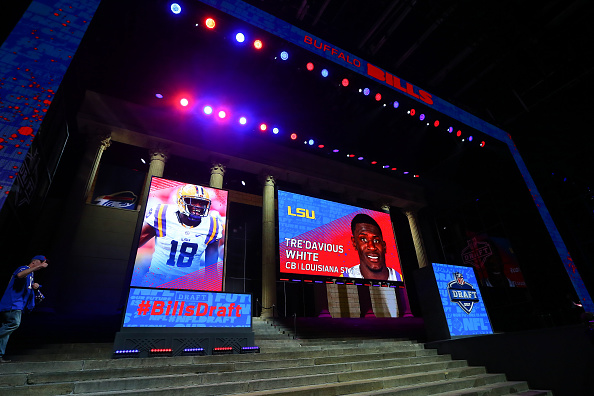 The NFL Draft is right around the corner and the Bills are ready for it. With a surplus of picks and speculation in their arsenal, fans are anxious for draft day. While there are many rumors of trades and movement, there is one thing that as of now is true. The Buffalo Bills have two first-round picks at no. 21 and 22. Thanks to a trade from last year's draft. Buffalo traded down with Kansas City from spot 10 to spot 27. The Bills got the Chiefs 1st rounder for this year while still drafting one of 2017's best rookies in Tre' Davious White.
Buffalo has a chance in 2018 to put the finishing touches on their roster and bolster up for a serious playoff run. If they can score in the draft they can set themselves up for future success. Buffalo has been waiting a long time for this type of opportunity to come and their new regime seems to be taking full advantage. General Manager Brandon Beane and Head Coach Sean Mcdermott have proven they know how to win an offseason. This offseason should be no different. Dynasties are born in the draft and Buffalo has a chance to do just that.
8 Players Buffalo Could Take in Round One of the NFL Draft
Evans was a 5-star recruit coming out of high school. He committed to Alabashaan Evansama and sat behind future first rounder Reuben Foster. He finally got a chance at solid playing time in 2016 where he recorded 52 tackles and 4 sacks. In 2017, he got to start and he went off for 72 tackles and 6 sacks, with an outstanding 13 tackles for loss. He also recorded 3 passes defended and a forced fumble.
Evans would be great for the Bills as he can play any linebacker position. Whether it's inside or outside linebacker, Evans can make an immediate impact. With an aging Lorenzo Alexander on the Bills roster, they can get his replacement in place now. Evans can even play right away and split snaps with Alexander to keep things fresh on every down. Evans was in school all 4 years so he got a lot of experience as he played in 3 National Championships during his tenure. A mature hybrid linebacker with playoff experience would be a fantastic pick by the Bills in the early 20's of the first round.
7. Isaiah Wynn – Offensive Guard – Georgia
Isaiah Wynn screams Mcdermott guy. He is an extremely talented guard who has been overlooked for being shorter than average. Wynn is 6'2″ and scouts say he is limited to the interior line. Luckily for Buffalo that is exactly what they are looking for. With opens sports at left guard and center, Wynn could easily fill one of those needs. Right guard is also a possibility with Incognito's age becoming a factor.
An overlooked guy who has massive talent is exactly what Mcdermott is looking for in a player. Someone who wants to prove everybody wrong. Wynn hasn't been hiding his talent either. He has been a large part of a very impressive Georgia Bulldogs Line. Georgia had two very impressive running backs this year and they were led by the offensive line. Wynn even got to show off his talent in the playoffs making it to the National Championship. Many Bills fans want an upgrade on the offensive line and Wynn would certainly be an upgrade.
6. Maurice Hurst – Defensive Tackle – Michigan
Hurst is built for the 4-3. This is exactly what the Bills want in a defensive tackle. Husrt is only 6'2″ but the Bills aren't shy of smaller interior lineman. Kyle Williams is a multiple time pro bowler and he stands at 6'1″. Hurst has been consistent in his time at Michigan. Hurst got his break in his sophomore season recording 35 tackles and 3 sacks. Followed by 33 tackles and 5 sacks in his junior season. Then in his senior season, he had an impressive 60 tackles and 6 sacks.
With Williams himself getting old and possibly on the way out. Hurst could be the replacement for Kyle that Buffalo needs. If they can keep Williams for one more year, Williams can prepare Hurst for the job. Hopefully, Williams can pass down his leadership skills that every Bills fan knows are second to none. Hurst is another Senior so he has plenty of experience will be NFL ready come draft day.
5. Mason Rudolph – Quarterback – Oklahoma State
Mason Rudolph is the Bills best chance of taking a Quarterback without trading up. Rudolph may fall to them at 21 or he may not but, if he does he will be a great choice for Buffalo. Mason is another Senior which is something Sean Mcdermott cherishes. Rudolph was on draft boards after his junior season, but he stayed in school and it was totally worth it. In his senior season, Rudolph threw for 4,900 yards and 37 touchdowns. Amazingly enough, he only threw 9 interceptions. He led Oklahoma State to a win in their Bowl game against Virginia Tech. Ironically Virginia Tech is the alma mater of Tyrod Taylor.
Rudolph is a very solid quarterback that is being overshadowed by a stacked quarterback class that features many solid QB's that happen to have bigger stories surrounding them. In a class with fewer quarterbacks, he would definitely be more coveted and the Bills need to take advantage of this le the opportunity is there. The Bills got a total steal in last year's draft with Tre' White, and they could repeat this year with Rudolph if he is there at no. 21.
4. Mike McGlinchey – Offensive Tackle – Notre Dame
A very solid lineman from the lineman factory of Notre Dame. McGlinchey continues the trend of seniors on this list. McGlinchey is the Robin to Quenton Nelson's Batman except he is as good. While Nelson will probably be a top 10 pick, McGlinchey will only fall because there are more tackles than guards in this year's draft. McGlinchey is a freakish 6'8″ and 315 lbs. He is the perfect size for an offensive tackle and just oozes talent. His footwork is outstanding and is extremely impressive for someone his size.
Surprisingly, his biggest weakness is his strength, which isn't something you'd think from someone who is 6'8″. This will be an easy fix with some dedicated time to strength training with an NFL trainer. McGlinchey has all the boxes checked for a solid NFL offensive tackle. I see McGlinchey replacing Cordy Glenn who has battled injuries and a bad cap hit for a while. McGlinchey and Dawkins would be a scary Tackle Duo who would be able to lead the Bills offensive line for over a decade with both men being very early in their respective careers.
3. Arden Key – Defensive End – LSU
Arden Key is a different story than most of the players on this list. He isn't necessarily the prototypical Mcdermott guy. Key is leaving LSU as a junior and has a history of being somewhat of a character. Arden left the team in the spring for "personal reasons" and had shoulder surgery. He let his weight get away from him and left the team scared. He did return and record 33 tackles and 4 sacks in eight games. His sophomore season is where you can truly see the talent Key brings. 55 tackles and 11 sacks in 11 games.
Key is a former teammate of Tre' White who has been vouching for his teammate to the Bills front office. Key could be a solid addition to the Bills front seven if he does keep his act together. He could be a replacement for Shaq Lawson who the Bills seem to have lost interest in. He is one of the few remaining Rex Ryan guys along with Tyrod Taylor. Key could be the start of a reformation of the Bills front seven. Something that needs to get better if the Bills are going to be considered an elite defense.
2. Billy Price – Offensive Guard – Ohio State
Another guard that could completely change the Bills offensive line. Price is a bigger guard than Wynn so scouts have been fairer to him. Price comes out of Ohio State where pass blocking is a necessity. While Wynn would be a better run blocker, Price would be the better pass blocker. Price would be the better option for Buffalo since they already have a solid run game and they were ranked 31st in sacks allowed. Price's size could allow him to play any position on the line.
1. Da' Ron Payne – Defensive Tackle – Alabama
Da' Ron Payne is a physical monster. He dominates at the line on every down and lets the running back know that he's there. Payne isn't as good of a pass rusher as he is a run stopper but that shouldn't matter for Buffalo. The Bills had a very hard time stopping the run last year and Payne would immediately be the best run stopper on the team. He is 6'2″ and 310 lbs. His size is solid and fits the modern style of defensive tackle.
Payne is coming out of school as a junior and his last game played with Alabama was the 2017-18 National Championship. The last defensive tackle the Bills drafted from Alabama was Marcell Dareus. He proved to be a very solid player for Buffalo before off the field issues took the forefront. Payne has a very bright future in the NFL and Buffalo would be thrilled to get someone like him in their front seven.
Check out eight quarterback options for the Bills here.
Main Photo: