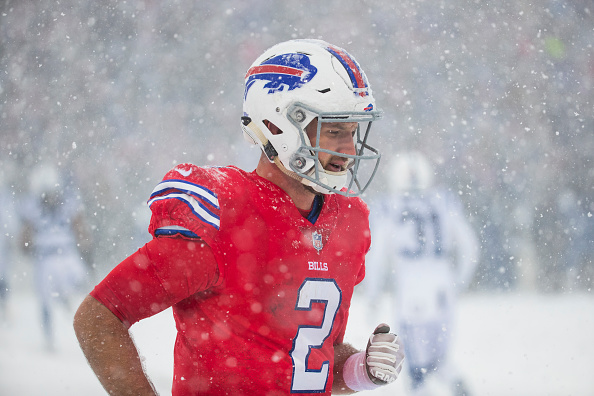 The 2017-18 season marked the end of the Bills 18-year playoff drought and the discussion has already shifted to who will start at quarterback in 2018. It is safe to say all the eyes will be on General Manager Brandon Beane and Head Coach Sean Mcdermott. Who they pick to be their starting quarterback for the 2018-19 season will be crucial to returning to the post-season.
Coming off a season where Tyrod Taylor led them to the playoffs while finishing 24th in passing yards among 25 quarterbacks who threw at least 400 attempts, it is crazy to think about how the Bills could go with a better passer under centre. Fans are already forming their opinions about who they think the best man could be. If the last offseason was any indication, it is safe to say that Beane and Mcdermott will find a way to get the guys the covet. With $40+ Million in cap space and two picks in the first and second rounds of the 2018 NFL draft at their disposal, it won't be hard to find the quarterback they want.
8 Potential Buffalo Bills Quarterback Options for 2018
8. Kirk Cousins (Washington Redskins) – Free Agent – 29 Years Old
The guy on the radar of every team in the market for a quarterback, Cousins is coming off his third straight season of at least 4,000 passing yards and 25 touchdowns. He is also finally going to escape Washington and land somewhere he feels more comfortable. Cousins will be 30 by the time next season starts up so this might be his last chance at a huge contract and is looking to cash-out. New San Francisco 49ers quarterback Jimmy Garoppolo recently signed the largest contract in NFL history and Cousins is looking for a deal similar in magnitude.
If the Bills want Cousins they are going to have to be ready to pay. They are equipped to pay Cousins due to their cap situation but interest in Cousins is widespread throughout the league. However, the Bills have stayed quiet on whether they are going to enter the Cousins sweepstakes. If the Bills are willing to pay, Cousins would probably love to join a team that made the playoffs in 2017.
7. Tyrod Taylor (Buffalo Bills) – On Roster – 28 Years Old
The man who ended the Drought. How could the Bills get rid of the guy who took them to their first playoff appearance since 1999-00? The answer is easy: productivity. Taylor did bring them to the playoffs, but he also helped them make a wildcard exit against Jacksonville. In his playoff debut as a starting quarterback, Taylor threw for a lacklustre 134 passing yards, 0 touchdowns, and 1 interception. This goes along with his 44.2 passer rating and 45.9% completion percentage. His performance is something fans are going to find hard to live down for a long time, especially when you consider they lost this game by a mere 7 points. 134 yards is a far cry from the performances of Tom Brady and Nick Foles in Super Bowl 52.
What Taylor has going for him are reliability and experience. He has previously proven he can get the team to the playoffs. If the coaching staff thinks they can improve his game, he might just find himself back with the Bills for the 2018-19 season. His elite athleticism is another reason Taylor might be back with the team next year.
6. Nathan Peterman (Buffalo Bills) – On Roster – 23 Years Old
Everyone knows how the first career start for Nathan Peterman went but this doesn't eliminate him from being a serious candidate for starting quarterback. It is clear that Peterman has the faith and trust of Mcdermott considering he benched Taylor for Peterman in the middle of a playoff run. He threw 5 interceptions and was eventually replaced by Taylor in that game. Despite that, Peterman came back in his next start against the Colts and threw a very important touchdown to Kelvin Benjamin under incredibly unique circumstances. Peterman has shown he can be successful as a starter but has also shown he needs time to improve.
5. Kyle Lauletta (Richmond) – Rookie – 23 Years Old
Lauletta is an upcoming rookie quarterback in the 2018 NFL draft who has been flying under the radar of scouts. A senior out of Richmond, Lauletta is coming off a season where he threw 3,737 yards and 28 touchdowns. He was also named Senior Bowl MVP after an impressive 198 yards and 3 touchdowns on 8 completions. The Bills have met with Lauletta and have shown the interest, now it is up to Beane to use one of the Bills picks in the draft on Lauletta if he is destined for the job.
4. Nick Foles (Philidelphia Eagles) – Trade Necessary – 29 Years Old
The Super Bowl MVP, Nick Foles shocked the world when he threw for 373 yards, 3 touchdowns, and even caught one touchdown on the infamous "Philly special" to earn the Eagles their franchises first Super Bowl. Foles has had a very up and down career in the NFL, including one point where he even considered retirement. His Super Bowl performance puts him in place to want a lot of money when his contract expires at the end of next season. By then he will be 30 years old. Assuming Foles keeps up this MVP calibre production, the Bills could have a very good quarterback on their roster if Foles thinks is once again a bonified starting QB. Both team GMs have had experience trading with one and other in the pass and Foles could be the next name on the move.
3. Lamar Jackson (Louisville) – Rookie – 21 Years Old
The 2016-17 Heisman winner has thrown for 7,203 yards and 57 touchdowns over his last two season. The best part is that these are only his passing stats. He is also an excellent runner as well. Over those two seasons, Jackson posted running back-like numbers. He combined for 3,172 rushing yards as well as 39 rushing touchdowns. Going into 2018, Jackson looks like he would be the best option for replacing Taylor without giving up the athletic ability he brings to the position.
Jackson may need to sit year one considering he is only 21 years old but, as many quarterbacks have shown in recent years, experience as a starter bodes well for quarterback development. Recent examples include Deshaun Watson, Carson Wentz, and Dak Prescott.
2. Josh Rosen (UCLA) – Rookie – 21 Years Old
Rosen looks like the Bills best option but is coming out of UCLA and is projected to be taken within the top 5 picks. Buffalo has reportedly fallen in love with Rosen and a trade into the Top 5 is certainly possible. The Bills own 5 selections in the first 3 rounds of the draft including 2 selections in round one and with a connection between Giants General Manager David Gettleman and Beane from their days in Carolina, the Bills have the tools to go up and get Rosen.
Rosen is coming off a season which saw him throw for 3,756 yards and 26 touchdowns. With stats like those on the Bills roster, a serious run through the playoffs seems very possible.
1. Sam Bradford (Minnesota Vikings) – Free Agent – 30 Years Old
Last but not least is veteran quarterback Bradford. He is skilled enough to get the Bills where they want to go and could also develop a young quarterback such as Peterman or possibly a rookie such as Lauletta.
Bradford started the 2017-18 season as the starting quarterback for the Vikings but went down with a knee injury early in the season while playing at an elite level. He never regained the job, but that was more due to the play of Case Keenum and less because of his ability to command an offence.
Bradford has a history of injuries and is the oldest quarterback on the list. What works for him is that he could be a very cost efficient veteran starter for the next few years. Skill, price, and future are the most important parts of picking who you're going to roll with at quarterback. Bradford checks all the boxes needed to be the Buffalo Bills starting quarterback come week one.
Image Credit:
Embed from Getty Images