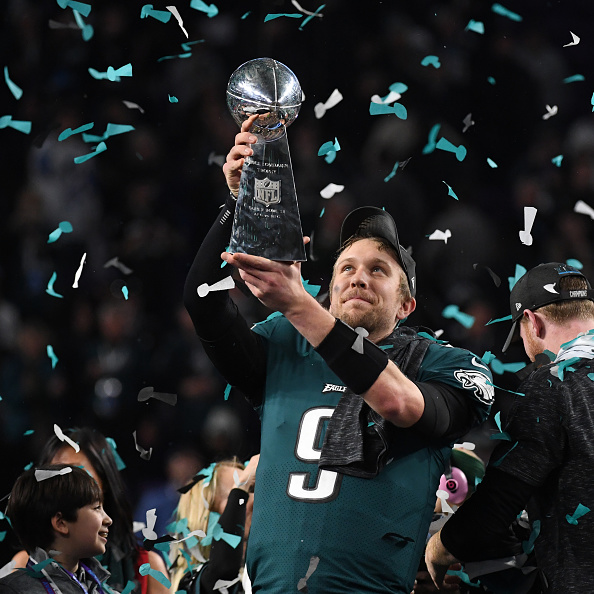 The Philadelphia Eagles Won Super Bowl
The Philadelphia Eagles topped the New England Patriots41-33 to win the franchise's first title in their history. Eagles backup quarterback Nick Foles was named Most Valuable Player after coming in to relieve an injured Carson Wentz, with less than five games left in the regular season.
So, just how did the Eagles end up pulling off the upset? Here are five reasons why the Eagles won the Super Bowl.
Five Reasons the Philadelphia Eagles Won Super Bowl
Nick Foles was dynamite
Even though Foles looks like Napolean, doesn't mean he plays football like Napolean. He played probably the best game of his career. He took the spirit of Philadelphia, one of grit and no fear, and he beat the popular favorite. On 43 passing attempts, Foles collected himself 373 yards, three touchdowns and one pick (although it wasn't his fault). He showed the same fearlessness Wentz did when he was on the field. There was one purpose and that was to win that Lombardi. Foles' one-yard touchdown reception from Trey Burton proved just that.
Foles was a tight end in high school so it was only right that he made the catch Tom Brady couldn't. It was the perfect play and put the exclamation point on their season. I'll talk more about this play later.
Foles was always destined for the Super Bowl. There's no doubt about that. He played poised, he played tough–avoiding sacks and playing well under pressure. He played like an MVP. What does this mean for him next season? Jacksonville, Denver, Miami, and Cleveland are just a few of the teams who could use a Super Bowl-winning quarterback like Foles. But I think backing up Wentz is where he wants to be.
The Patriots were out coached
It must be hard to wrap your head around the statement, "The Patriots were outcoached." After all, Bill Belichick is one of the greatest coaches in the National Football League. However, he was outcoached during the Super Bowl (which is rare). Former Patriots defensive coordinator and newly-appointed head coach of the Detroit Lions, Matt Patricia, was playing for more than just a title, he was also playing for his future. Was he trying to play safe? Not embarrass himself on a national stage? Or did he do the best he could considering he didn't have Malcolm Butler? 
Doug Pederson was a mastermind with his play calling, not straying away from the edge that got him there in the first place. In 2017, Pederson went for 26 4th downs converting on 17 of them. That wasn't too far off the team's 27 attempts and 13 conversions the season before. Obviously, Pederson likes to take risks. Not to mention, when Brady failed to make his catch, Pederson was all too eager to show them how it was done. Shows the amount of confidence he has in himself and his team. If Wentz returns to this season's form, when he gets back in there, we might be looking at the next great quarterback-coach tandem.
Brandin Cooks takes massive hit
The Patriots acquired wide receiver, Brandin Cooks as what I assume was Belichick's way of providing Brady with a star player and a bonafide deep threat. Cooks played three seasons in New Orleans as one of Drew Brees' favorite targets. His 1,082 yards, this season, showed the Patriots franchise that he was ready to work.
People can argue whether the hit by Malcolm Jenkins was illegal or not, after all, Cooks got rocked. But he wasn't flagged for the personal foul and Cooks had to leave the game. This was unfortunate for New England because had he not left, the Patriots would have had that deep threat he's known for which would have made it a little bit harder for Philadelphia to win.
Defense is key
It's true, the Patriots' defense struggled the first five games of the regular season. They ended the season ranked number five which surely made the case for Patricia's hiring. Maybe Patricia didn't have a game plan for what Pederson was throwing at him or maybe the game-time decision to bench Butler threw their defense for a loop, but they gave up 538 yards and 41 points.
Philadelphia's defense wasn't much better; they gave up 613 yards of their own. But there was a game-changing moment when one player made a big play and to rattle the momentum. If it weren't for Foles' path to the championship, I would have thought Brandon Graham should have received the honor. Knowing that there were just over two minutes left in the game, Graham made the play that would ultimately win the title. His sack and forced fumble, set their offense up for Jake Elliot's 46-yard field goal to put them up by eight. Even on the final drive, Patrick Robinson, Jalen Mills, and Ronald Darby all made plays to solidify the win.
Philadelphia was the better team, hands down
When Wentz went down, many of the league's analysts and sportscasters IMMEDIATELY counted them out. Then, they lost to Dallas the last week of the regular season. How would they beat the mighty Patriots, Falcons, Vikings, or Steelers, if they couldn't even beat a hobbled Dallas?
The truth is, they were more worried about the postseason than they were about beating the Cowboys. During their three playoff games, they outscored their opponents 94-50. They hung 38 points on the Vikings, who had the number-one ranked defense and held their offense to seven. They outplayed the Patriots, outcoached the Patriots, and out-toughed the Patriots.
The Eagles got to watch their confetti fall and Foles got to fulfill his destiny