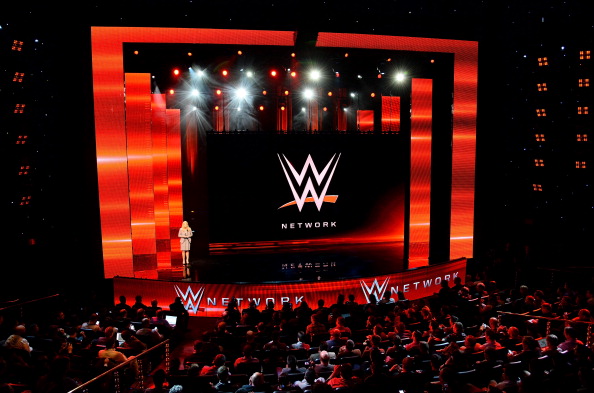 Tonight, February 25th is the WWE Elimination Chamber. Since its debut in 2010 has been one of the most grueling and shockingly painful pay per view events of the year. The chamber itself, has no forgiveness, solid steel, chains for walls, and no escape. The only way out is to either lose, or outlast your competition, in a match that can go for much longer than a normal display. Here is what will be showcased this week.
ASUKA VS NIA JAX
The women's competition has come very far from the old girl on the arm of the guy days. The female competitors are just as skilled and dedicated as their male counterparts. Asuka is so far undefeated, both in her time in NXT and through her time since arriving in the WWE. Nia Jax is a huge powerful force who easily makes her way through the other women. At the Elimination chamber they both have something big to fight for. Nia is fighting to make the championship match at Wrestlemania a triple threat match giving her a title shot. Asuka has her dominant undefeated streak and the need to keep the championship match as is. She can lose a triple threat match without being involved in the pin fall. This should be a classic match of brute strength against quick skill and will be fun to watch.
MATT 'WOKEN' HARDY VS BRAY WYATT
This promises to be the strange match of the night. Matt Hardy has years of talented wrestling under his belt, however his "Woken' character that he developed when he was gone from the WWE he has brought with him to mixed reviews by longtime fans. His poofed hair, wild eyes and chaotic laugh all point to his name and somehow not being in total control. Bray Wyatt, often called the Eater of Worlds, tries to match his insanity level and mind games against Matt this week. Both men have proven they are talented and can last in a long match. So with a lot of air time between the Elimination Chamber matches themselves, they will surely step up their game to see whose insanity comes out ahead.
In what some see as little more than space filler, Rhonda Rousey will be signing her official contract to become a part of the WWE. She was an amazing fighter in the MMA ahead of the game in many aspects. When she finally lost, and lost in brutal fashion, there were many who speculated why. Did she no longer have it? Did she concentrate too much on the Hollywood style attention she was getting and not train like she normally did? Whatever the reason, she is now landing in the WWE to make her name there. Sporting the late Roddy Piper's jacket and using the same style to spell out her name, she shocked the Royal Rumble fans when she made it clear she was now here to stay. Let's hope some great matches are in her future.
WOMAN'S ELIMINATION CHAMBER
As mentioned before, the woman have become amazing over the past years. They are also so good that they are competing in matches that were always strictly for the men. This match is a test they have never taken before. It is also for the woman's title presently held by Alexa Bliss. Bayley, Sasha Banks, Sonya Deville, Mandy Rose and veteran Mickie James will be the ones vying for her title. All have the capability to defeat her, but since none of them have entered the unforgiving structure before, this will surely be a factor. Especially seeing how long these matches can last and how they punish. Hats off to the women who are proving time and again. Don't lower the bar for them. They can climb just as high as the men.
MEN'S ELIMINATION CHAMBER
As the chamber sits ready to take more years off of careers. This year's event will claim an even bigger toll as seven men instead of six will enter the chamber. Three will start while the other for impatiently wait for their pods to open and enter the fracas. The winner of this match will highlight Wrestlemania in a match against universal champion Brock Lesnar. The Miz has drawn the unlucky task of being the first man in the chamber and so in theory could be fighting the longest if he lasts that long.
Roman Reigns, Seth Rollins, John Cena, Elias, Finn Balor and Braun Strowman will be the others in this brutal match. At this point there is no clear indication of who will be victorious in this one. Cena has the most experience, but Strowman is pushing his way through the competition with brute and viciousness. But with such a prize on the horizon, you can be sure they will continue until their exhaustion is the only thing they have left.
Enjoy the show.
Main Photo: