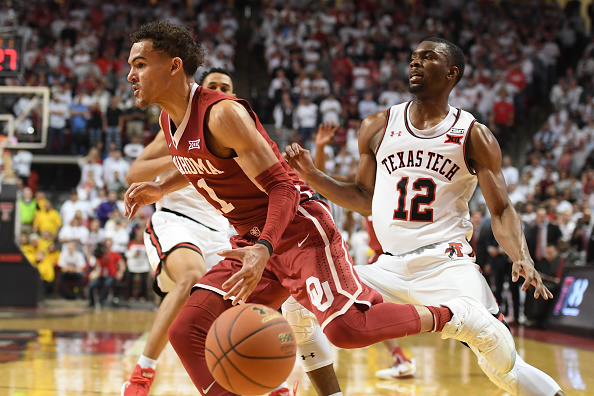 The Oklahoma men's basketball program emerged as a front-runner for the National Championship race in January with huge wins over Texas Tech, TCU and Kansas. On January 15th, they peaked in the polls at the 4th spot with a 14-2 record. Since then, they have struggled to play consistently, going into a 2-7 stretch with losses to Alabama, Texas and West Virginia.
Trae Young, a freshman guard, has been the storyline in Oklahoma. His phenomenal freshman campaign has impressed NBA scouts and executives alike. He shows a crisp new playing style, a deep shooting range and leadership unlike any other. While his talent distributor and a scorer are clearly undeniable, doubts have begun to surface over his true championship ability. Is he capable of carrying a team? Can he hold up to his share on a consistent basis?
A Deeper Look at Oklahoma's Trae Young
Young is having a fantastic season. While holding a 29.5 points per game average, as well as 9.4 assists per game, Young is the lifeblood of the Sooners offense. The Oklahoma decline is certainly an interesting one, and not everything falls on Young. The question now is what made Oklahoma so good for the earlier stretch, and what has changed.
Young's offensive talent
Trae Young is an impressive young athlete. He's the closest thing college hoops has seen to Stephen Curry since Stephen Curry. He has an incredible shooting range and an ability to find the open man like no other. He's explosive, dynamic and incredible to watch.
Young became the star of the show. He became the focus. National attention was thrust on to him. Teams tried double teaming him on defense, but he seemed to still throw duos for a loop.
Not only is Young capable of putting forty points on the board, he's capable of collecting twenty assists as well. Teams wouldn't focus so much on the other players on the roster, and would zero in on Young instead. He made them pay with precision passes for assists to teammates.
Some of his passes are simply incredible. He knows how to put a ball exactly where it needs to be to set up a teammate for a score. His alley-oop passes are on dimes. He can throw across the court like a quarterback throwing a deep post.
How has the opposition adjusted?
When Kansas State played Oklahoma January 16th, they did something that no one had ever tried before. They single-guarded Young and focused on pressuring his teammates. Young has a tendency to settle for jump shots and turn the ball over more then he should. By taking away his teammates from having open shots, the entire offense shut itself down.
When Young doesn't have a teammate open, he does one of three things. He will first try to position himself for a shot. He will drive and move around very much like Curry does. If he can't open a shot, he will then keep moving to look for a teammate or settle for a jump shot. The more he has the ball in his hands, scrambling and trying to open up a play, the more prone he is to making a turnover.
He still manages to find teammates who are open for good shots. This is where the pressure put on them during the game comes into effect. When he does find an open teammate, they're missing over 60% of their open shots in the last nine games. The defense throws them off of their rhythm, exposing them for what they truly are – weak.
Oklahoma needs to win a few more games if they hope to enter the tournament in March. If they can string a few games together, and find a way to play better defense, they have a chance. Otherwise, that Phenom that appeared this year in Trae Young may just have to try his championship luck in the NBA.
Main Photo:
Embed from Getty Images