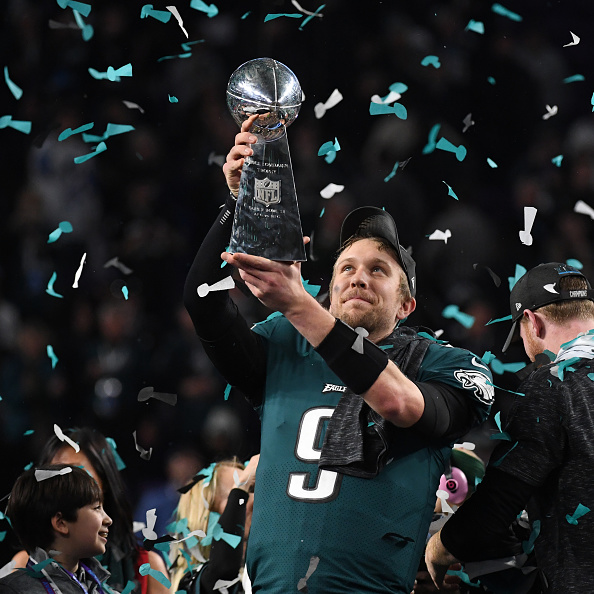 The 2017-18 NFL season and Super Bowl LII have ended and it is time for teams to shut the door on last year and look ahead to September. This year's free agent class is ripe with quarterbacks that will only gather more interest with the number of starters that look to be in frail positions. In a year where two backups and Blake Bortles made their conference championship games, the year proved that every single offseason signing matters down the stretch in January. You only need to look as far as the two Super Bowl LII participants to know that a good offseason fuels a teams playoff aspirations. These are 10 players whose offseason fates will have the biggest impact on the NFL in 2018.
10 NFL Players To Watch In The Offseason
Bowman has been a model linebacker in the NFL and has started every game he's played in since the start of the 2011 season. Due to the 49ers 0-5 start, Bowman demanded a trade out of San Fransisco and was later released before signing with the Oakland Raiders. His year with the Raiders was business as usual, as the four-time All-Pro led Oakland in tackles since his arrival with 89. Unfortunately for Oakland, their struggles stemmed from a poor secondary and Bowman and Khalil Mack weren't enough to stop the bleeding.
Now a pending free agent, Bowman can choose to remain a Raider or try and find a home with a contender. The soon-to-be 30-year-old can still play on every down but his age could become a deal breaker if he is looking for a big payday on the open market.
9. Dez Bryant (WR) – Dallas Cowboys
The Dallas Cowboys were a mess on and off the field in 2017 and Bryant has seen his form slip significantly since signing a huge 5 year(s)/$ 70 million deal back in 2015. One year remains before his opt-out option is likely activated and if the Cowboys think his attitude and mediocre numbers aren't worth the $16.5 million cap hit, Dallas could move him before the start of free agency on March 14th.
If the Cowboys choose to trade Bryant away, they should have no problem finding him a home. His cap hit is a lot to chew on but a team like Tennessee or Houston that could be in the market to add a veteran receiver, could bite the bullet and worry about his cost next season. Dez may no longer be a bonified number-one option anymore – he posted career lows in a full season in receiving yards and touchdown receptions in 2017 – but he could be part of a solid 1-2 duo (Corey Davis in Tennessee?) or a great complementary option to take pressure off of a number-one (DeAndre Hopkins in Houston?).
8. Malcolm Butler (CB) – New England Patriots
Just three years ago, Butler caught the game-sealing interception that handed New England its first Super Bowl in a decade but was benched in Sunday's Super Bowl LII matchup due to his unofficial violation of team rules. The fourth-year corner played only one special team snap in the loss and was quoted as saying "they gave up on me" after the game. Butler's contract is up and it would be no surprise if, after Sunday's embarrassment, he walks away from New England.
The Patriots already paid a corner the big bucks last offseason when they handed former Bills cornerback Stephon Gilmore a 5 year(s)/$65 million deal to become their shutdown corner of the future. This contract landed Butler a spot on the trading block but contrary to what most expected, started the year in a Pats uniform. Butler knows the market for corners is always one that typically overpays and will almost certainly leave the Patriots for more money.
Landry is the hottest committee at receiver this offseason and is looking to cash-in on the open market. After four years with the Dolphins, the 2014 second-round pick has amassed two seasons with 100 receptions, two seasons with over 1,100 yards and caught a career-high nine touchdown passes in 2017. With those numbers in mind, it is no surprise he is looking for a payday of upwards to $14 million a year.
It wouldn't be shocking to see Landry return to the Dolphins but are currently closely strapped to their cap ceiling. Miami looks like a team that if they lose Landry could quickly enter the retooling phase and considering DeVante Parker's very average play in his first three NFL seasons, losing their number-one receiver could be just what sends them to the bottom. Landry will have teams lining up for his services but it all comes down to if he wants to compete for a championship now or take the big money and term.
Because of Keenum's terrific 2017 campaign, Vikings management has some serious decisions to make regarding which quarterback(s) to keep going into 2018. Minnesota had its best season since Brett Favre was in purple and gold with Keenum under centre, and is looking to become competitive for the next couple years behind their stout defence. The question the Vikings have to answer this offseason is who they want leading their offence in future?
The Vikings owe Keenum another year considering he brought them to the NFC Championship Game and could bring back Bridgewater because of his fan appeal and potential. This leaves Bradford as the likely one to walk. Bradford may be the best pure passer of the three but is a constant injury concern — not a great quality in a backup quarterback. In any case, Rick Spielman and Mike Zimmer have a huge decision to make as the free agency looms.
5. Andrew Luck (QB) – Indianapolis Colts
No one quite knows why Patriots offensive coordinator Josh McDaniels decided to pull a U-turn from the Colts head coaching job and return to New England but my guess is that it had to do with Luck's health. As attractive as taking over the Patriots head coaching job in a year or two is, Tom Brady might be gone Rob Gronkowski might be gone, and who knows who else? In fact, a healthy Luck is debatably more talented than a healthy 41-year-old Brady at the moment. The Colts also have a ton of cap room to add talent over the next two years.
Luck's injury status dates back all the way back to 2015 when the Colts QB sprained his shoulder in their week three game against Tennessee. Since then he hasn't looked the same and has been hampered by shoulder related problems for the last two seasons. He missed the entirety of 2017 and judging by McDaniels change of heart, might not even be ready for 2018. Lucks progression is definitely worth noting during the offseason as his status effects the entire outlook of the AFC South.
4. Rob Gronkowski (TE) – New England Patriots
Gronkowski might not have been thinking clearly after the Patriots loss in the Super Bowl LII but retiring at 28 would be a huge blow to the Patriots and to the NFL. Though his injury history is extensive, Gronkowski has never let it affect his on-field play. Through eight NFL seasons, the tight end is only behind Tony Gonzalez and Antonio Gates in touchdown catches and is eighth all-time in receiving yards for tight ends.
The Patriots have already won a Super Bowl without the big man but if he walked away from football at such a young age, it would be a disappointment on par with the retirements of Barry Sanders and Calvin Johnson. Gronkowski already has two Super Bowl titles and doesn't have much else to prove on a team level but if he does choose to return, he has the chance to chase down records and cement himself as an all-time great at his position. The Patriots might be a widely hated team but no one would want to see a great player walk away at such a young age.
3. Le'Veon Bell (RB) – Pittsburgh Steelers
Similar to Gronkowski, Bell has also threatened to retire this offseason. However, Bell is three years younger than Gronkowski and would not be retiring to protect his long-term health, but rather because of the way he perceives the Steelers to value him. Contracts talks between Pittsburgh and Bell have consistently stalled since the end of the 2016 season due to Bell's desire to "reset the running back market" and it could lead to him sitting out the entire 2018 season if placed under the franchise tag again.
Bell has been offered contracts from the Steelers with $30 million guaranteed but that isn't enough for him. The service he is trying to provide to every running back is very noble but his goal looks to be a bit too ambitious as of right now. Though his numbers may justify his demands, it is hard to throw that kind of money at a running back especially one that has dealt with suspension and injury nearly every year since he begins his career. Whatever the outcome of Bells contract talks is, they are worth keeping an eye on.
2. Nick Foles (QB) – Philadelphia Eagles
Foles story of backup up to Super Bowl MVP is incredible but it has left the Eagles with a big decision to make this offseason. Offload Foles with his stock higher than ever, or keep him as Carson Wentz' backup for another year and let his contract run out. Foles has definitely earned the right to choose his own fate but the question now becomes, does he want to pursue being a starter again?
The quarterback market is already stocked with free agents and draft-eligible players but given his playoff performance, it wouldn't be hard to find a suitor for Foles. The final three years of his contract become void if he remains on the Eagles roster in a years time so Eagles best option is to deal him while he is worth something. Foles situation is very perplexing but it needs to be sorted out over the next six months.
1. Kirk Cousins (QB) – Washington Redskins
After being treated like garbage by Washington management for two seasons, Cousins is finally going to get paid like the franchise quarterback he has become. It is now just a matter of where he ends up. Cousins is already 29-years-old and though he is still younger for a quarterback, his ideal spot is not on a team that isn't rebuilding, but rather a team that is a quarterback away. There are a ton of landings spots for Cousins but his best fit looks to be with either the Cardinals or Broncos. Both teams have decent defences and solid receiving cores but were hampered by terrible quarterback play in 2017. The soon to be free agent has his pick of destination and could turn around a team from bottom-five squad to a playoff hopeful overnight.
Cousins is also about to get paid big. Jimmy Garoppolo's huge 5 year(s)/$137.5 million after just five games as the 49ers starter once again drives the quarterback market up for Cousins. This could lead to Cousins potentially being the first player to break the $30 million a year mark. He might not necessarily be worth all that money but a bidding war for any player, let alone a quarterback, can drive a player's perceived value through the roof. Cousins is going to be one happy man when he signs a new deal and gets out of Washington.
Image Credit:
Embed from Getty Images