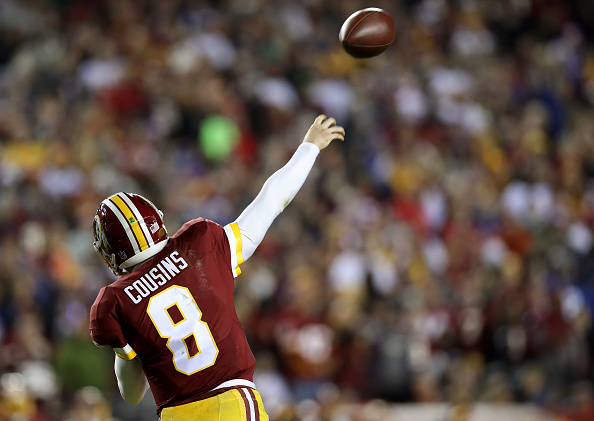 The Washington Redskins are moving on at quarterback from Kirk Cousins, a move that has shocked many fans and analysts alike. On Tuesday, Washington traded for former number one overall pick and Kansas City Chiefs quarterback Alex Smith. They gave up a third-round pick and promising young cornerback Kendall Fuller.
Now Cousins, 28, finds himself in a remarkable situation that most quarterbacks in the NFL don't ever find themselves. He will now choose where he would like to play football long term. Many suitors are lining up offers to nab him to be the face of their franchise.
Three places Kirk Cousins could possibly land in Free Agency
Cousins appeared on ESPN's NFL Live Friday afternoon with Suzy Kolber and Adam Schefter and was asked what he is looking for in a team. "I wanna win," he told them. "Being franchise-tagged twice, financially I'm in a pretty good position already. I don't need to make it all about the money, although it is a business and I think it's going to come down to winning at the end of the day."
Keeping this statement in mind, which seemed genuine and heartfelt, here are three teams Cousins could end up playing for in 2018 and beyond.
Minnesota Vikings
Cousins' home is Michigan. He played high school and college football there, at Holland Christian High and Michigan State. Because there already is a big man in his home state, Matthew Stafford playing for the Detroit Lions, who isn't going anywhere. Cousins could easily settle for Minnesota.
Who wouldn't want to play for Minnesota? They have a shiny new indoor stadium, hosting Super Bowl LII, that the Vikings lost one game in last season. Cousins would have a promising young running back in Dalvin Cook. He would have great receivers in Stefon Diggs and Adam Thielen. They even have a great tight end in Kyle Rudolph. Minnesota went to the Conference Championship game this season led by Case Keenum. That says a lot about the strength the team has outside of the quarterback position.
Cousins would have a strong offensive line, a good defense on the other side of the ball, and a lot of wins to collect. The Vikings, to pull this off, will have to be willing to let all three of their free-agent quarterbacks walk. However, this is the kind of player that Vikings head coach Mike Zimmer likes to have, and I firmly believe he will be all in on landing the Pro Bowl quarterback.
Odds of Cousins wearing Purple and Gold – 3/2
Denver Broncos
General manager John Elway knows that his Denver team desperately needs a quarterback.
It's been a living hell for the Broncos offense ever since Super Bowl L, when Peyton Manning walked off into the sunset with his second Super Bowl victory under his belt. That was the off-season that Brock Osweiler signed on with the Houston Texans, and the Broncos put their faith and trust in Trevor Siemian. The move clearly backfired, and Denver has now missed the playoffs in back to back seasons. After drafting Paxton Lynch, and even regaining Osweiler, the Broncos are still in quarterback purgatory trying to revamp the offense.
Cousins would be a welcome addition to the offense and the franchise. He has a good running back in C.J. Anderson to support his game. He has solid receivers in Demaryius Thomas and Emmanuel Sanders. The offensive line is rebuilding but should be much stronger next season.
Denver is a team that is waiting on a quarterback to lead them to win. The legendary defense is waiting in the wings for an offense to keep them off of the field, but is aging rapidly. This season, there were a few games where the quarterback played very well, and they looked great. Elway is looking for someone who can consistently play the position well, and this will be a risk for Cousins to take in the long term.
Odds of Cousins wearing purple and orange – 5/1
Cleveland Browns
Hue Jackson is building a team to start winning now. He knows that the clock is running out on his tenure there. So the Browns have given him a respectable general manager in John Dorsey. He's hired a former rival coordinator to take over the offense in Todd Haley. Cleveland is projected to have close to $100 million in cap space this off-season and will be able to go pay the people that they want.
Cousins wouldn't have the weapons in Cleveland that he would have elsewhere. The Browns will have to make some other splashes in free agency. They have a young running back in Duke Johnson who is also threat in the passing game. Josh Gordon might return, if he can stay off of weed this offseason. Corey Coleman has shown flashes of greatness but has been injured. The offensive line was porous last season.
While the Browns will offer Cousins the most money, he might not have the best chance of winning right away. The Browns have nowhere to go but up from this point, and have made several hires unlike anything that they have done since coming back into the league in 1999. However, I don't believe they have much of a chance of swaying the touted quarterback into joining their ranks even with all of this change. He wants to win, and this is a huge risk to undertake.
Odds of Cousins wearing brown and orange – 10/1
Honorable Mentions
San Francisco 49ers: Many analysts are still speculating that Cousins might be reunited with his former offensive coordinator in Kyle Shanahan in San Francisco. Let's look at this realistically. Jimmy Garappolo is a free agent this season and didn't lose a single game as the 49ers starter. I don't think even a rookie general manager in John Lynch, who has been stunning so far in his front office career, wants to go after another high profile quarterback. Odds: 100/1
Jacksonville Jaguars: Blake Bortles will be retained, so we have been told, by the Jaguars. That being said, I don't think even Tom Coughlin will chase after a quarterback who could potentially take Bortles' spot. I think the Jaguars are content to give Bortles one more season, after his Conference Championship run, and not bother trying to add a veteran quarterback to the roster. Odds: 50/1
Will Cousins be worth the money?
Cousins has played mediocre in Washington. That fact has good and bad angles to it.
The good? Not many quarterbacks have played well in Washington. Playing in the Nation's capital has a certain pressure to it that a lot of other cities don't have. The press is almost as vicious there as it is in New York or Los Angeles. The owner of the team, Dan Snyder, makes a lot of personnel decisions he has no knowledge making. Many good quarterbacks have gone there to play including Donovan McNabb and Robert Griffin III and have come out with careers absolutely ruined.
Cousins has withstood the storm that Washington can give him. He showed potential to be a comeback guy like he did this year in Seattle with a comeback touchdown drive that was fantastic. His numbers have been solid, as he has thrown for over 4,000 yards the past three seasons, only one of five quarterbacks in the league to currently has done so. Best of all, he has stayed healthy in Washington and played all 48 games.
The bad? Well, Cousins hasn't been consistent. Surely, people can pin this on a defense that hasn't given the team much of a chance. However, sometimes Cousins simply doesn't play well. He makes a few more mistakes than most quarterbacks in the league. Sometimes it's a bad route, other times he's trying to force the ball into a place the ball shouldn't be going.
To summarize
Despite all of that, Cousins is a very good quarterback who deserves to start on Sundays. With the proper team built around him, he is going to be a fantastic player and he could go win Super Bowls. Cousins knows this. That's why he wants to win. That's the message he is putting out to the league right now. "I wanna win" he said with a calm, quiet confidence.
"I wanna win with you," said every quarterback-thirsty team in the NFL in response. They're going to fight over him too. It'll be almost as bad as a high school city drama, full of insults and jabs, like Sex and the City. In the end, Kirk Cousins will emerge as a winner, perhaps an overpaid, over-glorified winner, but a winner nonetheless.