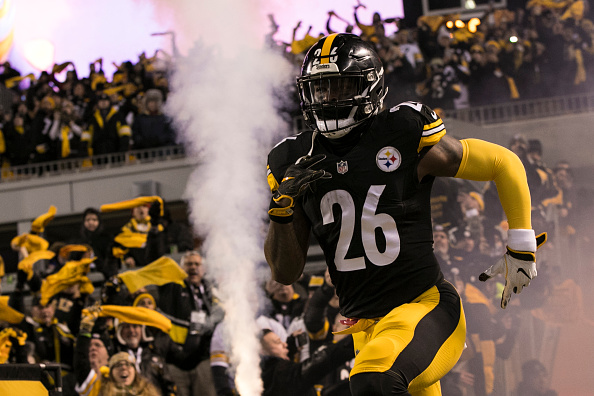 Le'Veon Bell is clearly one of the best running backs to have entered the NFL in the past ten years. With a rare combination of patience, power and speed, Bell is big (6'2″ 230 lbs), and built to handle a giant workload. However, he has missed 18 games since joining the league due to injuries, suspensions and previous contract disputes.
Last season, Bell's rookie contract ran up and the two parties failed to reach a long-term deal, settling for a franchise tag. Bell didn't like being put under the franchise tag, and reportedly would show up late for walkthroughs (including before the divisional round against the Jaguars) or miss them entirely. He even suggested he could possibly retire if the Steelers franchise him for a second straight year.
This dilemma puts the Steelers in a bind. Either they pay their star running back what he wants or risk letting him walk to a team with a ton of cap space — like divisional rival Cleveland, who just hired Pittsburgh's Offensive Coordinator Todd Haley to the same position. Cleveland has cap space to spare and could accommodate his exact needs. The Steelers and Bell had contract disputes last year and look parallel in 2018.
How the Steelers Should Approach the Le'Veon Bell Contract
The Age of the Running Back is Over
Bell needs to understand there is an overabundance of running backs in the NFL. In the past, Bell would be a top five back and would be paid like one. However, the majority of the NFL is switching to a "running back by committee" approach, where they rotate three or four running backs to share the workload and keep the players fresh and healthy. With another round of great running backs about to enter the draft, this is not a good time for Bell to be asking for a lot of money.
The Steelers Have More Pressing Issues
Pittsburgh played better than anyone in the AFC, except for New England, during the regular season but the team consistently struggled against lesser teams. They relied on the big play almost none stop, waiting for Big Ben Roethlisberger to connect with Antonio Brown downfield or Bell to just bust a big run.
The biggest issue that the Steelers have is that the defense is too weak to make a playoff run. The secondary doesn't feature a big player, and their best defensive player, Ryan Shazier, may be paralyzed for life. The secondary and the defensive line need a lot of help. If the Steelers are to drop $16 million dollars on Bell, it leaves the defense in a problematic state.
$16 million dollars a year can buy you two very fine cornerbacks. On top of that, Pittsburgh has a shiny running back sitting on the bench in James Conner. A hometown boy who survived cancer, Conner is a strong downhill running back. He played very limited time this past season but shows a lot of potential.
Bell Has Missed A Lot of Time
The 18 games Bell has missed over the last five season come in a variety of different ways. Ranging from suspensions to injuries to contract disputes, it makes you wonder what he will miss time for next. He has only played a full 16 game season once, in 2014. In 2015 and 2016, he played a grand total of eighteen games. When you're looking for a big contract, that's kind of scary.
Bell is definitely worth the money he is asking for, however, the Pittsburgh Steelers aren't the team that should sign him. With all of the issues they have and all of the money they are paying Brown and Roethlisberger, all of these negatives don't justify giving him a long-term deal.
Normally, the Steelers are a franchise who recognize that. Whether they will or not this time, is to be seen. If they are to sign Bell to a long-term deal, watch out Steelers fans. Things will only be going down.
Image Credit:
Embed from Getty Images