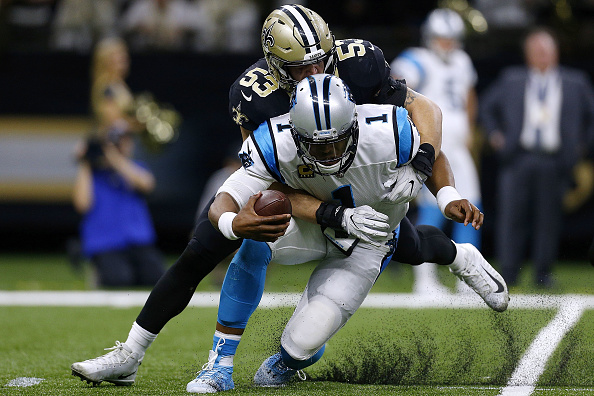 The playoff run ended early for the Carolina Panthers on Sunday. The Panthers lost their NFC Wild-Card match to the New Orleans Saints by a score of 26-31. Every loss comes with a set of lessons; at least you hope it does. Let's examine some takeaways from the Carolina Panthers' Wild-Card Loss.
Takeaways From the Carolina Panthers Wild Card Loss
The seven-year defensive end has been crucial for the Saints defense. They have never depended on their defense, only on the strength of their offense and Drew Brees' arm to get them wins. Jordan is the ex-factor. He's third in passes deflected, with 12, and first in sacks, with 13. If he continues to play this well during the playoffs, they can end up the NFC favorite for Super Bowl 52.
Home field advantage is important
The Saints had seven penalties for 96 yards. Carolina only had two for 18. So why is home field advantage important? Because of the last two minutes of the game.
Carolina had 1:55 left on the clock, no timeouts, and were down five points. Had Graham Gano made the 27-yarder at the beginning of the game, there may have been a different outcome. Instead, Cam Newton gets flagged for a questionable intentional grounding penalty, which holds a loss of down and a required 10-second runoff. With 24 seconds left, the refs leave it up to the Panthers to make something happen which they fail to do (because the officials ignored pass interference), time expires, Saints win. Home field advantage is important.
Carolina needs to shake up their offense
Now that the Panthers are headed into the offseason, they have some decisions to make on offense. In fact, they've already made two major moves as reported by Langston Wertz of The Charlotte Observer. Offensive coordinator, Mike Shula, and quarterbacks coach, Ken Dorsey have been relieved of their duties.
Shula was OC for seven years in Carolina and always took the brunt of the heat from Panthers fans when the offense underperformed. Many hoped he would bring the same luck his father possessed with the '72 Dolphins, the only team to go undefeated. Dorsey joined the coaching staff two years after Shula. Bleacher Report reported that former San Diego Chargers head coach, Norv Turner, is already on the radar for the OC position. It makes sense considering they worked together before. We'll see what the offseason brings.
New Orleans moves on to the divisional round to face the Minnesota Vikings.
As for the Panthers? To the couch. Better luck next season.