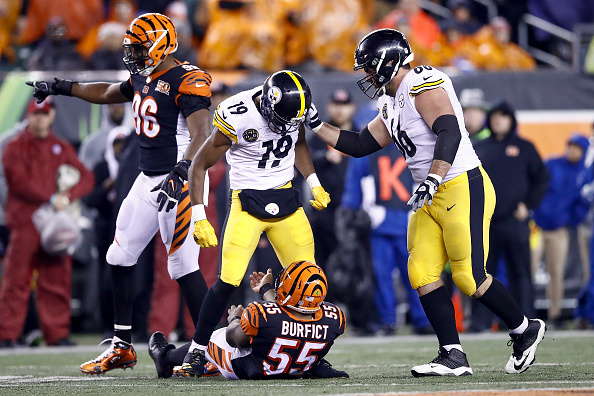 With all that has gone on in week thirteen – coaching firings, injuries, moves on the roster – there is another component that needs attention; especially heading into the playoff season. The referees. As much a part of the team as the football itself, the refs are something that we cannot deal with or without.
Are NFL Refs Helping or Hurting?
Pound For Pound, Brave and Tough.
First, let's give credit where it is due, the refs are much smaller than the players that they try to keep inside the rules. With absolutely no hesitation they jump into a pile of large strong men and dig their way to the bottom to see who has come up with the loose ball. Up to and including ref Barry Anderson falling completely in the pile he had been on top of trying to find the player with the ball. They will also jump in between two or more players who are having words with each other. Even if there are more than two people involved, and punches thrown, they still get in there and pull them apart.
Is There Bias?
Sometimes it seems to the fans that one team gets a flag on almost every play while the other gets little to none. What happens if a ref happens to be a fan of one team and hate another? Does this come into play? Can they separate themselves from their own fandom and do their job? Unless a ref is foolish enough to say 'I hate this team and help them lose' publicly, it would still be hard to prove. But watching some games, one has to wonder at times.
Why So Inconsistant?
This is one of the biggest problems. We all hate when our teams do something to draw a flag, but why does one play draw a penalty and the exact same one ten plays later not? Why do some plays not only draw a flag but the next day a fine and/or suspension but some that seem worse draw nothing?
During week 13, Rob Gronkowski of the New England Patriots drew a flag for a late and very blatant hit on Buffalo Bills corner Tre'Davious White. It was well after the whistle, it was out of bounds. It looked like a move you would see in the WWE instead of the NFL. Even after the game he admitted he did it out of frustration. Thereby admitting it had little to do with the game.
Compare that to Pittsburgh Steelers receiver JuJu Smith-Schuster hitting Cincinnati Bengals linebacker Vontase Burfict. This hit was during the play of the game, in bounds, protecting his teammate who had the ball. While it may have deserved a flag for mild helmet contact. Both hits received the same one game suspension. These two actions have little in common however, are being treated the same. Shouldn't the refs be able to have some input in this and show more discipline on aggression than play?
Changes Need to Come.
Bottom line, the refs are the ones on the field, during the game, trying to keep the game in line. Some bad calls let people get away with bad hits, some bad calls cost a team the game. Even when the NFL admits a bad call the next day, it's too late. There have been many games that would have gone the other way were there consistency in the calls. This needs to get fixed now as we are only a month away from the playoffs.
Let us hope for good games and safe play in week 14 and the rest of 2017.
Image Credit:
Embed from Getty Images