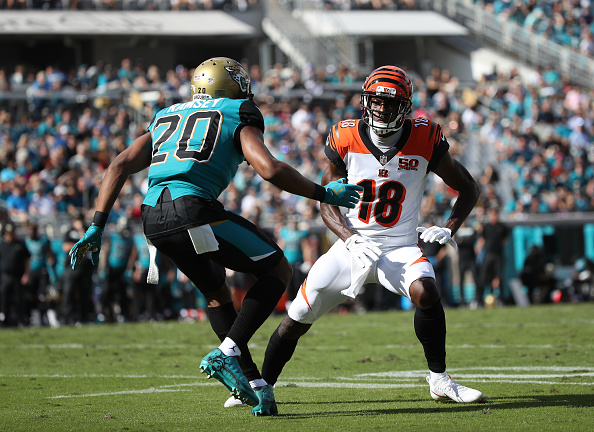 A couple of weeks ago I addressed dirty players and what needed to happen. Clearly the NFL has not figured it out yet.
What should the NFL do?
While watching this week's games the amount of fights and punches thrown was way more than expected. The punishments however, were much less than expected. There are two main fights that we should discuss.
Fight #1
The first was in the New Orleans Saints vs the Tampa Bay Buccaneers game.  Saints defensive back Marshon Lattimore got into a minor scuffle on the sidelines. It seemed to have started with a simple verbal jabbering. However, when he said something to injured Buccaneers quarterback Jamesis Winston, Winston provoked him and Lattimore gave Winston a shove. This angered Tampa Bay receiver Mike Evans who ran in at full speed and pushed the rookie Lattimore.
It is inconclusive whether Evans action's were to defend his teammate or to show the rookie what the big leagues were. Evans received a flag, but was not ejected from the game. Later we would learn that he received a one game suspension from the league.
Fight #2
Switch the channel to the Cincinnati Bengals vs the Jacksonville Jaguars. During the game, Bengals receiver AJ Green was being covered by Jags corner Jalen Ramsey. As the play ended Green touched Ramsey on the shoulder and Ramsey took exception to it and shoved Green in return. Green is not a man to let something like that go and is also twice Ramsey's size. He grabbed Ramsey from behind and put him in a choke hold. Green then dragged him to the ground and began throwing several punches. Soon after referees and several players from both teams pulled them apart. The result? Both men were flagged and ejected from the game.
What can we conclude?
At the same time that we heard about Evans's suspension, we heard that both Green and Ramsey would not receive discipline from the league. This news rippled through the NFL universe and fans and analysts alike didn't understand the decision.
Though Green was given a monetary fine for throwing punches, we all can't help but think that a harsher penalty can happen? Is the NFL sending mixed messages about how they expect their players to conduct themselves? The rules are changed this year so that players are ejected for unsportsmanlike conduct and heavily punished for multiple offenses.
What made Evans's shove more deserving of a suspension than a drag down leading to a punch fest? Surely if one was worth a suspension, the other was worth equal or more. The NFL is lacking consistency in regards to discipline in a time when emotions are only going to increase.
Also, can we take just a moment to give some props to the referees? Yes, I know we are usually aggravated with them for missed calls but give them some credit. These professionals are at least a third the size of most of the players they are trying to separate. They are doing so with no hesitation and putting themselves between these guys to try to keep the peace. Not many of us would do that. Now, if only the NFL will do it by improving.
Off to next week.
Main Photo: