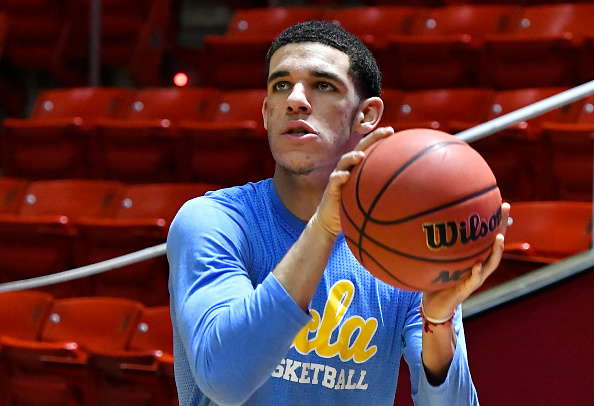 Lonzo Ball has been one of the biggest story lines so far in this young NBA season. After being a star as a one-and-done prospect at UCLA last season, with a million storylines being devoted to his father, Ball was taken by the Lakers with the second pick overall in the 2017 NBA Draft. The Lakers brass clearly believe that he is a budding star and intend to make him the cornerstone of the franchise.
So far this season, Lonzo has been less then productive. He is averaging 9.7 points per game in 33.5 minutes. The rookie hasn't been the prolific scorer he had shown himself to be in college. He's only hit half of his free throw attempts thus far and less then 32% of his shots are good. With expectations being so high right away, one has to wonder if Lonzo Ball is for real. So, what is Lonzo's deal?
Con 1. Lack of Confidence in his Shot
Lonzo averaged 14.6 points per game at UCLA last season, along with 7.6 assists. One of the most attractive things to NBA scouts about his game was how he could share the wealth on the court. Not only did he score a lot, he assisted shots and set up teammates all of the time. Since entering the NBA, he has become a lot more team oriented and "passive" so to speak. If he has a wide open layup opportunity and he has Brook Lopez in the paint, he passes it to Lopez for a jumper.
This is a clear lack of confidence in his shot, and we see this happen multiple times a game. He knows he is struggling shooting the ball, so he searches for opportunities to let his teammates shoot for him. That isn't a sign of a great player. Don't misunderstand, Lonzo is a flashy passer. Great players look for opportunities to take control of a game with big flashy plays, not flashy passes.
Con 2. Lack of Effort on Defense
Let's all face it – Lonzo is not a lock down defender. He doesn't put much effort into defense at all, which causes teams to try and get their better players matched up on him. In fact, sometimes he looks a little lost on defense.
Being a point guard in the modern NBA means you need to be a perimeter defender. Lonzo is not that at all. Too many times this season, Lonzo has watched his man blow by him from the three point line into the paint for an uncontested layup. It almost makes you want to shake his shoulders in frustration. How could you let a guy get past you and just watch him?
Lonzo knows that defense isn't his game. He's trying to conserve energy on defense to bring the "boom" on offense. However, he doesn't produce enough offense to be so overly concerned about it. If he were a 25 points per game kind of player, it would be understandable and excused. Come on, Lonzo. He can't average 10 a game yet. We need to see more defensive effort from Lonzo in the near future.
Con 3. His Father, LaVar, is Screwing his Career Over
Lonzo became such a household name so quickly because of the work of his father, LaVar Ball. A big mouth, a showman and a salesman, LaVar is constantly bragging about his son to the media while trying to build hype on him. While it's understandable that a man would attempt to help his son, especially while in the national spotlight, LaVar does it in all of the wrong ways.
Every time LaVar makes a statement about "Lonzo's greater then Kobe," or "Lonzo is the next Michael Jordan," the target on Lonzo's back gets larger. Players usually don't like opponents getting more hype then them, and they will use that hype as a motivational tool. LaVar is making the game that much harder for his son to compete in. Sure, Lonzo is a good player. Yeah, Lonzo has potential to be great. They have always said not to count your chickens before they hatch for a reason. Lonzo isn't there yet.
Despite Lonzo's flaws, and his fathers involvement, there is still hope for him. He really does have a few things going for him.
Pro 1. He's a Rebounding Point Guard
There aren't many point guards in the NBA who can rebound very well. Oklahoma City's Russell Westbrook is the best at his position at it, and Orlando's Elfred Payton can do it pretty well too. However, Lonzo can really rebound better then almost any guard in the league. He's averaging just under 7 per game, and he's gone double figures in three games.
This is a valuable asset to the team because rebounding is more important then most people think. The less you allow a team to take an extra shot with the ball, the less points they are going to score. The more you rebound, the more opportunities you will have to score. So Lonzo gives his team an extra dimension in ball control when he is on the court.
Pro 2. His Assisting Talents Are Wicked
I mentioned earlier in the article that a star player needs to score flashy buckets more then make flashy passes. While this is true, being a flashy passer does help a team tremendously. Good passes open opportunities for teammates to score and spread the wealth among the team. With a flashy passer at point guard, the team can do more then heavily rely on one player.
Lonzo seems to make several passes a game that are mind-boggling, and he does so with ease. His assist totals are through the roof for a rookie, averaging 7.4 a game. The good thing is he is giving his teammates more shots then he is hitting himself.
Pro 3. His Personal Style is Unique
You can laugh, but an image is everything in the NBA. Basketball is a player driven sport, and one player can make the difference to an entire team. He has his unique image down already with a half grown afro and Big Baller Brand t-shirts. Give the young man credit for having a style figured out already.
To summarize, Lonzo is a long way from being the cornerstone of a franchise like Kobe Bryant was. A lot of people are comparing him to Jason Kidd's rookie season, which Kidd didn't take too kindly too, but if he progresses the way Kidd did he should have an outstanding NBA career. If not, Lonzo will be a bench player and a failed phenomenon and won't be around the NBA in five years.
Main Photo: