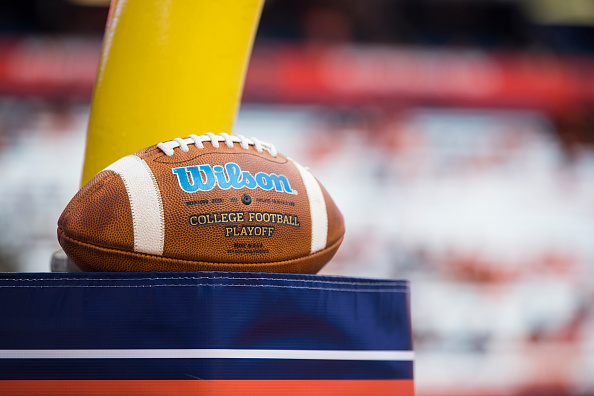 So, the new college football playoff rankings were released. For those who don't know, the college football playoff ranking is different from the AP top 25, meaning that the playoff committee goes by a different standard ranking the playoffs than the top 25 teams. While it seemed like the correct rankings, there was a major flaw in the way they ranked these teams into the playoffs. Funny thing is, it wasn't hard to see. Never the less, here's the proper reaction to the new college football playoffs rankings.
The Major Flaw in the College Football Playoff Rankings
To start, there are two teams in the top four that are not properly ranked. Anybody who understands college football could see a flaw in the rankings just by playing a simple game of blind resume. Going just off of resumes, no school names involved, it's very clear which team should be ranked higher. The first team has one loss on the year to a team with multiple wins in their conference, three wins over top 15 ranked schools, two of those coming on the road, and each win has been by double digits.
The other team has one loss on the year to a two-win team in their conference, two wins over a top 15 team, and that's it. If you were able to guess it, Oklahoma and Clemson are those two teams that are terribly wrong. Listen, Clemson is the reigning national champions, but why on earth are they ranked higher than Oklahoma? What part of their resume makes them better than Oklahoma's resume? I'll wait until the committee makes another excuse that Clemson is better.
Breaking Down the Resumes
Since they both have one loss on the year, we can focus on what those losses meant for their team. Oklahoma lost to a 6-4 Iowa State team that has upset multiple teams in the Big 12 while Clemson lost to Syracuse who has two wins in the ACC. That sentence alone puts Oklahoma's loss as better. But then the argument turns into that Clemson's quarterback Kelly Bryant was hurt with a bad ankle and that's why Clemson lost. Oklahoma lost six starting players in the game against Iowa State and Bryant isn't like Deshaun Watson meaning they can win without him. Advantage Oklahoma.
Besides the loss being in favor of Oklahoma but look at their significant wins as well. Oklahoma beat Ohio State and Oklahoma State on the road and dominated TCU at home, all the wins being by double digits. Clemson has beat Virginia Tech and Auburn, one at home and one on the road, with one win by double digits. Comparing the two, wins versus Auburn and Virginia Tech are more significant than Ohio State, Oklahoma State and TCU? Again, advantage Oklahoma, who seems to get no respect despite their impressive resume.
Dark Horse Team to get in the Playoff
Looking farther down the rankings, the team that has the best chance to get into the playoffs is Ohio State. When you look at the last two weeks and in terms of conference champions, Ohio State is in a great spot. Assuming Alabama wins the rest of their games, that drops Georgia and Auburn. If Oklahoma wins the Big 12, that puts them in the playoffs. Notre Dame probably won't get in because they won't have a conference championship on their resume. So, now Ohio State plays Wisconsin in the Big 10 championship while Miami and Clemson are playing in the ACC championship. Say Clemson beats Miami and Ohio State beats Wisconsin and now the committee has one spot left and has to make a decision between a Miami team win one loss and no championship versus Ohio State with two losses and a championship. Hard decision to make there and Ohio State might be favored there. Watch out for the Buckeyes.
Final Thoughts
The playoff system is great cause it creates urgency in the regular season for college football. Every game matters, but the evaluation process needs to change immediately. While there's still a lot of football left to play, these rankings show that the committee doesn't seem to be completely evaluating teams fairly. Just saying, the ACC teams are on average six spots higher in the playoff rankings than the AP poll and the Big 12 teams are ranked an average of two spots lower. Just a thought, make your own opinion on that fact.
Main Photo:
Embed from Getty Images