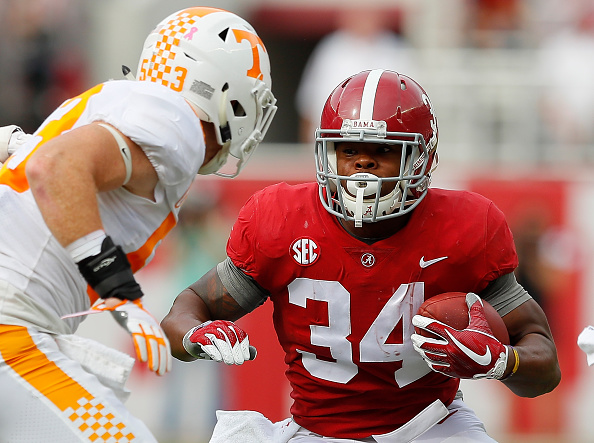 With first playoff ranking coming out this week, the 2017 College Football playoff talk getting more intense. There is also a bigger indication of which players will be invited to New York as Heisman Trophy finalists. The early phenomenon for the Heisman talk is between Ohio State quarterback J.T. Barrett, Oklahoma quarterback Baker Mayfield, Notre Dame running back Josh Adams, and Penn State running back Sarquon Barkley. Alabama running back Damien Harris will not likely not get a vote this season. However, he could very well be a finalist at the end of next season. Harris has already helped make Alabama one of the best offensive teams in the nation. Also, if you look at his numbers, he puts an equivalence of impact to Penn State running back Sarquon Barkley.
Damien Harris is Putting Up Huge Numbers in a Dual Running Back System
In the eight games this season, Damien Harris has rushed for 697 yards. This ranks 39th in the nation in total rushing yards. While he barely cracks into the top 40 rankings, he has only 81 carries. Harris averages of 8.6 yards per carry, and has also scored 10 touchdowns. His carries are the second lowest carrying load of the top 40 backs, only behind Arizona quarterback Khalil Tate's 69 rushing attempts. The back with the third lowest carrying load before Harris is Ohio State running back J.K. Dobbins with 113 rushing attempts.
Damien Harris is tied for 15th in the nation in rushing touchdowns with 10. Harris is also 5th in the nation in average yards per rush (8.6 yards). Harris has accounted for three games where he rushed for 100 yards or more. His first huge game of the season was against Vanderbilt. He rushed for 151 yards on 12 carries (an average of 12.6 yards per rush) and three touchdowns. In two other games where he rushed for over 100 yards against Texas A&M and Arkansas, his longest run was a 75-yard touchdown run each. His first rush against Arkansas was the 75-yard touchdown. He made a big cut back after reading the defenders and his linemen.
Is Alabama's System Holding Him Back?
Since head coach Nick Saban has been at Alabama beginning in 2007, the Tide have almost always run a two running back system. Since Saban took over, Alabama has had two Heisman Trophy winners in Mark Ingram Jr. (2009) and Derrick Henry (2015). With the exception of Henry in the 2015 season, the Tide have been using two completely different running backs, usually being a speedy and then a power back. In 2009, Ingram won the Heisman in a close race by only having 271 carries for 1,658 yards.
What holds Harris back is the offense at Alabama, especially with RB Bo Scarbrough having 81 carries for 377 yards and dual-threat quarterback Jalen Hurts rushing 84 times for 572 yards. While Damien is not aiming for the Heisman, he does know he wants to be the best Back for Alabama he can be. He lost a number of pounds to be quicker in his runs and able to make the quick cuts he needs to run for more yards. The National Championship loss to Clemson where Scarbrough broke his leg midway through the game was a big indication of how much he needed to be a more impactful player.
Looking Forward
The Crimson Tide play three of their final four games against teams currently ranked in the CFP Top 25. They defeated #19 LSU, while #16 Mississippi State and #14 Auburn are also ranked in the top 25 in rushing defense. If the Tide win out, they will likely play the #1 Georgia Bulldogs in the SEC Championship. The Bulldogs are ranked 3rd in scoring defense (11.9 points allowed per game). Damien Harris can make the voting process complicated if he accounts for a 100-yard game in each of these upcoming games (including against Mercer).
Regardless of if Bo Scarbrough stays at Alabama or leaves early for the NFL and if co-ordinator Brian Daboll makes Hurts more a passer, expect Harris to push for a much bigger workload to satisfy his high intensity. Harris is already the starting running back for the Tide but he wants to make it known to the nation and himself he can be one of the best rushers in College Football.
Main Photo:
Embed from Getty Images