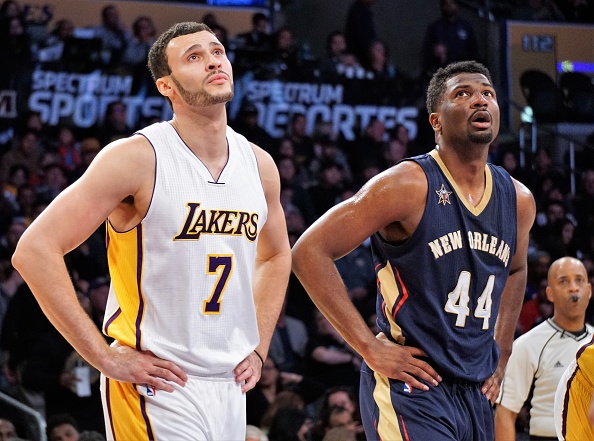 The Los Angeles Lakers almost completed a twenty-three point comeback the other night in their game against the Pelicans.
Despite their miraculous run towards the end, they fell short losing by seven points, 119-112. Lonzo Ball nearly had a triple-double with eight rebounds, eight points, and thirteen assists. However, that wasn't the exciting factor about the game.
The exciting factor was that the defensive unit pitched in on the offensive end of the floor. Luke Walton seems to have found which players compliment each other well in different game situations for the Lakers.
One player in particular who sparked the attempted comeback is Jordan Clarkson. Clarkson went 10-18 from the field with 24 points and five assists on the night. Kentavious Caldwell-Pope also produced in his first game and start of the season. He went 7-11 from the field with 20 points.
Lonzo Ball and the Lakers take on the visiting Washington Wizards Wednesday Night.
Wednesday night he will be playing heavy defense guarding one of the best point guards in the league John Wall. This weekend according to a report by cbs.com, Wizards center Marcin Gortat tweeted that Wall will make life miserable for Ball Sunday night.
This is in response to Lavar Balls' comments, exclaiming that Lonzo will not lose again in the Staples Center, well in the same week. LA played Sunday night therefore if they lose tonight it is a new week and if they win the media will go bonkers.
John Wall says he plans to show Lonzo Ball 'no mercy' thanks to LaVar Ball's trash talkhttps://t.co/n4O2zqLd27 pic.twitter.com/CsrwTHQpE9

— Lakers Nation (@LakersNation) October 25, 2017
According to a story by Lakers Nation, in response to all the trash talk courtesy of Lavar Ball, John Wall stated he will show "No Mercy" to Lonzo. With all this being said, the backcourt will need to be heavily defended and the front court will need to produce scoring.
Brook Lopez, Julius Randle, and Larry Nance Jr. are three Lakers to watch tonight. If the Lakers expect to win these three must produce double-doubles across the box score. Lopez in scoring, Randle in assists, and Nance Jr, in rebounds and all three with scoring in addition to those.
Main Photo: