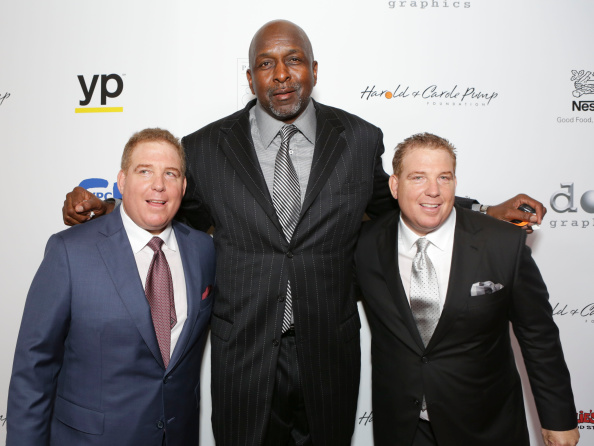 There has been much hype going into this year about the Philadelphia 76ers and the team that they have assembled. With a team that has Joel Embiid, Ben Simmons, and Markelle Fultz, one has to stop and think about all the great players that have come through Philadelphia and have played for this historical team. Growing up on Philadelphia sports listening to stories from my father about all the phenomenal players that he grew up watching; It never get old debating about the 76ers. There are times where I listen to his ramblings about the team and would disagree with his stories. He would talk about some players being better than others, and other stories about players that I never say play. It's finally time that I put my list in writing, naming the top five players in Philadelphia 76ers history.
Top 5 Players in Philadelphia 76ers History
5. Hal Greer
We begin going old school back to the 50s, 60s and part of the 70s with Hal Greer. Hal Greer began his career with the 76ers when they weren't even the 76ers. Hal Greer was drafted in the 2nd round as the 13th overall pick by the Syracuse Nationals in the 1958 NBA Draft. Back then, there were only eight teams in the association. In 1963, the Syracuse Nationals moved to Philadelphia. They were renamed the 76ers. Greer would immortalize his name in 76ers history.
In 1967, Greer and the Philadelphia 76ers beat Bill Russell and the Boston Celtics, ending their streak of eight-straight NBA Championships. During that 15 game playoff season, Greer would average 27.7 points per game. It would be Hal Greer's only NBA Championship in his career. Hal Greer is a 10-time NBA All-Star from 1961-1970 and won All-Star Game MVP in 1968. Greer is a 7-time NBA All-Second Team from 1963-1969. He is also a member of the NBA's 50th Anniversary Team. After all these years, Hal Greer is still the all-time leading scorer in 76ers history. He is also second in assists and minutes played.
4. Julius Erving AKA "Dr. J"
The doctor is in the house! Dr. J, Julius Erving comes in at #4 on the list of greatest Sixers of all-time. He is known for his explosive plays and dominant scoring ability. Dr. J was a member of the 1983 NBA Championship team along side Moses Malone. That team is considered one of the greatest teams in NBA history.
He was drafted in the first round of the 1972 NBA Draft, 12th overall, by the Milwaukee Bucks. Erving opted to play in the ABA. Dr. J made his splash in the NBA in 1976 when he began playing for the 76ers. Dr. J will be remembered for his ability to be a powerhouse dunker at a time where dunking was not popular. His modern-style and play above the rim made him popular with fans.
Dr. J was the MVP of the 1981 season and won his only NBA championship in 1983. He was an 11-time All-Star from 1977-1987 and two-time MVP. He was also a five-time All-NBA First Team and two-time All-NBA Second Team. Like Greer, Erving is a member of the 50th Anniversary All-Time NBA Team. Dr. J is the all time leader in blocks for the 76ers with 1,293. He is also fourth in points scored, minutes played and assists. Erving is also 3rd in assists.
3. Wilt Chamberlain
It might seem ludicrous to have one of the greatest players in all of basketball not #1 on the list as the greatest 76ers of all-time, but he is up there. The fact that Chamberlain did not spend his entire career in Philadelphia is a factor in that. Wilt Chamberlain, a Philly native, is one of, if not, the most recognizable name in all of basketball. Chamberlain was one of the first picks taken in the 1959 NBA Draft by, at that time, the Philadelphia Warriors. Wilt Chamberlain is the only player in NBA history to score 100 points in a game. He accomplished the feat in 1962 against the New York Knicks at Hershey Sports Arena. Standing 7'1″ and weighing around 275 pounds, Chamberlain is considered one of the most dominant players in NBA history.
Career Accomplishments
The numbers that Chamberlain put up in a game or a season couldn't even happen in a video game. Chamberlain is the only player in NBA history to average 40 or 50 points in a season. He is also the only player in NBA history to average 30 points and 20 rebounds in a season, a milestone that he accomplished seven times.
Chamberlain is a two-time NBA champion in 1967 and 1972. He won his first title alongside Hal Greer. Chamberlain was also 1972 NBA Finals MVP. He won the MVP award four times, winning in 1960 and three straight from 1966-1968. He was a 13-time All-Star and was MVP of the 1960 All-Star Game. Wilt the Stilt was All-NBA First Team seven times and All-NBA Second Team three times. Chamberlain is a seven-time NBA scoring champion, eleven-time rebounding champion, and led the league in assists in 1968. His number 13 jersey is retired for three teams: the 76ers, Lakers, and Golden State Warriors. He is also a member of the 50th Anniversary All-Time Team.
Chamberlain was ahead of his time and it would be a no brainer for someone who is 7'1″ to be as good as he was, because his only equal was Bill Russell. I believe that Russell is better than Chamberlain.
2. Allen Iverson AKA The Answer
If one did not have Allen Iverson on this list, he or she should be banished from Philly sports forever. Iverson is without a doubt one of the greatest players to ever play for the 76ers due to his amazing scoring ability and famous crossovers. He was one of the most publicized players for the 76ers due to his rants about practice. One could also have a whole separate article about the greatest moments in Iverson's career, and would still be writing it into next month. One can start with his crossover on Michael Jordan and continue with Iverson stepping over Tyron Lue in the 2001 NBA finals.
The Answer was the NBA's MVP during the 2001 NBA season, the same year he took the 76ers to the Finals. Iverson was an 11-time All star from 2000-2010 and was MVP of the All-Star Game in 2001 and 2005. He was also a three-time All-NBA First Team and All-NBA Second Team, while also being a one-time All-NBA Third Team. Iverson is a four-time NBA scoring champion, three-time NBA steals leader and seven-time NBA minutes leader. His #3 is retired by the team. Iverson is second in points scored and minutes played in 76ers history, both behind Hal Greer. He is also second in steals behind Mo Cheeks. Iverson is third in assists behind both Cheeks and Greer. The Answer is the all-time leader in 3-pointers made in 76ers history.
Iverson would be a unanimous No.1 for every single 76ers fan if he only did one thing: Win a Championship! That is the only downside of Iverson's career. He will be up there as one of the greatest players to never win a NBA Championship.
1. Moses Malone
It's hands down that Moses Malone is the greatest player in 76ers history. Malone was not only the cornerstone and foundation of the 1983 team that swept the Showtime Lakers, but was also the MVP of that team and the Finals. Malone is one of the greatest rebounders in history, averaging 12.2 rebounds per game for his career. You may think that it's bizzare to say that Moses Malone is the greatest 76er of all-time but he was only with the team for four seasons during his prime. What makes him so great is what he did in those four years.
Moses came to the 76ers in 1982 fresh off of winning his second league MVP with the Houston Rockets. In his first year with the team, he won another league MVP and the NBA Finals. He was also Finals MVP. Malone was name All-NBA First Team three out of the four years he was in Philadelphia. He was also a First Team All-Defensive Player in the 1983 season and lead the league in rebounding each of his four seasons in Philadelphia.
Malone was a three-time NBA MVP, winning in 1979, 1982 and 1983. Malone was a 12-time All-Star from 1978-1989. He was also a four-time All-NBA First Team and Second Team as well. He even led the league in rebounding six-times, and at one point did it for five straight years.
Being #1
What puts Moses Malone over the top as #1? He did something with one of the best teams in the history of the NBA that most great players don't get to do: Malone was the focal point of an NBA Title winning team. Any team can win a NBA Championship if you have the right players, but to be the best player on that team, a team that is considered one of the best teams in NBA history, you will be immortalized with that team.
One of my greatest and fondest moments of talking about sports with my father was when we were driving home one night and we were talking about the 76ers. He said the most shocking things I ever heard about him talking about the 76ers. He said to me that Moses Malone was " the greatest f***ing Sixer of all-time." I was frozen in disbelief because of all of the other greats, like Dr. J, Allen Iverson, Hal Greer and of course Wilt Chamberlain. He rambled on and on throughout the night about how dominant Moses Malone was and how no one could stop him from pulling down a rebound. At the end of the night, I was convinced: Moses Malone is "the greatest f***ing Sixer who ever lived."
Main Photo:
Embed from Getty Images