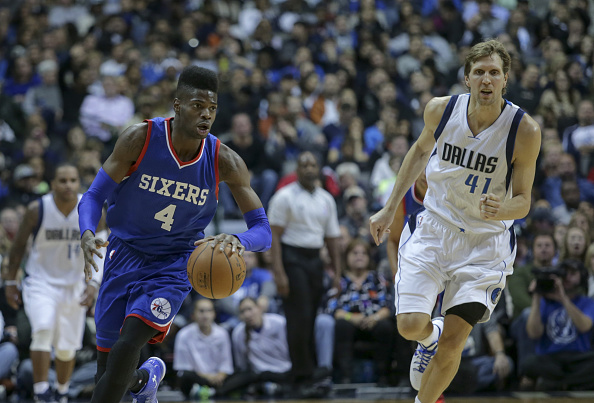 The Philadelphia 76ers have won seven of their last 10 games stretching back to December 29th. On the back of All-star hopeful Joel Embiid, who is performing well during this stretch, the Sixers are starting to make some waves. For the season, Embiid is averaging nearly 20 points and eight rebounds a game.
Don't Look Now, the Philadelphia 76ers are One of the Hottest Teams in the NBA
Defense Wins Games
Embiid is the second rookie in Sixers' history to score 20 points in 10-straight games since Allen Iverson did back in 1996-1997. However, Embiid may have the biggest impact defensively. With 2.4 blocked shots a game, Sports Illustrated's Ben Golliver calls the Sixers the number one scoring defense in the NBA with the big man in the lineup.
Big Three, Still a Big Problem
Although the Sixers are playing well, they still have issues.
The Sixers still have a rotation problem at the center position. The talented three in Joel Embiid, Nerlens Noel, and Jahlil Okafor has been a headache. With the trade deadline approaching, expect Okafor or Noel to be moved.
Injury Woes
The Sixers must get healthy. Jarryd Bayless—who many expected to be their starting point guard—is on injured reserve. Okafor and Noel have been bothered with injuries, and we still haven't seen number one pick Ben Simmons.
There's Hope in the Process
On the bright side, the Sixers are currently 5.5 games out of the eighth seed in the east. With Simmons rumored to return after the All-Star break, the team may be in position to make a postseason run for the first time in four years.
Trust the process, Sixers fans. The years of pain and patience may be paying off.
Main image credit: