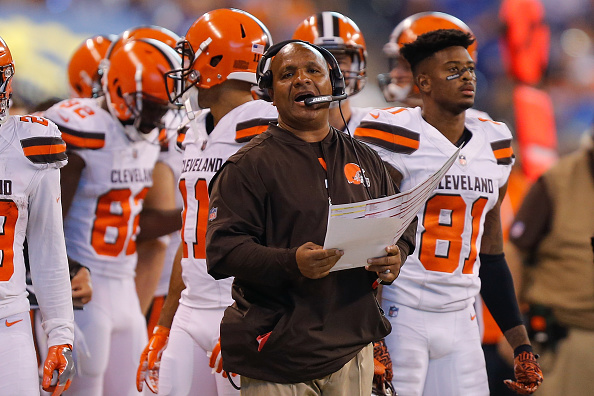 After a miserable 1-15 campaign last year handed them the No. 1 pick in the draft, the Cleveland Browns could be headed in that direction again this year. The NFL season is three weeks old and the Browns are already staring down an 0-3 start, in what is looking like another rough year. I'd be betting top 10 in the draft for them this season.
The Browns started out respectably by hanging around with the rival Steelers in Week 1, 21-18. They took a step back last week in getting clobbered by the Ravens by the score of 24-10. Things got worse in Week 3 against the Colts.
With third string quarterback Jacoby Brissett in for the injured Andrew Luck, the Colts beat the Browns 31-28 on Sunday. The game wasn't really that close. With a loss like that to a depleted Colts team, it makes you wonder, who can the Browns beat this season? They could easily be in line for the No. 1 pick in the draft again next year. I'm betting the Browns will be top 10 at least.
Winnable Games?
The good news for the Browns is that they have some winnable games coming up in the next couple of weeks.
Next week, the Browns host the struggling 0-3 Cincinnati Bengals. The Bengals offense has been horrible this year, as Andy Dalton has turned the ball over four times and been sacked eleven times. The Browns should have a shot in this one, however they were swept by their intrastate rivals last year.
In Week Five, Cleveland hosts the Jets (1-2) and former quarterback Josh McCown in another winnable game. Despite beating the Dolphins on Sunday for their first win of the season, the Jets have looked terrible.
In Week Six, they go on the road to face the Houston Texans. Houston is also 0-3, but they almost beat the Patriots in Foxborough on Sunday if not for some Tom Brady magic. Houston has a very solid defense led by J.J. Watt, and a developing offense with DeShaun Watson, DeAndre Hopkins, and Lamar Miller.
Last Chance for a Win?
If the Browns manage to go 0-14, they go on the road to face the Chicago Bears on Christmas Eve. The Bears offense hasn't been good with quarterback Mike Glennon and by then, rookie Mitchell Tubisky will likely be starting. The Bears managed to beat the Steelers in overtime in Chicago on Sunday, so nothing is a guarantee this season. If the Browns don't win there, 0-16 will be staring them in the face with a Week 17 date in Pittsburgh.
Main Photo: