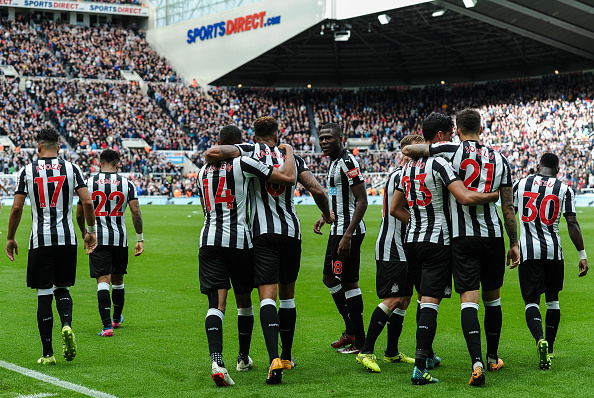 Fans on Tyneside have to face facts.  Newcastle's season starts as a newly promoted club, and they will likely be embroiled in a battle towards the bottom of the table.  They may have started the new season well, with 3 wins after five matches, but the Premier League is long, rigorous, and unpredictable.  To not have a repeat of their 2015-2016 season, here are four Newcastle players that could make or break their maiden campaign back in the Premier League.
4 Players that could Make or Break Newcastle's Season
Jamaal Lascelles
Keeping one's opponents off the scoreboards gives a team a chance at three points, or snatching a draw.  The importance of goal difference must not be neglected.  At the foot of the table, teams are usually very close in both points and goal differential as a tiebreaker could be the difference in where a club is playing their football next season. Centre-back Jamaal Lascelles will have to keep Newcastle's defense organised and alert against the plethora of attacking threats. There is also a more psychological reason Lascelles is important. That is, the 24-year old Englishman is club captain.  If a team is on a bad run of form or is having trouble generating momentum during a game, players may look to their captain for reassurance and inspiration.  As captain, Lascelles' leadership skills will be put to the test many times this season and players may need his charisma to keep morale high.
Joselu
The capture of Joselu from Stoke City may have gone under the radar, but it was good business from the Magpies.  Joselu made his Newcastle debut in the 3-0 win over West Ham, marking the occasion with a goal.  Granted that West Ham played very poorly, the game showed why Joselu should be Newcastle's first choice striker without question.  The ex-Potter has finishing, decent hold up play, and movement.  In Newcastle's first two games of the season, Dwight Gayle led the line. The men from Tyneside were shutout both games and were underwhelming.  Not only did Joselu get himself and Newcastle off the mark, but his movement seemingly helped Ayoze Perez and Christian Atsu. Joselu looks like he can bring out the best of his supporting players and also find the back of the net.
Jonjo Shelvey
Here is a bold claim: Jonjo Shelvey is arguably the most frustrating player in this league to manage.  The Welshman signaled his return with a straight red card in the opening day match with Tottenham Hotspur.  Although known for his hot headedness and rash challenges, Premier League fans may forget what he is capable of.  He has shown flashes of brilliance, at Newcastle and Swansea. On his day, he can boss the game in the middle of the park, keep the ball, and be the distributor Newcastle will need when in possession.  Not only can he come up with the occasional wonder-goal from distance, but he can be a deep lying architect.  If Benitez can keep Shelvey healthy and on the pitch, he brings a different dimension to Newcastle's game.
Matt Ritchie
If there is one player that can save Newcastle from going straight back to the Championship, it's Matt Ritchie.  The winger is tricky, dangerous, lively, and a threat anywhere inside the opponent's half.  He will be Newcastle's chief playmaker in the final third and they look the most threatening when Ritchie is on the ball.  Furthermore, the Scotsman handles the dead ball situations and can consistently deliver dangerous crosses. His work rate is also a major plus for Newcastle in transition. He was directly involved in 19 of Newcastle's goals last season in the Championship, scoring 12 and assisting 7.  And Ritchie has picked up where he left off, with four assists in Newcastle's last three games, all victories.  At 28, he is in his prime playing years. It is imperative Rafa keeps Ritchie injury-free and makes him the focal point of the team's offense.
Verdict
If Newcastle can keep these four players fit and playing their best football, they will stay up this season. In the eyes of many supporters, Newcastle should not have been relegated in the first place. Despite winning the Championship last season, significant squad reshaping will make staying in the Premier League a challenge.  Newcastle could be in for a long stay in England's top flight if they can avoid the bottom three places this time around.
Main Image Credit:
Embed from Getty Images