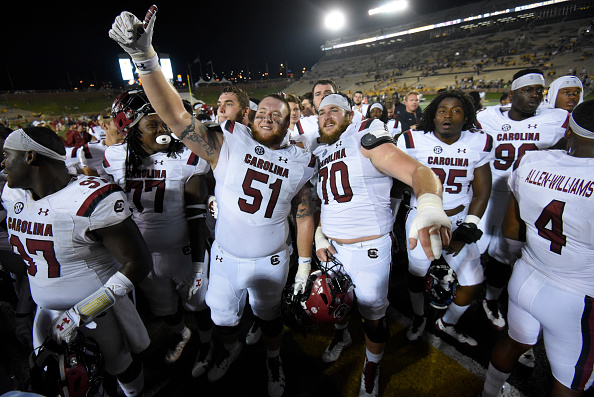 Every college football season there are teams making early statements, overachieving versus their performances from seasons prior. The South Carolina Gamecocks are one of those teams who are in a surprisingly good position and shedding the underdog label. With the two games played already, the Gamecocks have turned themselves from middle of the pack in the lackluster SEC East division to a potential first place team. While most teams have played a tough game and then a cupcake game, South Carolina has played a big neutral site game against the NC State Wolfpack and an away game against SEC foe Missouri Tigers. Having defeated the Wolfpack 35-28 in Charlotte against an aggressive crowd and talented team, they then easily defeated a very talented Missouri Tigers offense in Columbia, MO, 31-13.
South Carolina Gamecocks 2017 Off to a Great Start
The Offense is young but very experienced
This season, the Gamecocks return nine starters from last year's team, in addition to tight end K.C. Crosby, a good depth player. Among the 11 starters on offense, 7 of them were starters as sophomores and freshmen from last year's team. South Carolina had young players who had the talent but did not have the proper experience. The offense struggled to score in the first 6 games, but heir productivity changed pace as they started quarterback Jake Bentley in the final seven games of the season including the Bowl game.
Coming back to this year, not only do the Gamecocks have youth but they have added experience having played two tough games already in NC State and Missouri. The Gamecocks currently average 33 points per game (tied for 61st) after playing two competitive opponents. Bentley has thrown for 402 yards on 35 completions on 57 attempts for 4 touchdowns and 1 interception.
The offensive line has blocked very well against aggressive defenses and have only given up 4 sacks to the Wolfpack and the Tigers combined. The run game will need to develop with running back Rico Dowdle (sophomore) having 75 yards on 26 carries (2.9 yards per carry) and 1 touchdown. Sophomore running back Tyson Williams has rushed for 78 yards on 14 carries (5.6 yards per rush).
WR Deebo Samuel is a diverse, dangerous threat
Junior wide receiver Deebo Samuel came into the 2017 season as a leader not only in the offense but throughout the whole team with his play-making ability and intensity. Samuel has brought attention to the Gamecocks' offense as a big, tall receiving threat despite only accounting for one touchdown last season. Athlon Sports named Samuel as their first-team all-purpose player with his excellent returning skills.
So far this season, Samuel is the Gamecocks' leading receiver with 10 receptions for 128 yards and 2 touchdowns. Samuel has had a receiving touchdown against both NC State and Missouri. What makes Samuel a more dangerous player is that his only two kickoff returns for the 2017 season have been returned for two separate 97-yard touchdowns. Both of his kickoff return touchdowns have also been in separate games against NC State and Missouri as well. So far this season, the SEC named Deebo Samuel as special teams player of the week for the first two games in the season. Regardless of whether or not teams will give Samuel the kickoff, he will still be a dominant force to deal with the Gamecocks' offense.
Gamecocks' defense is holding their own
With Samuel and the Gamecocks return game giving South Carolina a great start in their drives, South Carolina got outranked in total yards against NC State 504 to 246, and lost out to Missouri 423 to 359. In the first game, NC State had 13 total drives with their time of possession being 36 minutes and 54 seconds. The Gamecocks defense also forced a missed goal, two fumbles and two turnovers on downs late in the 4th quarter.
Wolfpack quarterback Ryan Finley passed for 415 yards and two touchdowns but had 45 completions out of 64 passing attempts (6.5 yards per completion). Their offense also had 35 rushing attempts but only accounted for 89 yards (2.5 yards per rush). This Gamecock defense is very conditioned and has the stamina to hold on for long drives to force misfires or acquire the ability to stop drives.
South Carolina forced Missouri quarterback Drew Locke to throw 2 interceptions and only 14 completions on 32 attempts. The Gamecocks defense has accounted for 5 total sacks and 13 tackles for loss in the two games so far. New starting sophomore defensive end D.J. Wonnum has accounted for 11 total tackles, 2 sacks and 4 tackles for loss. Sophomore linebacker T.J. Brunson is the team's leading tackler with 22 total tackles and 1.5 tackles for loss. A three-time season leading tackler, linebacker Skai Moore has accounted for 13 total tackles so far this season.
Going forward against Kentucky
South Carolina will host their first game of the season against SEC East rival in the Kentucky Wildcats (2-0). The Wildcats had trouble against the Southern Miss Golden Eagles in a 24-17 win and against the Eastern Kentucky Colonels (an FCS school) in a 27-16 win. The Gamecocks will be playing a Kentucky Wildcats (2-0) team with a diverse offense led by RB Benny Snell Jr. who has rushed for 170 yards on 39 carries and a rushing touchdown. Wildcats QB Stephen Johnson has become a more consistent passer for Kentucky with 400 passing yards on 26 completions on 42 passing attempts for 2 passing touchdowns. Stephen is an underrated dual-threat quarterback as he has two rushing touchdowns.
South Carolina is favored by 6.5 points against Kentucky but has a chance to be upset by the Wildcats. If the Gamecocks want to avoid that upset, they will need to develop a better run and make sure their defense can force 3-and-outs instead of stopping them on long drives. Watch for linebacker Skai Moore to have a key breakout game after missing all of 2016 with a neck injury. The rush defense is the weakness for the Wildcats defense, watch for South Carolina to exploit that. The Gamecocks will host the Wildcats on Saturday night at 6:30 Central.
Main image credit:
Embed from Getty Images