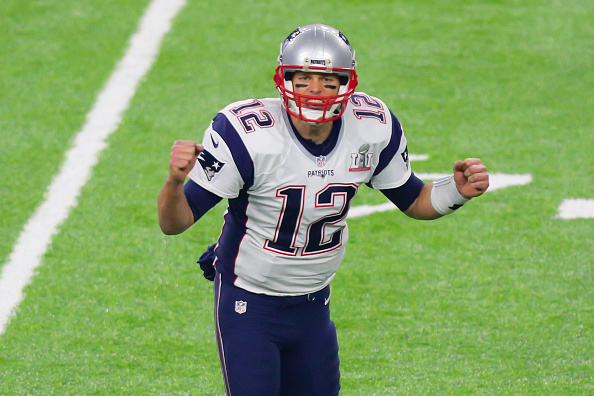 If you are a QB who gets drafted in the 5th round or later, there is a slim chance you will make it in the NFL as a starter. However, there are a handful of QBs who were drafted in the later rounds, or not even drafted at all that have made a name for themselves as starting QBs in the NFL. It is interesting to point out that some of these QBs were even drafted after the 7th round! Before 1994, there were more than 7 rounds in the draft, and before 1960, there were as many as 30 rounds in the NFL Draft. That is what's great about the NFL Draft; there can be a hidden talent anywhere in the draft or even a player that wasn't drafted. These are the Top 5 late round/undrafted quarterbacks.
Top 5 Late Round and Undrafted Quarterbacks
Right out of the gate, we begin with Warren Moon. Warren Moon is an 9-time Pro-Bowler who was not even drafted in the 1978 NFL Draft. Coming out of the University of Washington, Moon threw for 49,325 yards, 291 TDs while having a 58 completion percentage in his NFL Carrer. His best year came in 1990 when he threw for 4,689 yards with 33 TDs and 13 INTs; finishing with a 62 completion percentage. Moon was also an All-Pro QB, NFL Offensive POY, AFC POY, passing leader in yards and TDs all in the 1990 season. Moon even won the 1989 Walter Payton Man of the Year award, which awards the combination of charity, volunteer work, and their excellence on the field. In 2006, Moon would become the first undrafted QB to be enshrined in the Pro Football Hall of Fame.
CFL Career
The most interesting thing about Moon's career is that he has better accolades in the CFL than the NFL. Moon is a 5-time Grey Cup winner and 2-time Grey Cup MVP; the equivalent to winning the Super Bowl in the NFL. He also holds the record for – most Grey Cups as a QB in CFL history. Moon has thrown for 144 TDs and 77 INTs in his CFL career while throwing for 21,228 yards. His outstanding career has helped him become a member of both the CFL and the NFL Hall of Fame.
Drafted: 17th Round (Pick 200) in the 1956 NFL Draft
Bart Starr was drafted in the 17th round of the 1956 NFL Draft by the Green Bay Packers coming out of the University of Alabama. His career would span from 1956-1971 where he was the champion and MVP of Super Bowls, I and II. Throughout his career, Starr won 5 league championships with 3 of those before the Super Bowl Era (anytime after 1966). Starr's accolades include being a 4-time Pro Bowl, All-Pro and MVP in 1966. He was even a 5-time passer rating leader and named to the 1960s All-Decade Team. Starr is forever immortalized in Packers history as his No. 15 was retired by the Packers, and he is a member of the Packers HOF.
There is not a player in all of sports like Kurt Warner because of his unique story. Warner went undrafted in the 1994 NFL Draft coming out of Northern Iowa. Although he was picked up by the Packers, he did not make the team. Warner chose an interesting route by joining the Arena Football League, where he was a 2-time All-Arena (equivalent to All-Pro in the NFL) with the Iowa Barnstormers. Warner even played in Europe for the Amsterdam Admirals. After that, Warner came back to the NFL to play for the Rams and became part of "The Greatest Show on Turf". Warner would eventually play for the Arizona Cardinals and return to the Super Bowl in 2008 where they would lose to the Steelers.
Despite all of the chaos in Warner's career, he wold finish as a Pro Football Hall of Famer. Warner won a Super Bowl with the Rams in 2000 and collected the game's MVP honour as well. He ended his career with 32,344 passing yards, 208 TDs to 128 INTs while completing an astounding 65% of his pass attempts. Warner was a 4-time Pro Bowler, 2-time NFL MVP and a 2-time All-Pro. Warner was 2001 leader in passing yards, passing TDs and lead NFL QBs in passer rating twice in both of the 1999 and 2001 seasons.
Drafted: 10th Round (Pick 129) in the 1964 NFL Draft
Coming out of Navy, Staubach was the heart and soul of the Dallas Cowboys during the 1970s. A 10th Round Draft pick out of Navy, Staubach could not enter the NFL out of school due to his four year military commitment. He woudl enter the league in 1969 after serving his time in the Navy as a member of the Supply Corps.
Staubach's accolades include: being a 2-time Super Bowl Champion, a Super Bowl MVP, 6 Pro Bowls and being a member of the NFL 1970s All-Decade team. He also lead the league in passing TDs in 1973 and is a 4-time leader in passer rating. Staubach is the last person from a military school to win the Heisman Trophy, in 1963.
Drafted: 6th Round (Pick 199) in the 2000 NFL Draft
Who else was it really going to be? Number one on the list is none other than the Greatest QB of All-Time, Tom Brady. You can not think about the 199th pick in the draft without thinking about Tom Brady. As a 6th round draft pick of the New England Patriots, Brady started his career as a back-up to Drew Bledsoe. When an injury struck Bledsoe during the 2001 season, Brady came in and never looked back. That same season, Brady would lead that same team to their first Super Bowl in franchise history.
For Brady, the accolades are endless. Brady is a 5-time Super Bowl Champion with 4 Super Bowl MVPs. He has won more Super Bowls than any other QB, breaking the tie between him, Joe Montana and Terry Bradshaw. Brady is also a 12-time Pro Bowler, 2-time All-Pro, 2-time MVP, 2-time Offensive Player of the Year and NFL Comeback POY in 2009. Other notable achievements include: twice leading the NFL in passing yards and four times, leading the league in passing TDs. Brady has been selected as a member of the NFL 2000s All-Decade Team, and is considered by many to be the greatest NFL player of all-time.
Conclusion
To be a 5th-round draft pick or later could mean that you will not have any impact on a team. That doesn't mean that it can not happen. Look at all of these players. Four out of the five players have won a Super Bowl. All of the players on this list are current or future Hall of Famers, and all are late round or undrafted players. This list shows that any player can have a Hall of Fame caliber career no matter where they are drafted.
Image Credit:
Embed from Getty Images